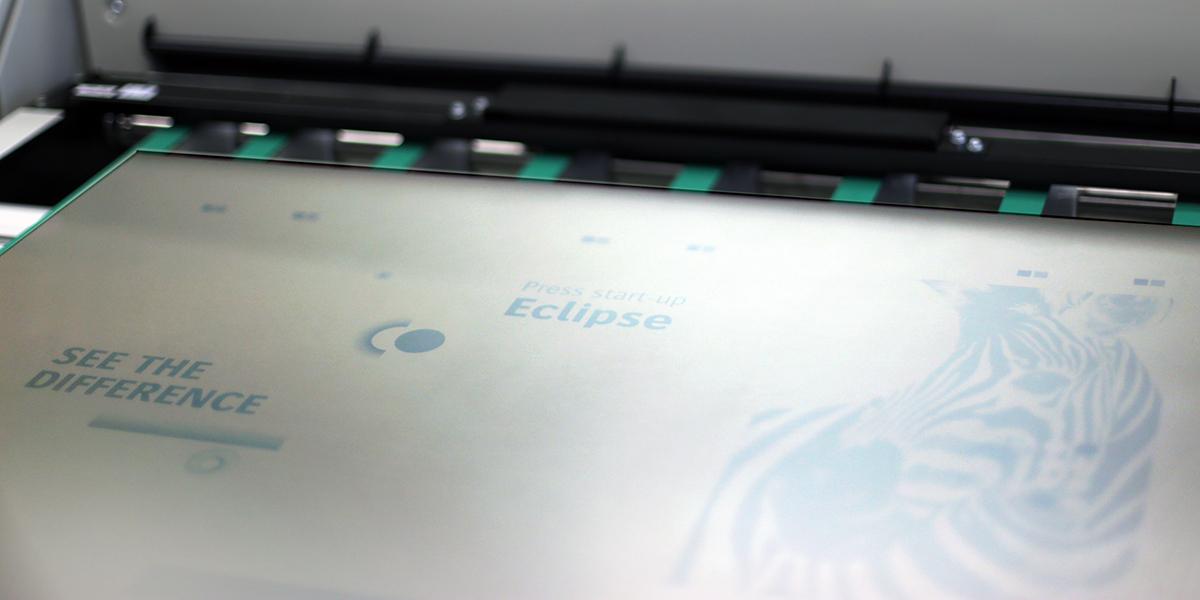 Eclipse-gebruikers zien het verschil
Sinds Agfa vorig jaar Eclipse op de markt zette, heeft de procesvrije drukplaat haar waarde bewezen voor talrijke drukkerijen wereldwijd.
Eclipse is een procesvrije drukplaat die een nieuwe standaard zet op het vlak van gebruiksgemak voor commerciële vellendrukkerijen. Elke drukkerij die tot nog toe met Eclipse werkte, kan getuigen over de specifieke voordelen van de drukplaat:
Eclipse houdt de drukpers schoon aangezien de coating afgevoerd wordt met de eerste gedrukte vellen, en dus niet in de pers terechtkomt zoals bij andere procesvrije drukplaten.
Eclipse heeft een uitzonderlijk en stabiel beeldcontrast, dat zelfs behouden blijft na een week in opslag of na 24 uren blootstelling aan gewoon binnenlicht.
Tot slot onderscheidt Eclipse zich dankzij haar krasbestendigheid. Drukkerijen hoeven zich geen zorgen te maken over eventuele beschadigingen aan de drukplaat tijdens het inladen van de plaatbelichter, de opslag, het transport, of het opspannen op de pers.
Virtueel Eclipse-evenement
Op 15 juni organiseert Agfa een online event over Eclipse, waarbij deelnemers uitgenodigd worden om zelf het verschil te zien. Agfa's experts zullen de toegevoegde waarde van de plaat toelichten, o.a. d.m.v. een live benchmark met andere procesvrije platen. Verschillende Eclipse-gebruikers zullen hun ervaringen met de drukplaat delen. Deelnemers kunnen hun vragen live stellen.
Registreren kan op http://studio4d48.com/.
Eclipse in actie
Een aantal drukkerijen zijn al een tijdlang tevreden gebruikers van Agfa's procesvrije drukplaat. Een van hen is Gráfica 7 Cores, een Braziliaanse handels- en verpakkingsdrukkerij die met een gerust hart alle drukopdrachten aan Eclipse toevertrouwt.
Gráfica 7 Cores beroemt zich erop haar klanten de hoogste kwaliteit aan te bieden, en hen bij te staan tijdens het hele drukproces van bestelling over productie tot afwerking en levering. De onderneming investeert voortdurend in de nieuwste oplossingen voor druk en afwerking.
Bedrijfsleider Roberto Moreira zegt: "Eclipse is niet alleen een drukplaat met goede technische eigenschappen, zoals eenvoudige belichting, maar ze is ook zeer stabiel en haar uitmuntende contrast maakt een snelle visuele check voor het drukken mogelijk. De hoge kras- en lichtbestendigheid maken het zeer gemakkelijk om met de plaat te werken."

Roberto benadrukt ook: "Aangezien de coating wordt verwijderd met het papier, vervuilt Eclipse het vochtwater of de inktrollen niet. Het resultaat is een schoner en sneller drukproces, waardoor wij flexibeler kunnen werken."
Minder plaatremakes
Mankato Packaging, gevestigd in Minnesota, VS, is een andere Eclipse-gebruiker. Mankato is gespecialiseerd in het ontwerp en de offsetdruk van kartonnen dozen en levert wikkels voor motorvloeistoffilters aan vele grote internationale bedrijven.
Het team van Mankato getuigt: "Agfa's Eclipse procesvrije platen verlagen onze productiekost. We moeten geen processor onderhouden, geen chemicaliën stockeren, en geen water of afval afvoeren; plus we besparen op kostbare vloeroppervlakte. We kunnen het beeld zien op de drukplaat, net zoals op een conventionele plaat. Onze drukker moet zich geen zorgen maken over krassen en vingerafdrukken en er zijn minder remakes nodig, wat ons tijd en geld bespaart."
Snelle start, minder onderhoud
Kandrup Bogtrykkeri is een 100 jaar oud familiebedrijf gevestigd in Kopenhagen, Denemarken. Het verwerkt een groot aantal commerciële printopdrachten met kleine oplages – zowel in offset- als digitaaldruk. Na minder goede ervaringen met een andere procesvrije plaat zijn ook zij nu een tevreden Eclipse-gebruiker.
"De plaat heeft een goed en stabiel contrast. Er zijn absoluut geen vergissingen mogelijk op de pers", zegt bedrijfsleider Thomas Thomsen. "De krasbestendigheid is geweldig en we zien geen vingerafdrukken op de plaat." Hij is ook enthousiast over de prestaties van de plaat op de pers: "We ramen dat het opstarten 40% sneller gaat dan voorheen. We hoeven geen tijd en geld te verspillen aan remakes of onvoorziene onderbrekingen van het drukproces. We hebben ook ongeveer 15% minder papierafval bij het opstarten. Bovendien resulteert de combinatie van de Eclipse-drukplaat met het ANTURA-vochtwateradditief in een stabielere inkt-waterbalans en een grotere speling op de pers."

Thomsen vult aan: "Er zit geen slib in de perstank, omdat de coating wordt overgebracht op de eerste vellen papier. Hierdoor moeten we de drukpersfilters minder vaak reinigen. Het vochtwater gaat meer dan dubbel zo lang mee. We schatten dat we jaarlijks 25% besparen."
Download