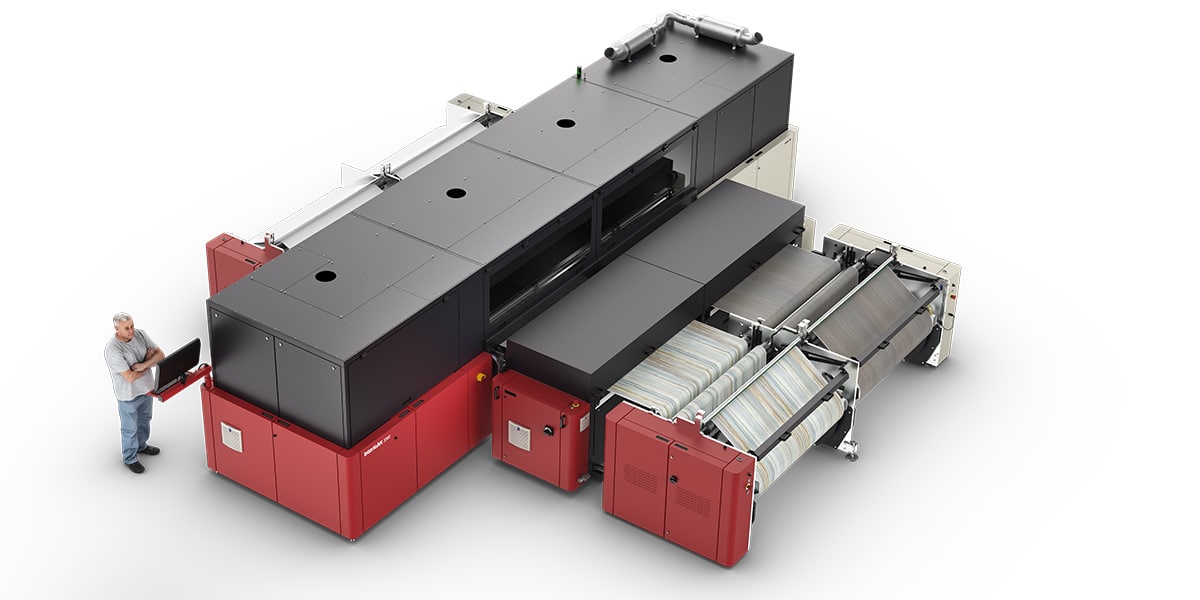 Agfa brengt met de InterioJet een watergebaseerde inkjetprinter voor interieurdecoratie op de markt
Hoogkwalitatieve digitale drukoplossing voor op maat ontworpen gelamineerde oppervlakken
De InterioJet 3300 is een multi-pass watergebaseerde inkjetprinter voor het bedrukken van decorpapier dat gebruikt wordt voor interieurdecoratie, zoals laminaatvloeren en meubels. De machine biedt een briljante en consistente drukkwaliteit en maakt het mogelijk om binnenhuisdecoratie op maat te ontwerpen, door er logo's of beelden aan toe te voegen of te werken met seizoensgebonden designs.
De InterioJet is gebouwd op hetzelfde platform als Agfa's bekroonde Jeti Tauro LED UV-drukpers voor sign- en displaytoepassingen. De nieuwe printer is net zo betrouwbaar – maar dan met printkoppen, inkten en een droogsysteem afgestemd op watergebaseerde pigmentinkten.
"De InterioJet 3300 zal de overgang van analoog (gravure) naar digitaal drukken versnellen in de markt van gelamineerde oppervlakken", zegt Tom Cloots, Director Industrial Inkjet for Agfa. "Het is de ideale kostefficiënte oplossing voor middelhoge en lage oplages. Dankzij de beperkte opstarttijd en de hoge flexibiliteit zullen leveranciers van laminaat beter aan de veranderde behoeftes van de markt tegemoet kunnen komen en extra opdrachten kunnen binnenhalen. De InterioJet zal hen immers in staat stellen om op vraag te drukken en just-in-time te leveren. Het systeem stelt bovendien designers van interieurdecoratie in staat om hun creativiteit de vrije loop te laten en voor elke opdracht designs op maat te ontwerpen."
De InterioJet kan twee rollen tegelijk bedrukken – elk met een breedte tot 155 cm en een gewicht tot 600 kg – aan een snelheid tot 340 m² per uur. De printer levert een briljante en consistente drukkwaliteit van begin tot einde, en van de ene opdracht tot de andere. Hij blinkt uit door zijn uitmuntende contrast, scherpte en kleurverzadiging en komt daarmee tegemoet aan de typische kleurenprofielen van de decoratie-industrie.
Dankzij Agfa's 'Think Ink Layer'-technologie blinkt de InterioJet uit door zijn geringe inktverbruik, die zowel de productiekost als de ecologische voetafdruk laag houdt. De printer kan moeiteloos gecombineerd worden met verschillende impregnatie- en lamineerprocessen.
Procesautomatisatie met Asanti
Net zoals Agfa's grootformaatinkjetprinters wordt de InterioJet aangestuurd door Agfa's Asanti-workflowsoftware, die het volledige drukproces van drukvoorbereiding tot en met afwerking controleert, vereenvoudigt en automatiseert. Asanti's omvattende integratie van bestandbeheer, kleurenmanagement en preflighting garandeert een vlotte en foutloze afhandeling van drukopdrachten.
Voor een doorgedreven integratie van workflow- en kleurenmanagement met creatieve en reproductieprocessen, en voor kleurensynchronisatie met analoge drukprocessen, is Asanti volledig compatibel met de meest recente AVA CAD CAM-producten.
Op maat gemaakte watergebaseerde pigmentinkten
Agfa stemt de verschillende componenten van druksystemen (printkoppen, workflow software en inkten) steeds perfect op elkaar af. Voor de InterioJet werden watergebaseerde inkten op maat ontwikkeld. Deze milieuvriendelijke inkten zijn lichtecht en gebruiken speciale pigmenten met een hoog kleurbereik. Ze zijn perfect afgestemd op het standaard productieproces van laminaat. Dankzij de dunne gedroogde laag kunnen ze gebruikt worden om houten of stenen (vb. marmer) designs zonder reliëf te printen.
Contact