Northern Flags install 6th Agfa inkjet print engine
Four years on from moving into their Leeds facility, Northern Flags, part of the FaberExposize Group, has taken delivery of their largest Agfa print machine to date, the Jeti Tauro H3300 HS LED inkjet engine. 
The business has grown exponentially over the past 4 years, now with capacity of over 24,000 sq m of material per day compared to c:4000 sq m in 2018, and whilst flag production is still growing, its share has reduced from representing over 70% of the business to now being a much smaller contributor than board and UV printed materials. They are currently in the midst of expanding into the neighboring building to aid the increase in output and house the 40+ staff, and both units have also had recent mezzanine extensions too.
The new engine is the sixth purchased from Agfa since the company moved into their current premises. They initially purchased an Avinci DX3200 dye-sublimation printer along with an Anapurna 3.2m hybrid wide-format inkjet press. Within 6 months, another Anapurna and Avinci were installed and late 2021, they added one of the latest Avinci printers. Their latest Agfa engine installation is the Jeti Tauro H3300 HS LED, and all these machines are driven by Agfa's Asanti workflow solution.
According to Iain Clasper-Cotte, UK Managing Director for Northern Flags and FaberExposize, the most recent Jeti Tauro investment was a result of diversifying at the start of the Covid pandemic. Like most printers they had to flex to survive and with little demand for fabric print at that time, they focused on those clients that bought print from abroad, where there were supply issues due to Brexit and Covid, and on construction signage and covid safety print, where demand was huge. The result has seen significant growth leading to a 35% increase in the workforce compared to pre-covid. What's more, as customers appreciated the support at that time, few have gone back to their original suppliers. There is no doubt that the business is now known for different types of print – UV, board and fabric – which allows them to offer a cross-section of different products and, as flags are more of a commodity product, this diversification has resulted in better value margins too.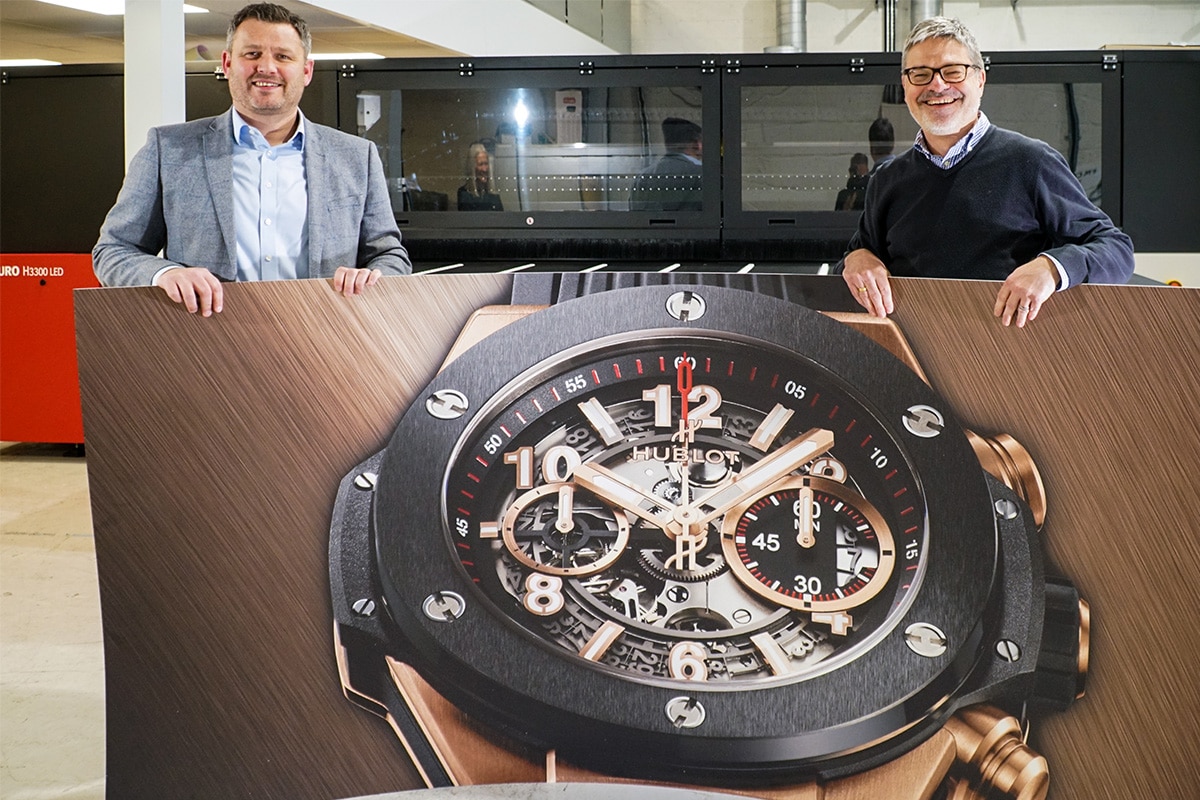 l-r: Paul Fitch – Agfa with Iain Clasper-Cotte – Northern Flags
We just didn't get the same service vibe from other printer suppliers. It's how quickly and professionally Agfa has always resolved issues that has cemented our partnership over the years.
When asked about the relationship the business has with Agfa, Iain said: "We always look at other printer suppliers when we invest in new machinery to check we are not blinkered. But we just didn't get the same service vibe from other printer suppliers and we spoke to other Jeti Tauro customers and they were really pleased with the results from the Agfa engine. The relationship with Agfa has not been without issues, but it's how quickly and professionally Agfa has always resolved issues that has cemented our partnership over the years."
The Jeti Tauro H3300 LED is a highly productive UV LED wide-format inkjet printer range for rigid and flexible media. The hybrid printer combines award-winning print quality with extreme productivity, cutting-edge automation, and low ink consumption. It produces detailed prints up to 3.3 m wide and up to 600 m² per hour thanks to the rapid UV LED curing of Agfa's high-pigmented UV inks and the "Thin Ink Layer Technology" brings both economic and ecological benefits to the user too.
Ecological benefits are, according to Iain, one of the most important topical issues facing the industry currently. "Whilst few customers enquired about environmentally friendly credentials four years ago and when they did, price was usually a deterrent, today it's very different. It's certainly not 100% take-up, as budget is stretched in certain areas, but there is an expectation that we can provide environmentally friendly products", said Iain.
Northern Flags have been marketing EnviroFlag™, made from plastic bottles, for some time, and around 30% of their sales are now on this material. They offer wallpaper too made from the same waste matter. Aside from requesting recyclable materials, clients are also looking for how to dispose of the material after use, so it is certainly an issue that's getting higher up the agenda. As Sustainable Printer of the Year (at the Digital Print Awards) Northern Flags has already made positive strides in this area, largely through their 'Action Now' initiative, but Iain feels the industry is still only in the headline phase and has some way to go.
I think the move to green is the most topical subject in our market at present. For us it's important to know that Agfa is innovating in this area too.
"I think the move to green is the most topical subject in our market at present", Iain concludes. "Clients now want to know what the material is made from, but we will soon move to the next phase where they will want to know how the substrates are manufactured, which will include using machines that offer eco-credentials too and for us it's important to know that Agfa is innovating in this area too. I'm delighted that there is a growing interest in saving the planet and it's great to be on the journey with our print engine supplier too."