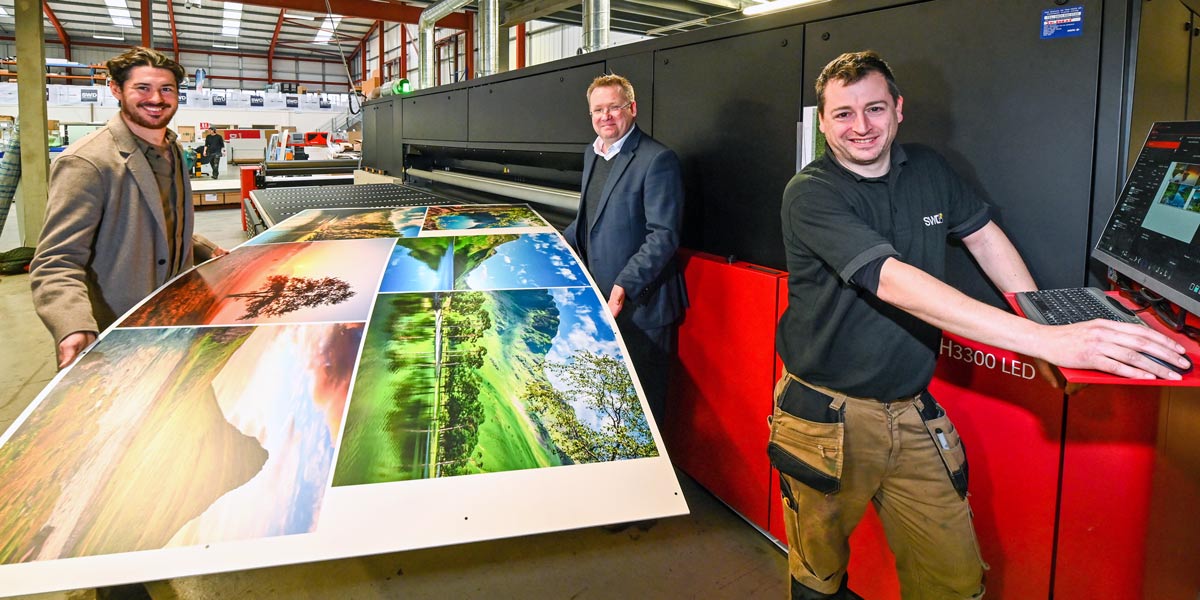 L-R: Luke Drogan, Business Development Manager, SWD, Bobby Grauf, Sales Manager, Agfa
and Tristan Haslam, Print Department Manager, SWD
Super-Wide Digital most impressed by quality and speed of Jeti Tauro H3300 LED
One of the UK's leading large format printers, Super-Wide Digital (SWD), has added Agfa's Jeti Tauro H3300 LED press to their huge stable of Superwide format machines. Installed in September 2019, they admit to having underestimated the benefits it has brought to their established print business.
Founded in 2000, SWD is a family business that's been in wide format 3.2 m and 5 m print from the very beginning.  It's a company that has steadily grown in size over the past 20 years to become arguably one of the largest trade printers of its type in the UK. An experienced operator with a highly skilled and loyal workforce, SWD's reputation for service and quality is admired by many in the industry. They specialise in volume large format work and consistently invest in new equipment and technology to ensure they offer their customers the very latest innovations. So, when they decided to invest in an Agfa branded engine for the first time it was a compliment indeed to the Agfa business and product offer.

"We visited Agfa in Antwerp at the global launch of the Jeti Tauro H3300 LED in 2018 and were impressed at the resolution and output of the machine in the demonstrations." Said Luke Drogan from SWD. "But when we ultimately installed the Jeti Tauro and put it through initial testing it performed even better than we had anticipated, which was a great bonus to us. We found three immediate benefits. The first was the impressive level of quality at high speed. Secondly, the coverage capability of its high-speed white ink and finally the primer feature which allows us to print on materials that are usually difficult for inks to adhere to. The Jeti Tauro was a press that we hadn't desperately needed as a business, but is now one that we definitely can't do without."
The Jeti Tauro H3300 LED is a hybrid UV LED wide-format press that allows manual, continuous and automated feeding of both rigid and flexible materials. It includes 60 fast-firing Ricoh Gen 5 print heads, each with 4 nozzle rows offering 2 colours per head. The Jeti Tauro's optional Master Roll-to-Roll system, of which the UK's first is installed at SWD, additionally allows for jumbo rolls of up to 700 kg per roll in both single and dual lane print modes.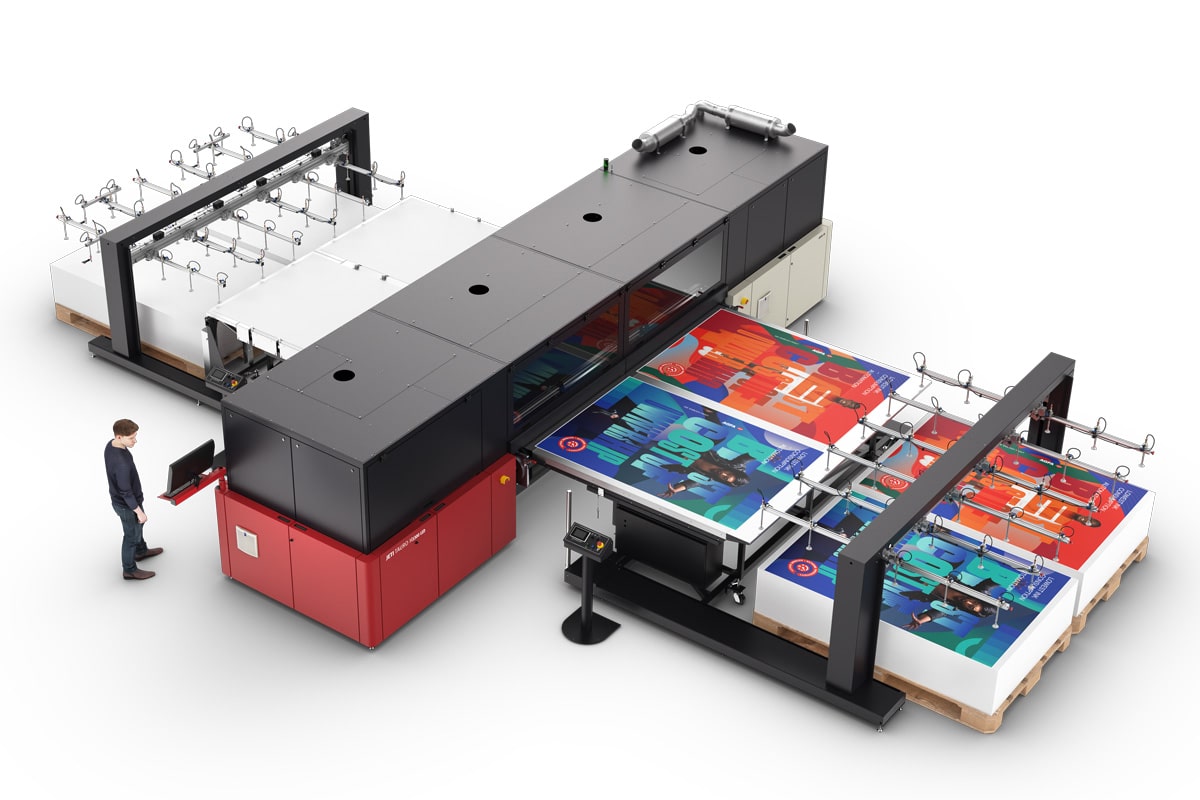 The full-automation version of the Jeti Tauro
Citing examples Luke explained that, just three months on, they have already created a number of new products by experimenting with the new Agfa machine. They've mastered incredible, double-sided self-cling window graphics printed colour-white-black-white-colour which mean graphics can be printed in one-pass and read correctly both ways, without show-through! For brands that require very accurate colour representation of their corporate identity, they've tested printing directly to powder-coated metal sheets using the Jeti Tauro's abilities to print with a primer and a strong white underprint. Pushing the boundaries with these new product solutions helps SWD stay ahead and in particular assist creative clients within the markets they serve.
Bobby Grauf, Inkjet Sales Manager at Agfa UK & Ireland: "Working with industry leading companies such as SWD is key to continuously develop, manufacture and supply cutting edge technology. The global success of the Jeti Tauro range shows that more and more PSP's are looking to diversify and differentiate. Their needs are maximum flexibility and up-time, at the lowest print costs, and Agfa has the answer with both Jeti Tauro H2500 LED (2.5 m hybrid) and Jeti Tauro H3300 LED (3.3 m hybrid)."
SWD are primarily a trade print supplier that produce huge volumes of work with all finishing processes completed in house. Their lean team of around 40 staff work from their 50,000 sq ft site based north of Manchester. It's the fourth building they have occupied since they set up in Manchester in 2000, each getting progressively larger to accommodate their growing business. Today, in addition to their new Jeti Tauro H3300 LED they have 1.6 m and 3.2 m latex roll-to-roll, two dye sublimation, two additional 3.2 m hybrids and four 5 m roll-to-roll machines on site. This capacity is a key USP for the business as it gives them very impressive contingency. Should a machine fail, there is always another on the shop floor that can pick up the work and that offers reassurance for many of their customers, especially with tight lead times. With the speed of their machines and capacity to complete higher volumes of work than most 24-hour printers, Super-Wide ensures their clients' work is done quickly with the minimal fuss — and when extra-large print requirements arise, it does not negatively affect their day-to-day business.
Still family run, SWD is a business with many strands, servicing exhibitions, events, retail, construction and interior markets with print, modular exhibition systems and bespoke lightbox fabrication.
"There is no doubt that Agfa's Jeti Tauro H3300 LED has made a great initial impression on the team." Said Luke. "Our experienced Print Manager, Tristan Haslam, would choose to put all work through it and that's a compliment indeed to the Agfa technology, service and support."