Asanti – die perfekte Kontur
Großformatige konturgeschnittene Displays erzeugen mehr Aufmerksamkeit, als einfache, rechteckige POS Werbung oder Banner.
Auf Messewänden ist das Segmentieren von grafischen Darstellungen heute schon lange Standard. Aber State of the Art ist die durch Corona verursachte Aktion von Borussia Mönchengladbach: Der Fan kann sich als Pappfigur mit seinem Konterfei drucken, schneiden und so einen "imaginären" Zuschauer erstellen lassen, so dass die Geisterspiele wenigstens moralisch und optisch sichtbar aufgewertet werden. Ansonsten wären nur leere Ränge und Plätze sichtbar.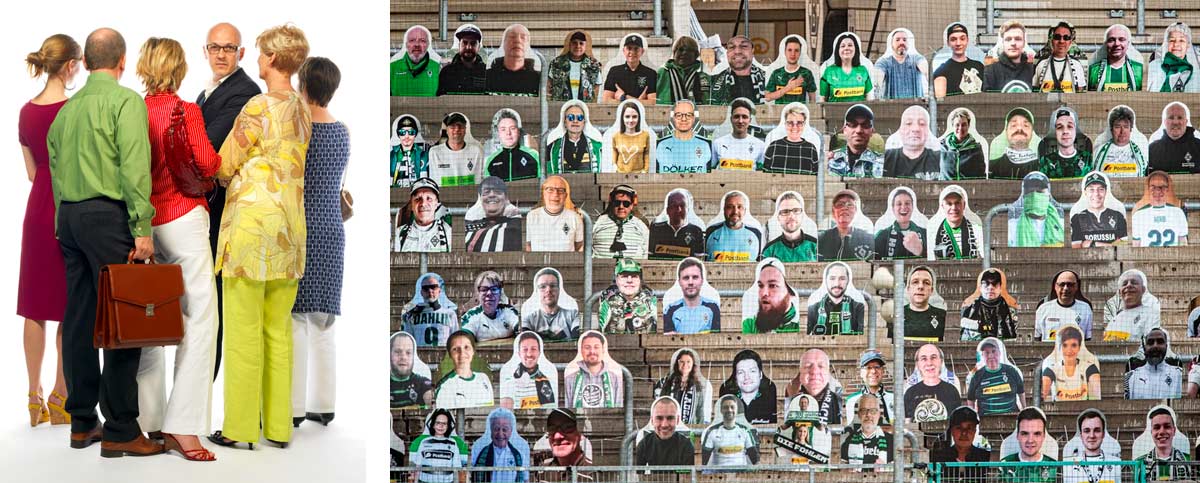 Source: Bundesliga (right image) 
Viele Wege führen dahin, am besten schon in der Vorstufe: dort wird die Schneide-Kontur angelegt, mit einer Spotfarbe versehen. Damit kann Asanti, Agfas APPE basierende Workflow- & RIP-Lösung, einfach automatisch die Zuweisung dieser Schneidekontur erkennen lassen.
Auch, wenn keine Kontur vorhanden sein sollte, kann Asanti aus dem JPEG eine Schneidekontur generieren, wichtig ist hier ein gutes Bild mit einem möglichst gleichfarbigen Hintergrund. Korrekturen sind dann immer noch möglich, wie verändern der Knotenpunkte, verschieben, vergrößern des Abstandes zum Objekt usw.. Das Video zeigt, wie leicht das in Asanti gelöst wird.
Nesting oder True Shape Nesting sind genauso vorhanden, wie Step & Repeat, Kopierfunktion, Erstellung von Schneidemarken oder der Barcodegenerator. Asanti erstellt die Schneidedatei für alle handelsüblichen Schneidesysteme, wie z.B. Esko, Zünd oder Summa u.v.m..