Asanti – geknipt voor uitsnedes
Grote uitgesneden displays trekken de aandacht. Dat maakt ze populair in de retail-, evenementen- en amusementssector. Displays voor verkooppunten, kartonnen figuren om films te promoten en spaanplaatmannequins voor modewinkels zijn enkele van de populairste toepassingen.
Op beurzen gebruikten we zulke uitsnedes als scheidingswanden. Op de afbeelding links is een van de foto's te zien die hiervoor zijn gebruikt. En in deze door corona geteisterde tijden is de Duitse voetbalclub Borussia Mönchengladbach van plan zijn fans een kartonnen uitsnede met hun gelijkenis erop te laten kopen, om tijdens wedstrijden op de stadionstoelen van de club te plaatsen die anders leeg zouden zijn.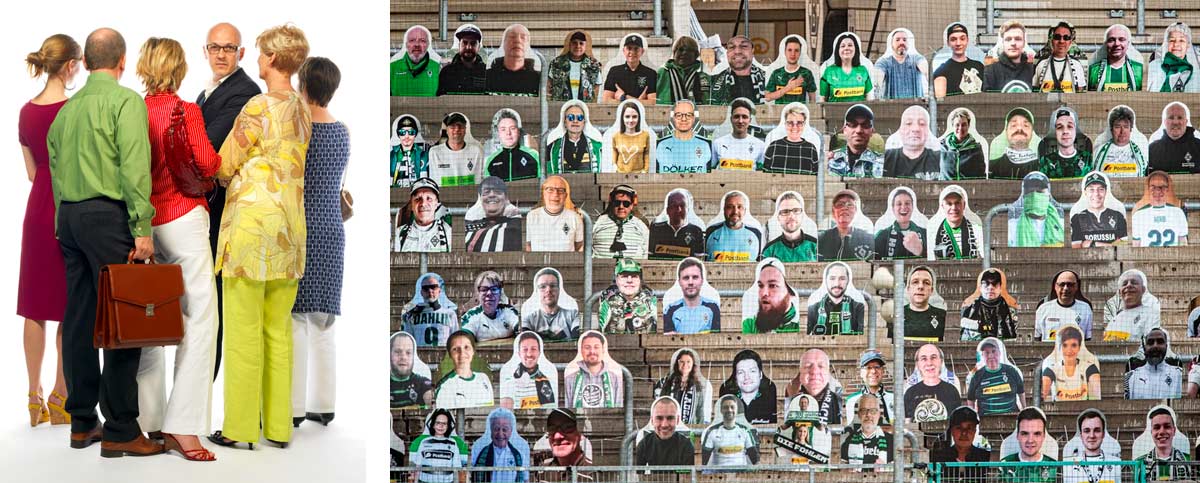 Bron: Bundesliga (beeld rechts) 
Er zijn verschillende manieren om dergelijke uitsnedes te verwerken. Idealiter voegt de illustrator die de afbeelding maakt een snijpad toe aan de afbeelding met behulp van een spotkleur. In de Asanti-workflowsoftware van Agfa kan een operator de spotkleur handmatig markeren als snijinformatie of kan Asanti dit automatisch doen op basis van naamgevingsconventies.
Zelfs als de aangeleverde afbeelding geen uitsnijpad bevat, zoals meestal het geval is bij JPEG-foto's, kan Asanti automatisch de omtrek traceren, mits de afbeelding een vlakke achtergrondkleur bevat voor de niet-afbeeldingsdelen. Met Asanti kunt u ook het snijpad vergroten om een rand rond de afbeelding te maken. Met ingebouwde tekentools kunt u het pad verfijnen. Deze video laat zien hoe makkelijk het is om uitsnedes te maken met Asanti.
Als er meerdere exemplaren moeten worden afgedrukt, kan Asanti de afbeelding of afbeeldingen nesten of vergrendelen op basis van hun snijpad. Deze True-shape Nesting-functie werkt automatisch en stelt u in staat om inkt en media te besparen. Asanti voegt automatisch snijmarkeringen en streepjescodes toe aan de afdrukken en genereert ook een snijbestand. Leveranciers zoals Esko, Zund en Summa ondersteunen een grote verscheidenheid aan snijtafels met front-end toepassingen voor snijmachines.