Asanti – perfectly cut out for cut-outs
Large cut-out displays grab the attention, making them popular in the retail, event, and entertainment industry. Point-of-sale displays, cardboard figures for promoting movies, and particleboard mannequins for fashion stores are among the most popular uses.
At trade shows, we used such cut-outs as partition walls. The image to the left shows one of the photographs that were used for this. And in these corona-stricken times, German soccer club Borussia Mönchengladbach plans to let its fans purchase a cardboard cutout of their likeness, to be planted on the club's otherwise empty stadium seats during games.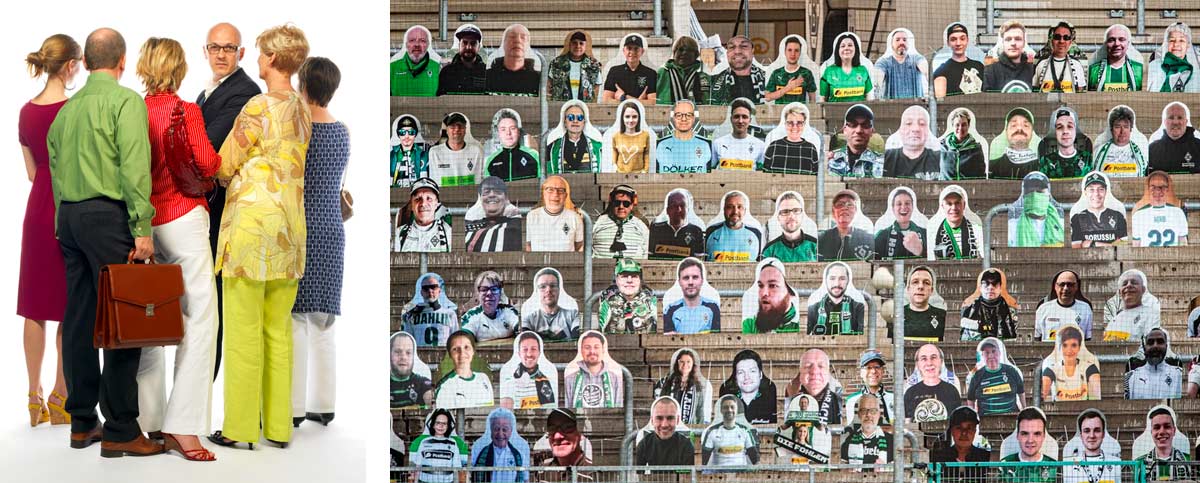 Source: Bundesliga (right image) 
There are several ways to process such cut-outs. Ideally, the illustrator creating the figure adds a cut-out path to the image using a spot color. In Agfa's Asanti workflow software an operator can then manually mark the spot color as cutting information or Asanti can do this automatically based on naming conventions.
Even if the supplied image does not contain a cut-out path, as is typically the case with JPEG photos, then Asanti can automatically trace the outline, provided the image contains a flat background color for the non-image parts. Asanti also allows you to enlarge the cutting path to create a border around the image. Built-in drawing tools enable you to refine the path. This video shows how easy it is to handle cut-outs in Asanti.
If multiple copies need to be printed, Asanti can nest or interlock the image or images based on their cut path. This True-shape Nesting function works automatically and allows you to save ink and media. Asanti automatically adds cut marks and barcodes on the prints, and it also generates a cutting file. A wide variety of cutting tables using cutter front-end applications are supported from vendors like Esko, Zund, and Summa.