Nieuw in de Jeti Tauro H3300 LED
De Jeti Tauro H3300 LED is een hybride printer van 3,3 meter breed, gebouwd voor 24/7 productie, en met een topsnelheid van 453 m² per uur. Onlangs kreeg dit werkpaard een aantal upgrades: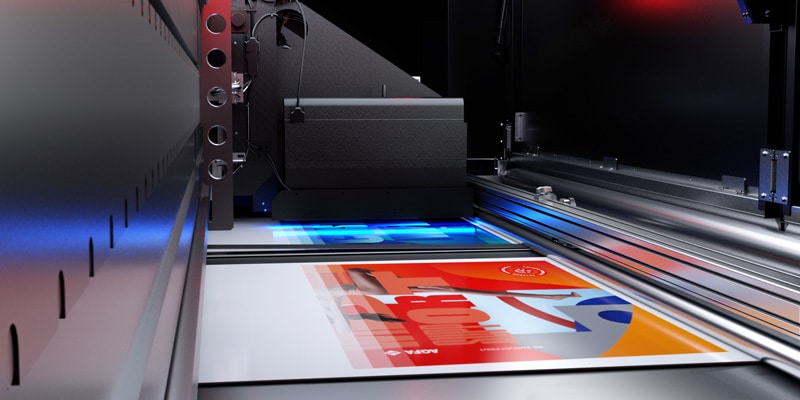 De Jeti Tauro H3300 LED is nu ook beschikbaar in een vierkleurenversie (CMYK), die in slechts drie passes, met een snelheid van 302 m² per uur, een mooie productiekwaliteit bereikt. De bestaande zeskleurenversie blijft de beste keuze voor bedrijven die prioriteit geven aan een ongeëvenaarde afdrukkwaliteit. Deze configuratie bevat lichtzwart (CMYKLcLk), wat een neutral grijsbalans over het totale toonbereik garandeert. Beide versies zijn ook verkrijgbaar met witte inkt en primer.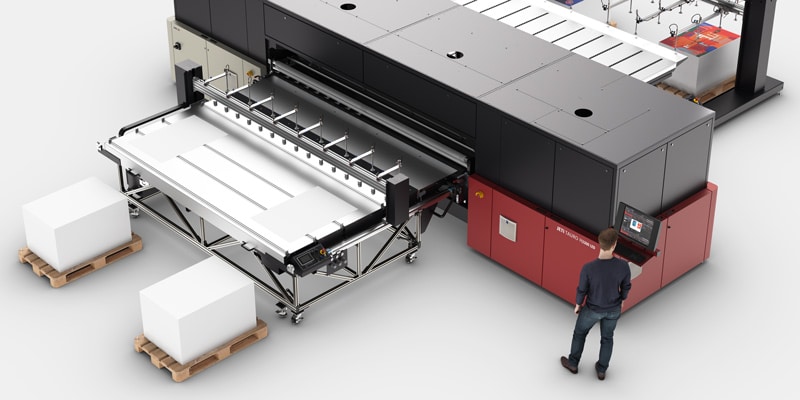 De nieuwe Automatic Board Feeder (ABF) verhoogt de productie-efficiëntie. Deze configuratie is ideaal voor kleinere oplages, waarbij snel omgeschakeld wordt tussen verschillende mediaformaten of -types. De unit beschikt over een voor- en zijaanleg die de media automatisch positioneert, waarna de zuigerarm de plaat direct in de Jeti Tauro invoert. De ABF neemt belangrijke taken van een operator over, inclusief de nauwkeurige uitlijning. Dat laatste is met name belangrijk bij dubbelzijdig printen.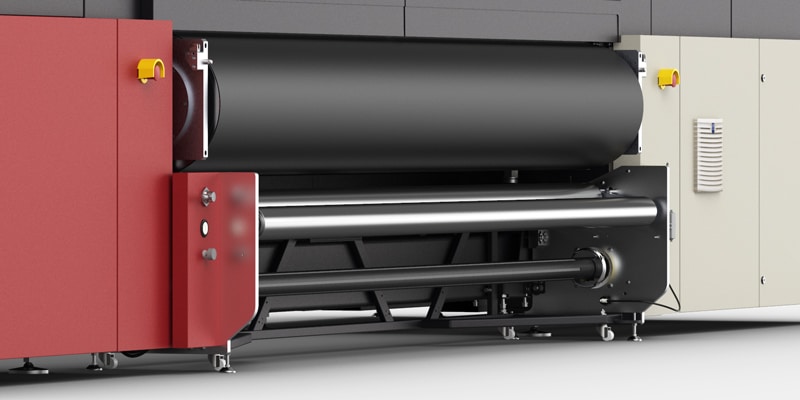 Naast de bestaande 'master-roll-to-roll'- versie, speciaal gebouwd voor grote rolproducties, beschikt de Jeti Tauro H3300 LED nu ook over een optioneel geïntegreerd rol-naar-rolsysteem. Dit 'light roll-to-roll'- systeem is met name geschikt voor de kleinere rolproducties. Het systeem kan snel schakelen van rol- naar plaatproductie.
Met de nieuwe toevoegingen beschikt de Jeti Tauro H3300 LED nu over zes configuraties met verschillende automatiseringsniveaus, van volledig manueel tot volautomatisch. Sommige configuraties kunnen ook omgevormd worden tot een andere.
De printer wordt aangedreven door de Asanti-software die functioneert als een slimme productiehub voor sign- en displaybedrijven. Het nieuwe, intuïtieve Production Dashboard biedt details over de status van de printer en jobs, terwijl 'mediarecepten' alle parameters voor een bepaald substraat regelen. De slimme beeldalgoritmes van Asanti beperken het inktverbruik, dit in combinatie met de door Agfa gepatenteerde 'Thin Ink Layer'-technologie. De Anuvia-inktsets op de Jeti-printers hebben de hoogste categorie GREENGUARD Gold-certificering. Dat betekent dat ze voldoen aan strenge normen voor chemische emissies en mogen worden gebruikt in gevoelige indoor toepassingen zoals scholen of zorginstellingen.