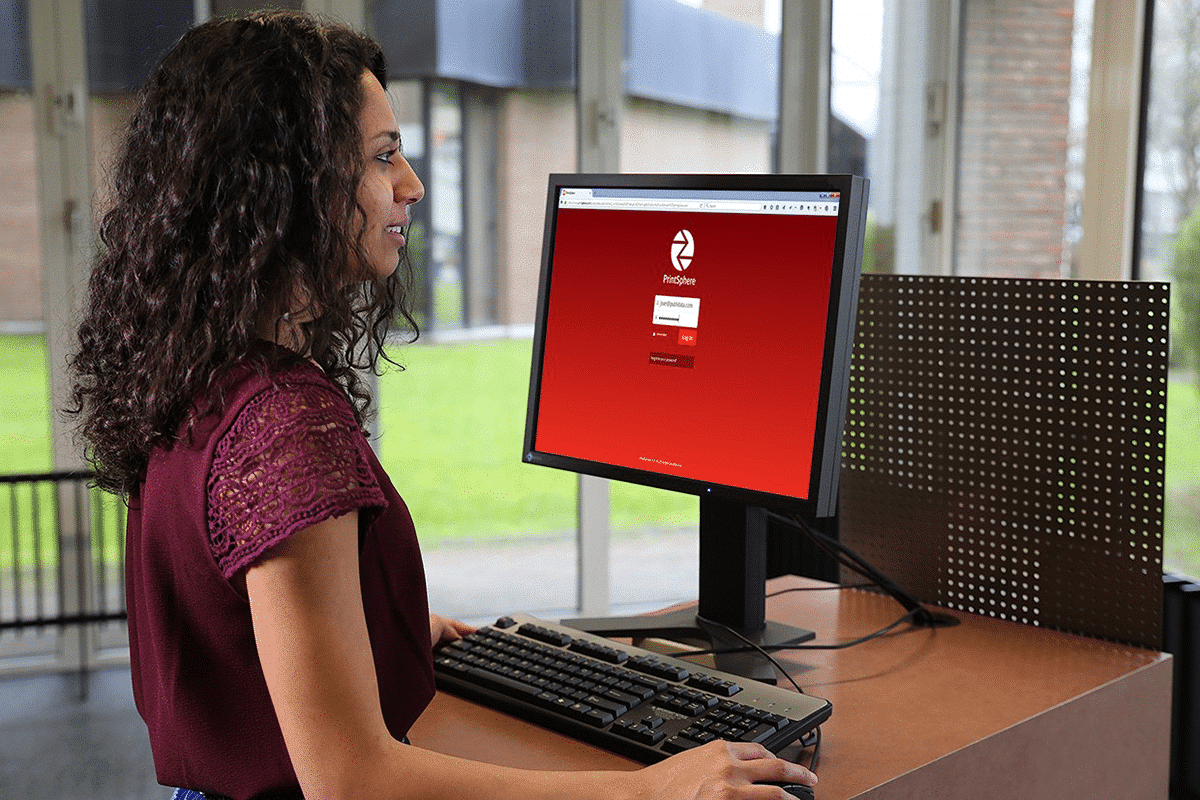 How to get started with PrintSphere
You learned about PrintSphere or you saw it at a trade show or other event, and now you are keen to start using PrintSphere in your company. This page describes how to do this.
To get started with PrintSphere, you need an invite to access the service. Your Agfa sales representative or dealer can generate an invite for you, or else use the 'Get in touch' button on the right side of the page or the contact form at the bottom to request an invite. Once your request is processed, you will receive an email titled 'Your PrintSphere account'. It contains an invite to access PrintSphere and initialize your password.

Clicking the link in the e-mail takes you to SphereCenter, which is the back office of PrintSphere where you manage your account, storage, and users. The login screen shows the e-mail address you need to use to log in. Select a secure password and click the 'Initialize Password' button.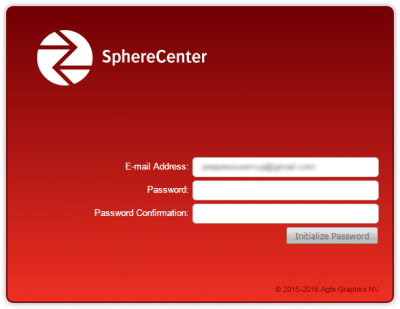 Once the password is set, SphereCenter will display the License Agreement. Activate the checkbox at the bottom of this window to accept the terms and conditions. If you want to read this agreement ahead of time, you can find it here. Click 'Accept' to continue.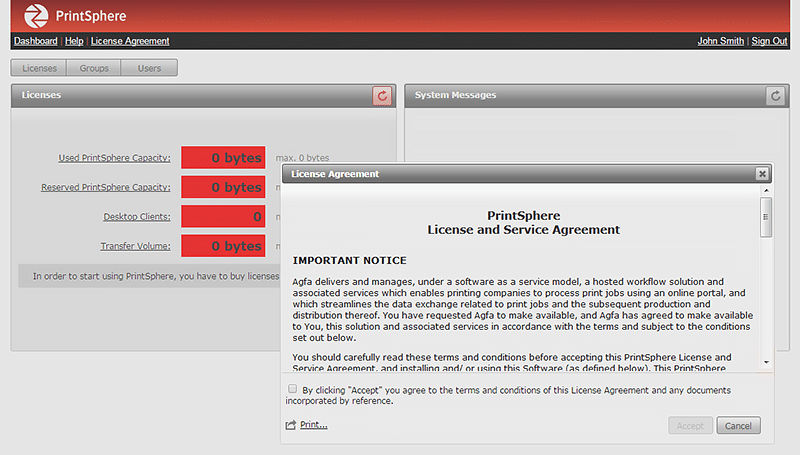 SphereCenter now displays the Dashboard which provides an overview of your current licenses and a window with System Messages. These messages include announcements about upcoming upgrades and tips & tricks.
Your PrintSphere account is now activated.
How to add PrintSphere licences to your account?
If your Agfa sales representative or dealer did generate the invite for you then the PrintSphere licences are also loaded and you are ready to use PrintSphere and configure your Agfa workflow to exchange data with PrintSphere.
You should have received an e-mail from the PrintSphere confirming this, and can you obviously also validate the PrintSphere license availability directly in SphereCenter as depicted in the screenshot below.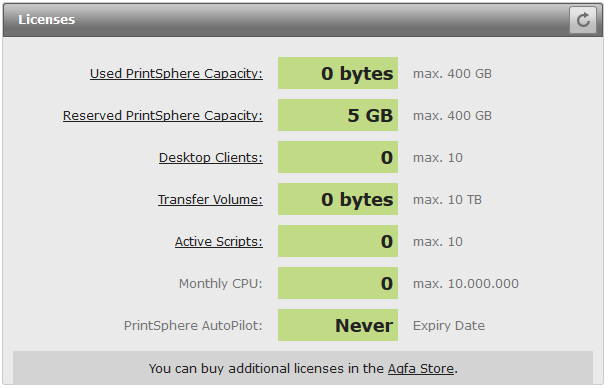 Please contact your local Agfa Services team or dealer for more information on configuration and training for such a setup.
Otherwise you can purchase the licences on the software store as explained here after.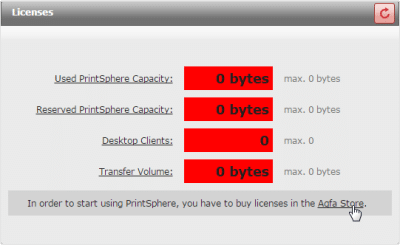 Click the link to the store in the Licenses window. This takes you to a page where you can select a password to access the Agfa Graphics software store. For simplicity sake, we recommend to use the same password you chose for SphereCenter.

In the store go to the PrintSphere category where multiple licenses are offered for sale. You need the 'Base Pack' license to get started. It offers the most versatile combination of storage space, data volume, and connectivity.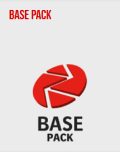 Click the icon to go to its product page. The product description specifies the parameters of this license. Click the 'Add to Cart' button to order this product. This takes you to a list of all of the items in your cart. To finalize your order click the 'Checkout' button.

The checkout process is similar to most other web shops. It involves supplying a billing address. Make sure your company's name and Tax or VAT number are filled in. This information will be added to the invoice that you will receive afterwards.

In Step 2 you can review your order and add a promotional code if you happen to have one. This can be filled in using the 'Promo Code' button next to the 'Next' button.

The last step in checkout is the online payment using Ingenico, which is one of Europe's largest payment service providers. The shop offers a range of credit cards that can be used to pay for the license.

Once your order is finalized, a summary is shown on-screen. The same information is also included in the 'Order Confirmation' e-mail that is sent to you. Once your order is processed, a second e-mail is sent with the subject 'Order Shipment Confirmation'. This mail contains a link to your invoice as well as two links to either activate your license immediately or add the license to SphereCenter for later use.

We recommend clicking the 'Activate your license now' link. This takes you back to the License window in SphereCenter where the Base Pack license is now listed with the 'Active' status.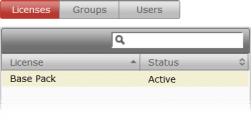 Congratulations, you are ready to start using PrintSphere! In SphereCenter you can now add users and assign storage.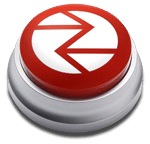 If you intend to use PrintSphere in conjunction with an Agfa workflow solution such as Apogee Prepress or Asanti, these workflow systems need to be configured to exchange data with PrintSphere. Contact your local Agfa Services team or dealer for more information on configuration and training for such a setup.