Other Chemistry
Agfa offers a complete line of chemistries and cleaners for all your pressroom needs.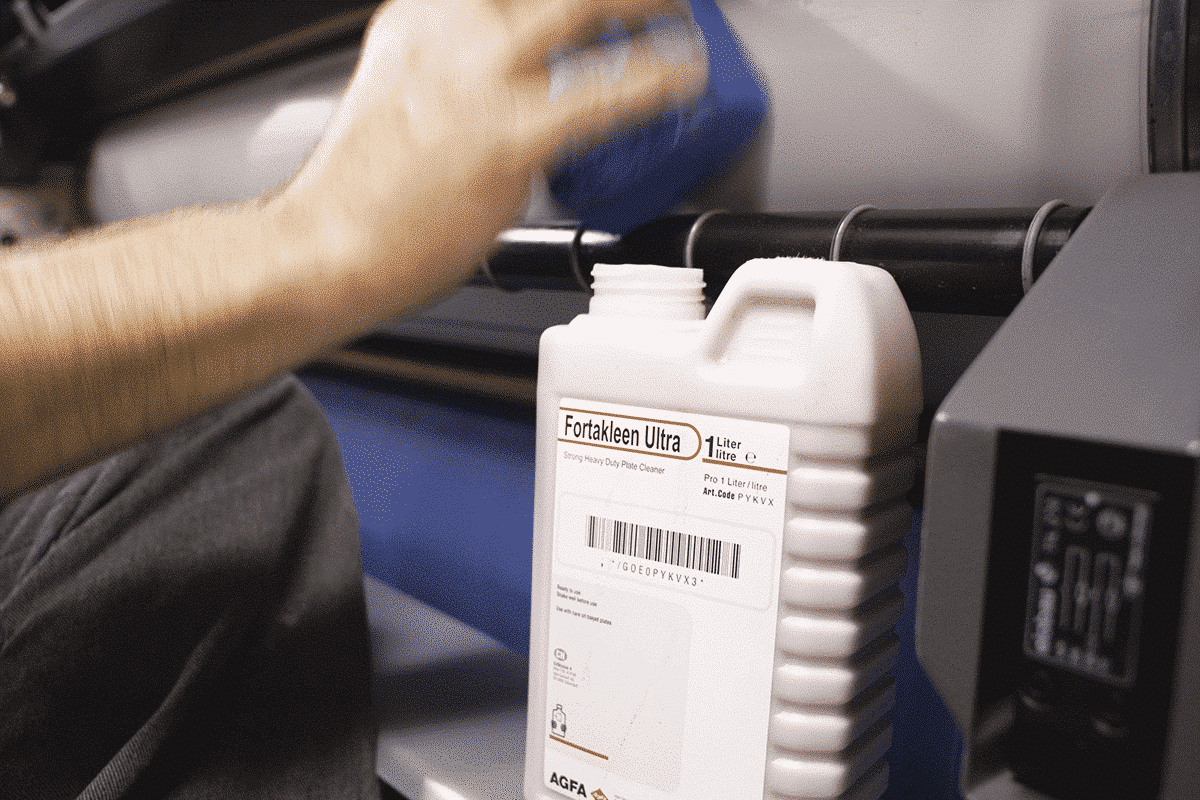 The backbone to consistent color quality is establishing and maintaining ink and water balance upon makeready, during the run and on re-starts. Selecting the correct fountain solution and chemical series, is critical to creating a compatible printing system. Our portfolio provides state-of-the-art chemical systems including: fountain solutions, washes, plate cleaners, maintenance and specialty products.
Our chemical program is supported by our national team of pressroom technical sales and printing ink specialists, as well as manufacture technical experts, who are well versed in chemicals, coating & ink technology, pressroom applications, color management and manufacturing. These specialists are available to assist with integrating the right product for our customer's application.
Products
Performa Miscellaneous Chemistries & Cleaners
Performa Anilox Cleaner SD: Formulated to quickly clean water-based, UV and solvent based inks in both manual and cleaning machinery applications. The product will penetrate deeply into the anilox cells to clean dried ink and sequester it so it will not re-deposit during the cleaning process. This is an aggressive, highly alkaline anilox roller cleaner and should not be used where soft metals are present.
Performa Flexo Plate & Parts Cleaner MM: An outstanding technology cleaning product for facilities running a mix of water-based and UV flexographic inks. Its' low odor and effective formula rapidly cleans the flexographic ink from plates and machinery. When used as directed, the product will not swell photopolymer printing plates and can be applied by hand or used in plate cleaning units.
Performa 300A Rejuvenator & Conditioner: A multipurpose product that can be used on presses of all sizes. It is unique in that it is a one-step rejuvenator, conditioner and deglazer for blankets and rollers. The product is an easy to apply liquid that restores and conditions rubber surfaces and prevents dehydration.
Tower Miscellaneous Chemistries & Cleaners
Tower 18-M MRC Metering Roller Cleaner: A non-chlorinated, very fast drying, strong cleaning MRC with a solvent odor.
Tower Chrome Roller Cleaner & Desensitizer: A powerful liquid cleaner that will effectively clean and desensitize the chrome dampening rollers. This product will restore the water carrying capacity of the roller by replacing the ink and oxidation contamination with a protective water receptive film.
Tower CTP Scratch Remover: An advanced formulation of specialty cleaning agents for use on CTP Plates. The product removes ink, glaze, gum and paper dust and leaves the non-image area clean and desensitized. This is an acid based emulsion cleaner that can clean the plate and remove scratches in one application. Approved for use on Kodak, Agfa and Fuji plates.
Tower Dynamic Duo Systems Cleaner: An outstanding, two part ready to use fountain solution recirculation systems cleaner. The product helps to extend the life of fountain solution by cleaning and removing ink, coating, mold and paper from the press recirculation system. It even helps to eliminate calcium build up. Best of all, it is a safer to use technology than the competition since it does not have to be pre-mixed and it is a non-regulated product for shipping.
Tower MRC 100 Low VOC Metering Roller Cleaner: A low VOC that meets the SCAQMD requirements at 100grams per liter. A very fast drying, Very strong cleaning MRC with a Solvent odor.
Tower MRC 2010 Metering Roller Cleaner: Fast drying solvent blend formula for use in continuous dampening systems. Clean quickly and leaves no residue. It can also be used to clean back cylinders and used as a fast drying type wash.
Tower Meter Clean Metering Roller Cleaner: Very fast drying, strong cleaning MRC designed for use in continuous dampening systems and has a Mild citrus odor.
Tower MRC-LV: A very fast drying, low VOC metering roller cleaner. The product features great cleaning strength and no residue.
Tower NMC II – Numbering Machine Cleaner: In one easy application, N.M.C. II cleans and lubricates numbering machines with a special non-separating formula.  The microscopic coating of lubricant that N.M.C. II leaves behind is ink-compatible, so when it's time to re-use the machine, no pre-cleaning is necessary.  Apply by brush, spray or immersion.
Tower Super Roller Cleaner: Effectively and quickly cleans, deglazes and conditions ink rollers. Rollers that have become contaminated with glaze, paper dust and ink can cause poor printing quality. With regular use, SUPER ROLLER CLEANER will help maintain the rollers for optimum print quality. The product can also be used for fast color changes during the course of the day for improved pressroom productivity.
Tower Roller Paste: A high technology cleaning paste for thoroughly cleaning printing rollers.  The product is unique in that it accomplishes the cleaning function without strong solvents or abrasive chemical additives.  The product is ideal for color changes and daily roller maintenance.
Tower 600 Cleaner Concentrate: An outstanding, zero VOC pressroom ink cleaner.  Formulated for newspaper applications the product can be used as is or diluted with water up to 7 to 1.
Tower Restorkleen Blanket Deglazer & Rejuvenator: A one-step blanket deglazer and rejuvenator for all size presses. The product will strip away glaze and leave behind a plasticizer to help restore the rubber surface and prevent dehydration. The product is not to be used as a daily wash, but rather as a maintenance product.
Tower Deluxe Calcium Rinse: Formulated to dissolve calcium deposits not just on the surface of the rollers, but deep down into the rubber to give you really clean rollers. Calcium build ups can affect production costs and print quality if they are not treated. Deluxe Calcium Rinse emulsifies the calcium on contact when applied to the rollers, back cylinders and chrome rollers.
Tower Calcium Cutter: A high technology fountain solution additive formulated to sequester or chelate free calcium that can contaminate the fountain solution during a press run. This product can prevent and inhibit calcium salts from building up on the image of the plate, causing dot loss and plate blinding during the run. It can also help the plates cleanup faster on re-starts and aids in the ink transfer process. Calcium Cutter can be used with both sheet fed and web fountain solutions and is an excellent additive for all Tower fountain solutions when extreme calcium exists in the printing process. The product is compatible with CTP plates as well as conventional plate materials.