Elantrix SX
By processing your plates with a processor from the Elantrix SX range, your output increases along with the quality of your results. Learn all about this affordable, high quality processor.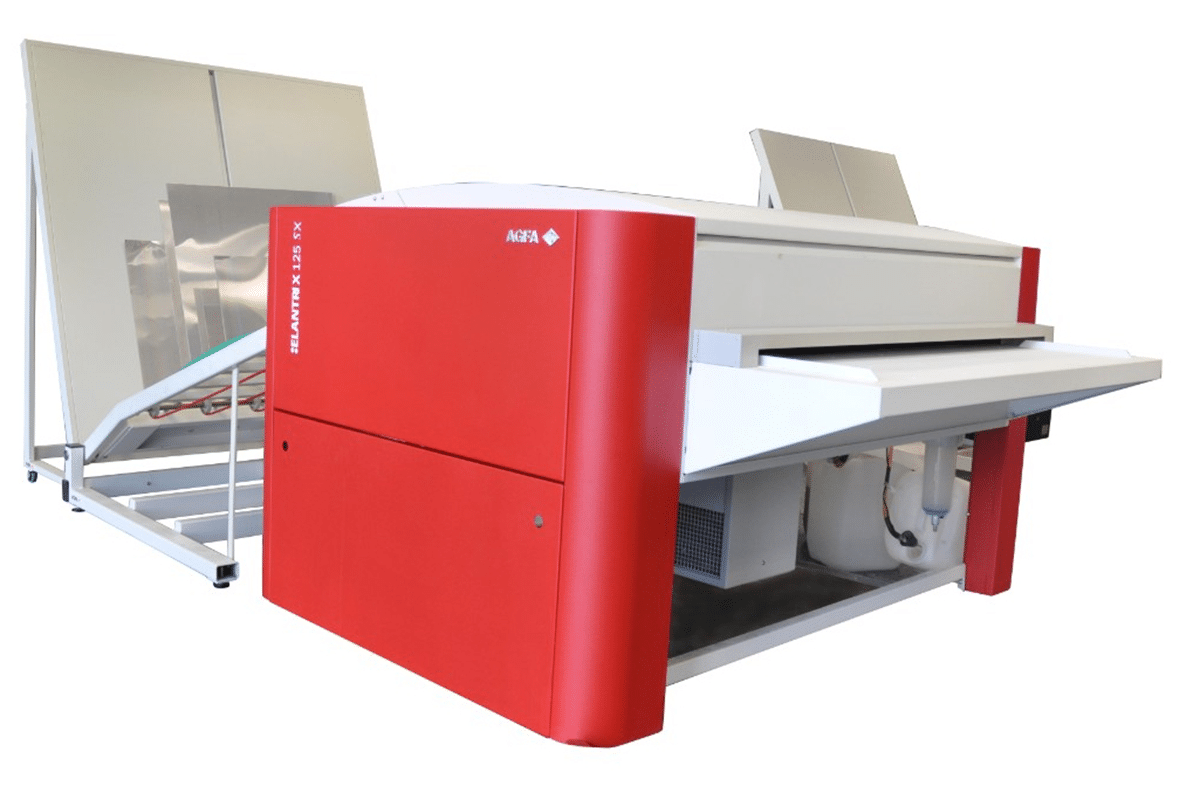 Elantrix SX: the budget-friendly plate processor designed with the benefit of Agfa's extensive experience in this cutting edge technology. Deliver high quality results for your clients, thanks to the unbeatable reliability and performance of the Elantrix series.
Take your thermal plate processing to the next level: the competitively priced Elantrix processors are built from high-quality components to guarantee your press room a steady flow of press-ready plates. Take your pick from the Elantrix SX 125 and 150 versions. All of them have been developed for up to 30,000 m² of annual thermal plate usage.
Ruggedized design
Simplicity of operation and service
Low complexity level
Remote-enabled
Fully featured control panel
Hand shower, water saving system and many other features included
Features
Advanced Design at an Affordable Price
Elantrix is a low-cost thermal processor that is built to the highest specifications and offers robust, reliable performance. Plate development, washing, gumming and drying are fully automated. The user control panel is simple to use and Elantrix has been designed for simple maintenance. Elantrix comes with a full range of options such as interfaces, stackers, conductivity measurement etc.
Robust, Simple Operation
Processing speed, developer temperature, replenishment and all other important processing parameters are automatically controlled, maintained and monitored by the processor. Elantrix has shown best-in-class processing performance and provides excellent image quality on plate. A level sensor in the developer section ensures constant plate dwell time in the developer, guaranteeing consistent, optimized plate quality. Plates as short as 300 mm can be processed, and Elantrix is easily interfaced to all thermal plate setters.
Solid, Reliable Processing
Elantrix processors are supplied with a combined developer chiller/heater as standard and have a built-in water saving feature, which gives important environmental benefits. Together with a small ecological footprint and a solid, reliable design, Elantrix will give many years of low-maintenance use. A range of Elantrix stackers is also available to complete your plate processing system.
Technical Specs
Plates
P970, Energy Elite, Energy Elite Pro
Plate type
Positive-working, thermal offset plates
Plate width, min.-max.
200 x 1250 mm (7.9 x 49.2")
Plate length, min.
300 mm (11.8″)
Plate thickness, min.-max.
0.15-0.40 mm (0.006-0.016″)
Platesetters
Avalon N8, N16

Performance

Plate speed
10-160 cm/min (15,75-63"/min)
Plate volume
44 plates/hr (portrait 1030 x 790 mm)

Mechanical specifications

Tank content, developer
75 l (19.81 US gal)
Tank content, wash
50 l (13.20 US gal)

Physical specifications

Dimensions (width, length, height)
2040 x 1440 x 1400 mm (80.3 x 56.6 x 55.1")
Processor
470 kg (1036,17 lb)
Processor, packed
610 kg ( 1344.8 lb)

Electrical Specifications (EUR)

Voltage
Single phase 1W + N + PE 230V
Current
15 Amps
Operating frequency
50/60 Hz

Electrical Specifications (US)

Voltage
Single phase 2W + PE 208 – 230V
Current
15 Amps
Operating frequency
50/60 Hz
Plates
P970, Energy Elite, Energy Elite Pro
Plate type
Positive-working, thermal offset plates
Plate width, min.-max.
200 x 1500 mm (7.9 x 59")
Plate length, min.
300 mm (11.8″)
Plate thickness, min.-max.
0.15-0.40 mm (0.006-0.016″)
Platesetters
Avalon N24, N36 (<40.000m²/y)

Performance

Plate speed
10-160 cm/min (15,75-63"/min)
Plate volume
33 plates/hr (portrait 1430 x 1145 mm)

Mechanical specifications

Tank content, developer
90 l (23.77 US gal)
Tank content, wash
60 l (15.85 US gal)

Physical specifications

Dimensions (width, length, height)
2220 x 1440 x 1400 mm (87.4 x 56.6 x 55.1")
Processor
530 kg (1168.45 lb)
Processor, packed
700 kg (1543.24 lb)

Electrical Specifications (EUR)

Voltage
Single phase 1W + N + PE 230V
Current
15 Amps
Operating frequency
50/60 Hz

Electrical Specifications (US)

Voltage
Single phase 2W + PE 208 – 230V
Current
15 Amps
Operating frequency
50/60 Hz