Eclipse
Looking for an offset printing plate that combines the benefits of process-free technology with effortless printing? Eclipse provides it all: great image contrast, high scratch resistance and excellent office-light stability.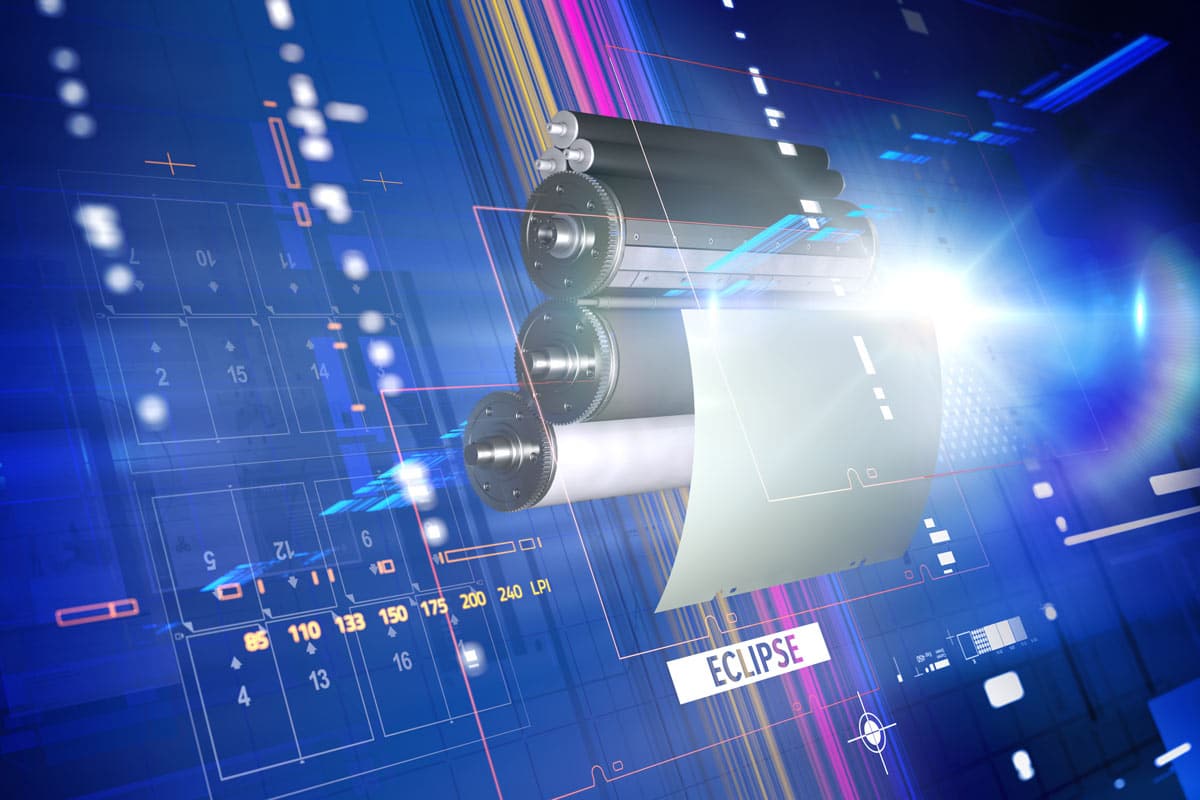 Inherent to the nature of a process-free plate, Eclipse eliminates the need for a processor using chemicals. It thus reduces printers' capex as well as the energy, disposal and maintenance costs in the prepress department, while also gaining them floor space.
Eclipse, however, distinguishes itself from other process-free plates as this drop-in is just as easy to use as a conventional offset plate, combining press purity with excellent and stable image contrast and high scratch resistance. Eclipse is the most convenient process-free plate on the market, eclipsing all others. And it is flexible too, as it can be used with either conventional or H-UV/LED-UV inks.
Keeps your press clean
Superior and stable image contrast
Up to 24h office-light stability
Excellent scratch resistance
Most convenient process-free plate
In detail
Keeps your press clean
Eclipse's distinctive clean-out behavior guarantees that the press is kept clean. Thanks to its patented process-free technology, the coating of the plate gets transferred to the first few printed sheets, instead of to the fountain, ink or rollers as is the case with other process-free printing plates.
Superior and stable image contrast
Eclipse features a superior and stable image contrast, enabling quick visual image inspection as well as recognition by a punch & bending system. That way – even after a week of storage – there will be no mix-ups on press or costly plate remakes.
Up to 24 hours office-light stability
Eclipse keeps its great contrast even after 24 hours in office light, which makes an enormous difference compared to the two hours of other process-free plates. It means you don't need to store your plates in their box or in otherwise dark conditions, which is inconvenient and time-consuming. During this period, print quality will be fully preserved in terms of dot gain, toning, start-up time…
Excellent scratch resistance
Eclipse is highly resistant to scratches, which means you can handle the plate without having to worry about damaging it. Think about loading it into cassettes or the platesetter, storing it, transporting it from prepress to press, mounting it on the press cylinder…
As plates don't get scratched, they won't need to be remade – sometimes even entailing stopping the press and wasting costly time. That's a thing of the past with Eclipse!
Most convenient process-free plate
No process-free is easier to work with than Eclipse. Not only because of its great contrast and scratch resistance, but also because it gives operators quite some leeway in terms of maintenance, founts or start-up procedure. You can rest assured that this plate will work its wonders at all times.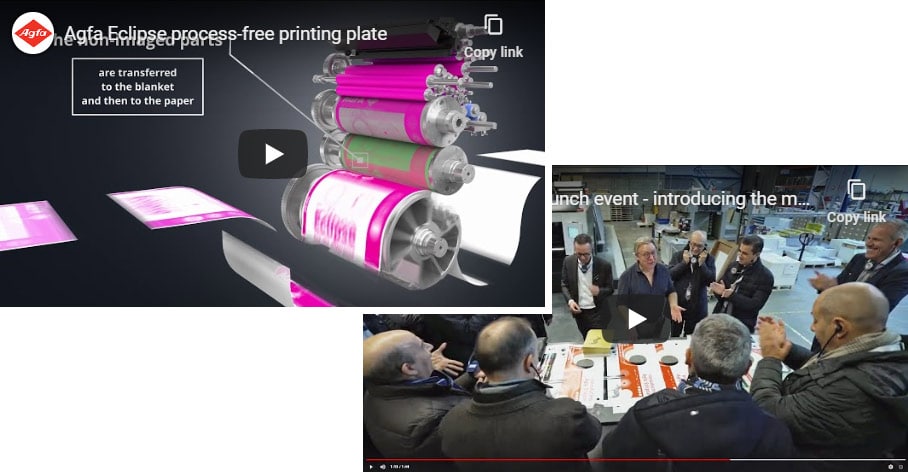 What our customers say
Technical Specs
Plate characteristics

Plate type
Negative-working thermal photopolymer offset plate
Substrate
High-quality grained and anodized aluminum
Spectral sensitivity
830 nm (thermal laser diode)
Practical sensitivity
110-130 mJ/cm²
Platesetter compatibility
Compatible with 830 nm platesetters
Image contrast
Excellent and stable
Plate sizes
All common plate sizes
Resolution (depending on platesetter)
XM 240lpi @2400 dpi: 1- 99%
FM 25
Gauges
All common plate gauges
Run length (depending on print conditions and screen ruling)
 Up to 200,000 (UV inks: 50,000)

Environment

Room lighting
Standard office light
Room conditions (T, RH)
18-24 °C (64-75 °F), < 65% RH
Storage conditions
Below 32 °C (90 °F), <70% RH
ECO³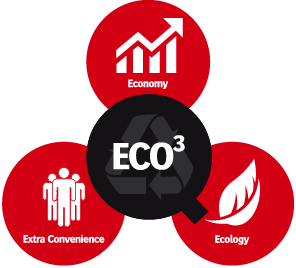 Eclipse is part of Agfa's ECO³ approach of sustainable innovation, which encompasses hardware, software and consumables that make prepress and printing operations cleaner (ECOlogy), more cost-effective (ECOnomy) and easier to operate and maintain (Extra Convenience). ECO³ extends from the prepress environment into the press room with unparalleled ink saving and press standardization software packages that reduce make-ready time and paper waste.
The ultimate goal? More value for your entire business! Find out more on eco3.graphics
Related products
Oxidative

(Low-power curing)-UV

Plate cleaner
ANTURA CtP Plate Cleaner
ANTURA UV PL Cleaner
ANDLESS Ctp Plate Cleaner
Fountain solution
ANTURA fount AFS2 (for alcohol-free or up to 8% IPA printing)
PRIMA FS 404AS
ANTURA IPA 100
Roller and blanket wash
XTRAWASH 40/60
ANDLESS UV Wash
Correction material
Process-free deletion pen
Pressroom specialties
ANTURA contrast enhancer