Colex Sharpcut Flatbed Cutter
The Colex Sharpcut Flatbed Cutter is a fully integrated hardware and software solution that turns your digital cutting table into a true, short-run production system. This powerful solution provides unmatched productivity by intelligently finishing your graphics with the highest accuracy and efficiency.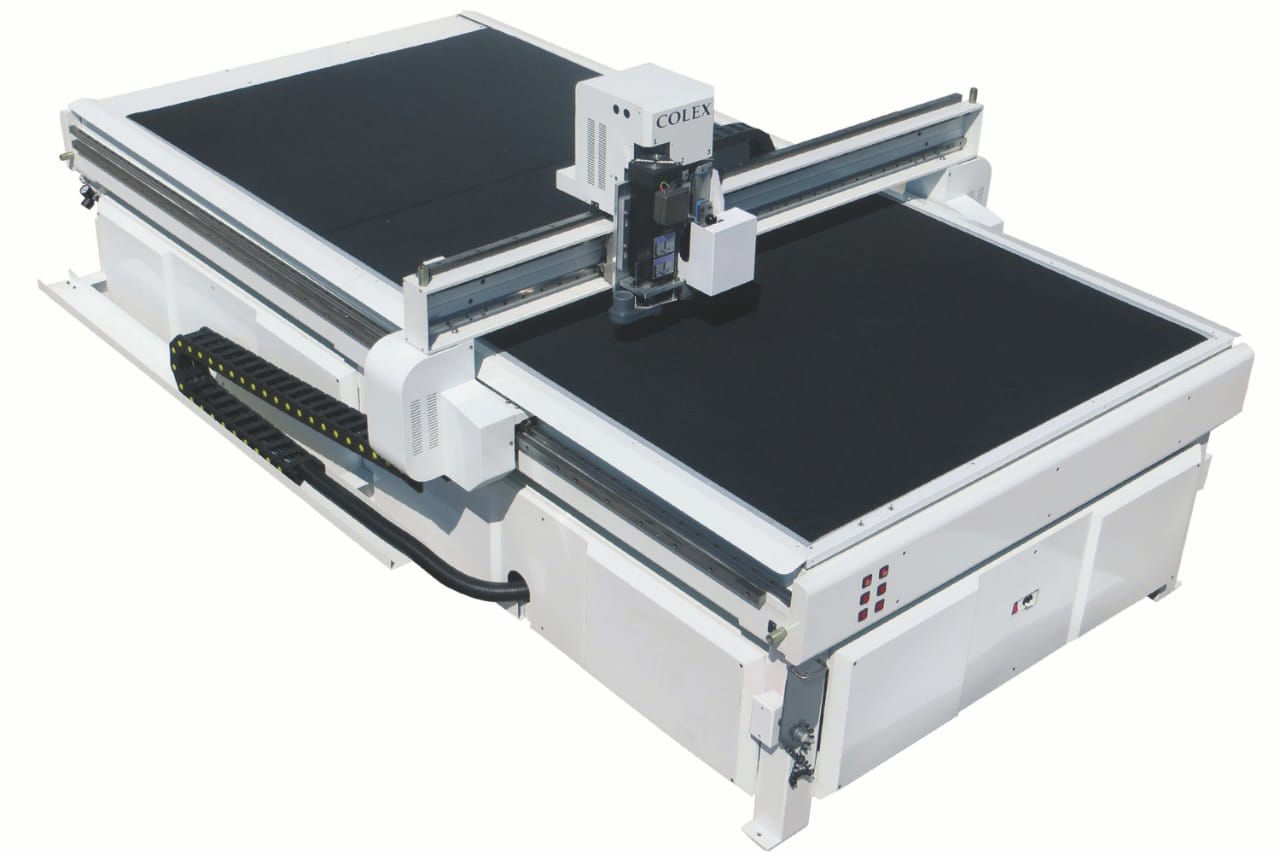 The Colex Sharpcut's advanced engineered flatbed cutting table, manufactured in Elmwood Park, NJ is designed for cutting sheet and rigid materials while delivering clean, smooth edge quality. All movements (X,Y,Z,W) are powered by top of the line Panasonic Servo Motors. The gantry is made out of Aerospace aluminum alloy, strong enough to accommodate the optional 3HP Router. Rack and pinon drive for reliability, long life, and cost efficient maintenance.
Features
Triple Interchangeable Tool Head
Fixed router with two interchangeable tool positions for various knives and creasing wheels
Computer selects proper tool for each job
Optional add-on tools for cutting and creasing are available to customize workflow
The new router debris collector has incorporated a spring loaded hold-down foot that inhibits media shifting while routing (especially helpful when routing small pieces)
Vision Registration
The Sharpcut, powered by Optiscout, can read any diameter registration mark, crop mark or square resulting in highly efficient production.
Optiscout Import Filters & File Import Filters
Material Library
Edge Recognition
Overcut Compensation
CCD Registration Camera
Vacuum System
6 Independent Vacuum Zones
Energy Efficient/Low Power Consumption
Industrial Vacuum Motors for Durability
Fixed Double-Edge Knife
Used for thick vinyl foil, card stock, chip board, thick laminate, magnetic foil, membrane foil, mat cutting and expanded PVC. (T00120)
Creasing Wheel
For folding cardstock, carton and corrugated media. (T00130)
Kiss-Cutting Knife
Used for pressure sensitive labels, decals and vinyl cutting. (T00135A)
Coroplast/Corrugated Knife
(For Tight Curves) Used for Coroplast up to 1/8" material, vinyl, card stock 1mm, corrugated, framing carton, paper stock, banner and vinyl media. (T00138)
Universal Single-Edge Knife
(Straight Edge) Used for Foam Board up to 1/4", 3mm & 6mm Sintra. (T00139)
V-Cut Knife
Use for triple wall corrugated, Falcon Board and Honeycomb Board up to 1/2" for 90°. (T00140)
Universal Drawing Tool
Can be used to draw or plot simple text as well as applying lines and marks with a pen. Drawing can occur in any direction or at any angle in a variety of thicknesses. Ballpoint refills are available in red, black or blue. (T00141)
Perforating Wheel
Used to create a tear or folding line in paper, vinyl, card stock or carton. (T00144)
Other Tools Also Available
ROUTER 1HP: Router Spindle – 1.1 HP 24,000 rpm (T00149)
ROUTER, 3HP: Router Spindle – 3HP, 24,000 rpm (T00150)
OSCILLATING KNIFE, STANDARD: 1.5mm Stroke Used to cut media such as corrugated stock, thicker grades of Foam Board, Honey Comb Board, Styrofoam and more. (T00126)
ROTARY KNIFE (Motorized): This tool utilizes a 10-sided cutting wheel to cut textiles, fabrics, and other fibrous materials. The cutting wheel rotates to glide through these materials producing a clean cut at high rates of speed. (T00143)
Technical Specs
Dimensions

Size
5′ X 5′
Floor Space Requirements
14′ X 14′
Weight
1950 lbs.
Width
84″
Length
84″
Working Area
63″ X 63″
Bed Size
64″ X 64″

Electrical Requirements

220V-Single Phase-30A & 110V-15A
Dimensions

Size
5′ X 10′
Floor Space Requirements
14′ X 18′
Weight
2950 lbs.
Width
84″
Length
140″
Working Area
63″ X 122″
Bed Size
64″ X 124″

Electrical Requirements

220V-Single Phase-40A & 110V-15A
Dimensions

Size
10′ X 10′
Floor Space Requirements
20′ X 20′
Weight
6950 lbs.
Width
158″
Length
146″
Working Area
127″ X 128″
Bed Size
128″ X 130″

Electrical Requirements

220V-Three Phase-90A & 110V-15A
Availability
North America only