Colex Sharpcut Flatbed Conveyor
The Colex Sharpcut Flatbed Conveyor and auto feeder is an affordable automated finishing system with an unparalleled combination of versatility & speed.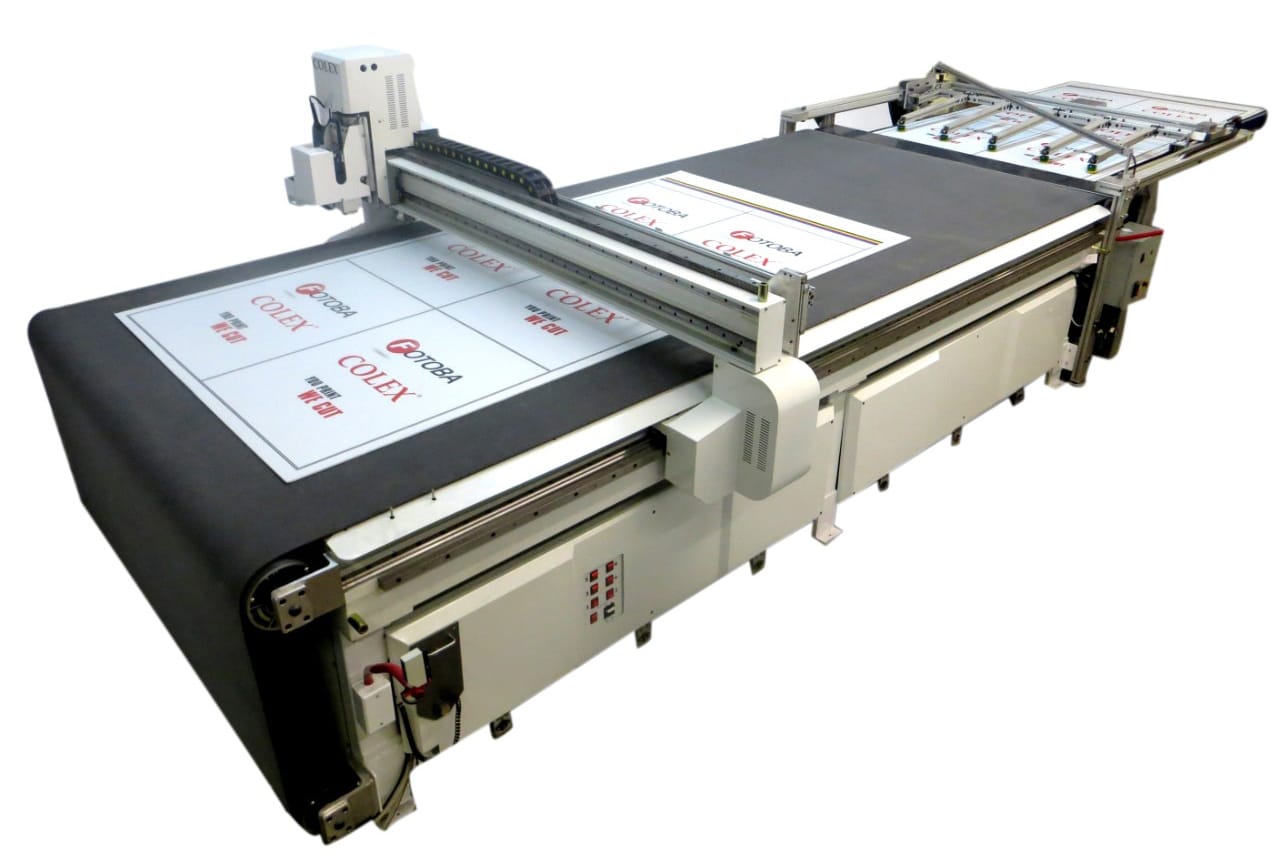 The Colex Sharpcut Conveyer can be used for a variety of applications. It efficiently speeds up the removal of finished jobs from the cutting table. Combine the Sharpcut Conveyor with the Roll Feeder and the Clamping Bar to cut fabrics/textiles. Combine the Sharpcut Conveyor with the Automatic Board Feeder (including Pallet Table) and Clamping Bar for board cutting. Cuts up to 70 boards (soft) 4' X 8' per hour.
Features
Automatic Board Feeder
The board feeder is designed to load semi rigid to rigid boards from the pallet table onto the conveyor belt. It is designed to work with a large array of material sizes and thicknesses.
Pallet Table
When used with the Automatic Board Feeder the pallet table will automatically maintain the material height. The pallet table drops down to 6" in height for easy loading and unloading of the pallets.
Roll Feeder
For manual and automatic feeding of flexible rolls.
Clamping Bar
The clamping bar insures that the material advances at the same rate as the belt as it advances down the table. The clamping bar is to be used in conjunction with either the Roll Feeder or the Automatic Board Feeder to insure consistent material placement before cutting.
Fixed Double-Edge Knife
Used for thick vinyl foil, card stock, chip board, thick laminate, magnetic foil, membrane foil, mat cutting and expanded PVC. (T00120)
Creasing Wheel
For folding cardstock, carton and corrugated media. (T00130)
Kiss-Cutting Knife
Used for pressure sensitive labels, decals and vinyl cutting. (T00135A)
Coroplast/Corrugated Knife (For Tight Curves)
Used for Coroplast up to 1/8" material, vinyl, card stock 1mm, corrugated, framing carton, paper stock, banner and vinyl media. (T00138)
Universal Single-Edge Knife (Straight Edge)
Used for Foam Board up to 1/4", 3mm & 6mm Sintra. (T00139)
V-Cut Knife
Use for triple wall corrugated, Falcon Board and Honeycomb Board up to 1/2" for 90°. (T00140)
Universal Drawing Tool
Can be used to draw or plot simple text as well as applying lines and marks with a pen. Drawing can occur in any direction or at any angle in a variety of thicknesses. Ballpoint refills are available in red, black or blue. (T00141)
Perforating Wheel
Used to create a tear or folding line in paper, vinyl, card stock or carton. (T00144)
Other Tools Also Available
ROUTER 1HP: Router Spindle – 1.1 HP 24,000 rpm (T00149)
ROUTER, 3HP: Router Spindle – 3HP, 24,000 rpm (T00150)
OSCILLATING KNIFE, STANDARD: 1.5mm Stroke Used to cut media such as corrugated stock, thicker grades of Foam Board, Honey Comb Board, Styrofoam and more. (T00126)
ROTARY KNIFE (Motorized): This tool utilizes a 10-sided cutting wheel to cut textiles, fabrics, and other fibrous materials. The cutting wheel rotates to glide through these materials producing a clean cut at high rates of speed. (T00143)
Technical Specs
Dimensions

Size
5′ X 5′
Floor Space Requirements
14′ X 14′
Weight
1950 lbs.
Width
84″
Length
84″
Working Area
63″ X 63″
Bed Size
64″ X 64″

Electrical Requirements

220V-Single Phase-30A & 110V-15A
Dimensions

Size
5′ X 10′
Floor Space Requirements
14′ X 18′
Weight
2950 lbs.
Width
84″
Length
140″
Working Area
63″ X 122″
Bed Size
64″ X 124″

Electrical Requirements

220V-Single Phase-40A & 110V-15A
Dimensions

Size
10′ X 10′
Floor Space Requirements
20′ X 20′
Weight
6950 lbs.
Width
158″
Length
146″
Working Area
127″ X 128″
Bed Size
128″ X 130″

Electrical Requirements

220V-Three Phase-90A & 110V-15A
Availability
North America only