Azura Vi
Azura Vi is a violet plate designed for chemical-free processing: the perfect combination for outstanding, low-cost results.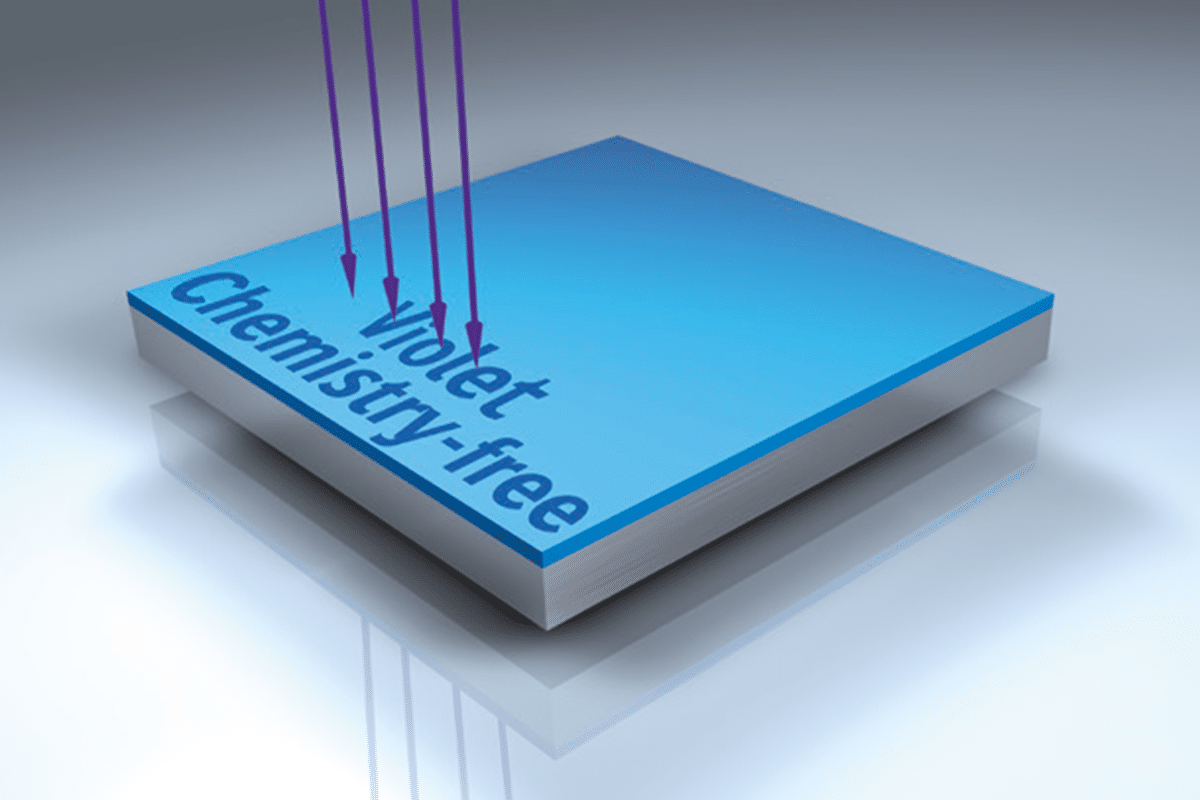 Agfa was the first to introduce violet laser technology for CtP applications. It maintains that position by offering you Azura Vi: a violet plate designed for chemical-free processing. Azura Vi provides superior print quality, easy handling and outstanding durability.
By installing a simple modification kit or using a clean-out unit (COU), you can clean out gum in your plate processors without developer. This results in a higher print consistency than ever before. Moreover, its compatibility with all mainstream violet CtP units that emit at least 30 mW, makes it an excellent option for commercial printers worldwide.
Combination of advanced violet laser and chemical-free technologies
Optional reuse of existing plate processors as a COU
Cost reduction thanks to the durable and reliable violet diode platesetters
Consistent and predictable platemaking through the elimination of processing variables
Low gum consumption and overall waste
Features
Reduced Costs with Greater Image Consistency
Because it's a chemistry-free plate, there's no need for a developer, thus eliminating one of the main variables affecting image consistency. Instead of using standard plate processors, printers can now use simple, less expensive clean-out units (COUs). It's also possible, with the installation of a simple modification kit, to reuse an existing Agfa Graphics plate processor as a COU. Violet-diode platesetters stand out for their low cost of ownership, extremely long lifespan and absolute reliability.
International Compatibility
This new, chemistry-free plate works with all mainstream violet CtP units currently in use at commercial print sites across the world and emitting at least 30 mW.
High Performance on Press
Although a chemistry-free plate, press operators will readily accept it because it looks, feels and behaves as any other aluminium offset plate. Normal plate densitometers can be used to read the plate without problems. Thanks to its high contrast, a quick visual check will immediately reveal possible errors (imposition, etc.).
Technical Specs
Plate characteristics

Plate type
Negative-working, chemistry-free violet-laser offset plate
Substrate
High-quality grained and anodized aluminum
Spectral sensitivity
405 nm (violet-laser diode)
Practical sensitivity
45 µJ/cm²
Platesetter compatiblity
Most violet platesetters with laser power of 30 mW and higher
Image contrast
Good. Can be measured with all available densitometers and plate reader
Plate sizes
Standard sheet-fed and web sizes
Resolution (depending on platesetter)
3–97% at 200 lpi for ABS

1–99% at 210 lpi for Sublima

Gauges
0.15 mm, 0.20 mm, 0.30 mm, (0,006″, 0,008″,  0,012″)
Run length
Up to 150,000 (dependent on press conditions, not suited for UV inks)

Processing

Developer
Azura Violet Gum as clean-out gum
VCF Finisher as storage gum
Replenisher
N.a.
Replenishment rate
66 mL/m²
Bath life
VCF85: 900 m² or 6 weeks
Processor
VCF85 or existing violet polymer processors
Processor speed
1.2 m/min (VCF85)

Environment

Room lighting
yellow
Room conditions (T, RH)
18–24 °C (64–75 °F), 45 % ± 10% RH
Storage conditions
Below 30 °C
Gums
Not applicable
Baking gum: Not applicable
Plate correction pen (for unbaked plates)
Polymer deletion pen
Plate Cleaner
Standard: ANTURA CtP Plate Cleaner
Low-VOC/NON-VOC: ANTURA Low-VOC Plate Cleaner
Cleaning gum: ANTURA CleanGum
Fountain Solutions
Sheetfed: RC661
Sheetfed: Prima FS303 SF
Sheetfed: Prima FS404 AS(H)
Sheetfed: ANTURA fount AFS(H)1
Sheetfed: Prima FS808 AF
Heatset: ANTURA fount (H)700
Coldset: Not applicableRehardener: RC611
Roller and blanket washes
Xtrawash Plus 40 & 60