Azura TU
Designed for high-volume offset printing, simplified platemaking and uncompromising quality, Azura TU outperforms every other plate in its class.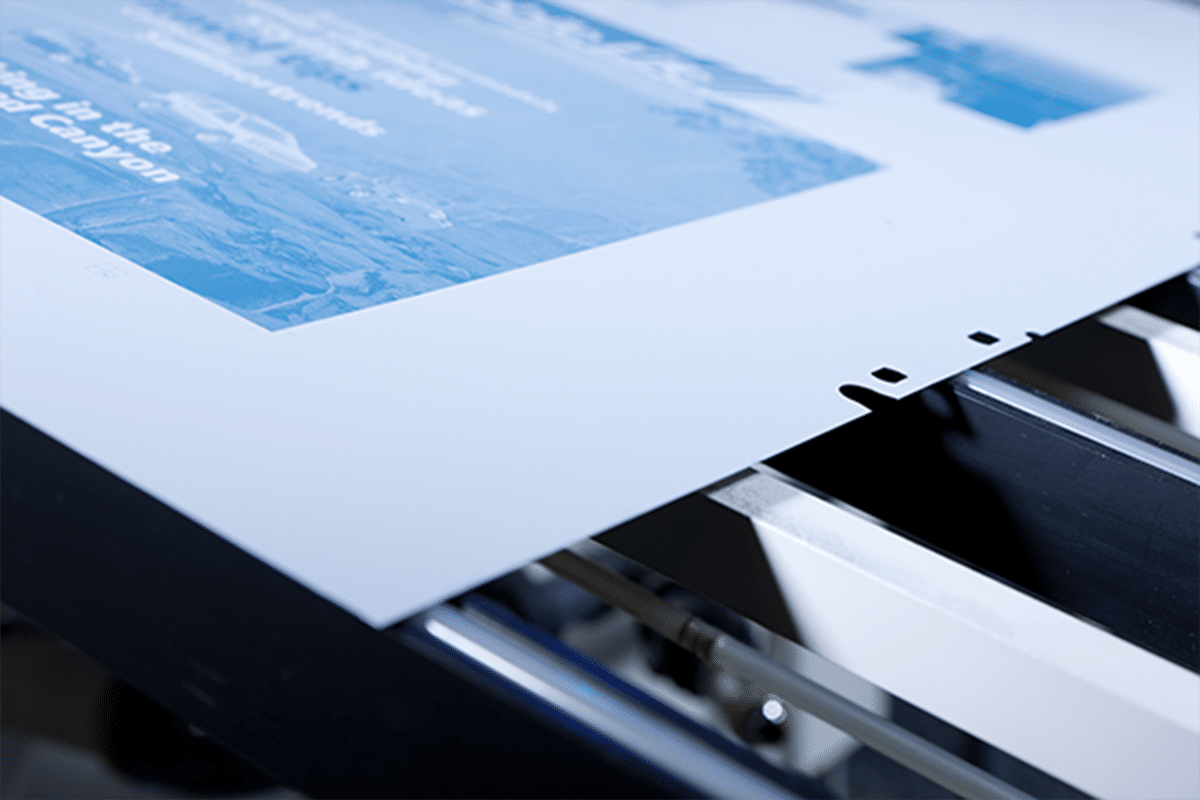 The Azura plate was launched in 2004 and has been winning prizes ever since. Why? Because it's the only truly chemistry-free platemaking system. Agfa's ThermoFuse™ technology is characterized by particles in the aluminum plate coating that fuse to each other and bond to the plate when the plate is heated. This creates a solid ink-accepting image, capable of printing 150,000 copies in one run.
Azura TU covers all sizes of sheetfed presses from B2 up to sheetfed format 6 and 7 for book and display printing. It also serves the fast-growing web-to-print applications that are printed on VLF sheetfed presses.
Not only does Azura TU raise your platesetter productivity. It also eliminates process variables and thus guarantees more reliable and consistent results. Another benefit to this technology is that it's environmentally friendly, as chemicals are unnecessary and water consumption can be reduced by up to 95% compared to conventional prepress systems.
More reliable, consistent results thanks to the advanced ThermoFuseTM technology
High-volume printing: up to 150,000 copies in commercial sheet-fed printing
Easy on the environment: no chemicals and water usage reduced by up to 95%
Faster platemaking as a result of high plate sensitivity
Easier handling thanks to the daylight immunity, scratch-resistant surface and strong image contrast
Features
True chemistry-free
As the image formation is a physical process, there is no need for developer or replenisher. No chemicals mean less disposal costs, a safer work environment and less waste.
Long bath life
In combination with the Azura CX clean-out unit, an extremely long gum bath life of up to 7,000 m² reduces equipment maintenance to an absolute minimum.
Water Saving
When switching from conventional processing to Azura TU, a water reduction of more than 95% can be realized, as no rinse water is required anymore.
Run Lengths of up to 150,000 Copies
Azura TU puts the power of chemistry-free production into the hands of the most demanding sheet-fed commercial printers. Run lengths of up to 150,000 copies are now in reach with one single plate.
Fast Platemaking
A plate sensitivity of 160 mJ/cm² allows for more than 50 B1 plates per hour. Azura TU guarantees maximum CtP plate throughput on most commercial CtP platesetters.
High Quality
Azura TU is made of high-grade aluminum, allowing the delivery of prints with a razor-sharp image quality, up to 240 lpi.
Simplicity and stability
As the Azura TU plate is cleaned out with a simple pH-neutral gum, there are no changing processing parameters like temperature, conductivity or bath life. This results in a reliable and consistent image quality.
Standard operating procedures
Thanks to the unmatched image contrast and excellent daylight stability, standard operating procedures apply. The gum-protected aluminum shows excellent lithographic behavior.
Brochures
Customer stories
How it works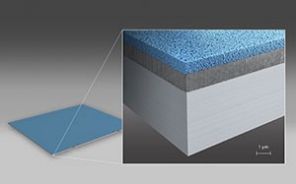 Unexposed Azura TU plate
The single-layer coating contains ink-accepting ThermoFuse™ pearls.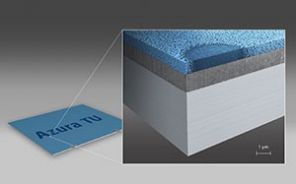 Exposed Azura TU plate
The coating absorbs energy from the 830nm imaging head. The ThermoFuse™ pearls fuse firmly to each other and bond strongly to the grained and anodized aluminum base.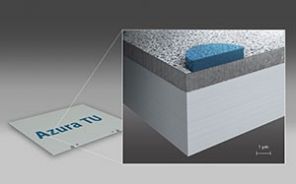 Gummed Azura TU plate
Application of the gum washes away the unexposed plate areas and creates a protective layer.
Technical Specs
Plate characteristics

Plate type
Negative-working, chemistry free-ThermoFuseTM offset plate
Substrate
High-quality grained and anodized aluminum
Spectral sensitivity
830 nm (thermal laser diode)
Plate sensitivity
160 mJ/cm²
Platesetter compatiblity
Compatible with most common 830 nm external drum thermal platesetters
Image contrast
Excellent. The plates can be measured with all available densitometers and plate readers.
Plate sizes
Standard sheet-fed and web sizes
Resolution (depending on platesetter and screening algorithm)

Sublima: 1-99 % at 280 lpi at 2400 dpi
FM 20 (Crystal Raster) at 2400 dpi

Gauges
0.15 mm, 0.20 mm, 0.24 mm, 0.30 mm, 0.40 mm (0.006", 0.008", 0.010", 0.012", 0.016")
Run length (depending on printing conditions)
Up to 150,000 dependent on press conditions.
Up to 10,000 with UV inks
Shelf life
24 months

Cleaning

Clean-out gum
Azura CX gum
Bath life
Up to 7,000 m²
Clean-out unit
Azura COU CX85, CX125, CX150
Clean-out unit speed
1.6 m/min. in CX85, CX125, CX150

Environment

Daylight resistance
Up to 48 hours in full daylight
Room conditions (T, RH)
18-24 °C (64-75 °F), < 70% RH
Storage conditions
Ambient temperatures below 50°C / 50°C not to be exceeded for >24 hours
ECO³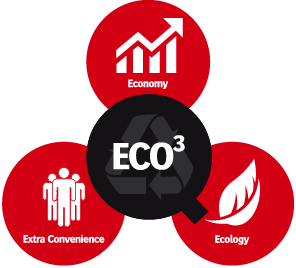 Agfa is committed to sustainable innovation focused on ecology, economy, and extra convenience – or ECO³. We develop integrated solutions – consisting of hardware, consumables, software and services – that streamline your prepress and printing operations and make them cleaner, more cost-effective and easier to operate and maintain. All while guaranteeing superior and consistent print quality.
The result? More value for your entire business!
Plate cleaner
Antura CtP plate cleaner
Overnight plate cleaner
Antura clean gum
Deletion pen
KP010 – KP011 – KP012
Desensitizer
PlateEtch Plus
Scratch remover
Reviva plate
Fountain solution
Azura TU is compatible with all Agfa Graphics fountain solutions
Roller and blanket wash
Azura TU is compatible with almost all Agfa Graphics roller and blanket washes
Storage gum
RC795 for short-term plate storage after printing

RC73 for long-term plate storage after printing