Azura CX COU
The impressive capacity of the Azura CX clean-out units take the ThermoFuse technology to a whole new level, high above your competition.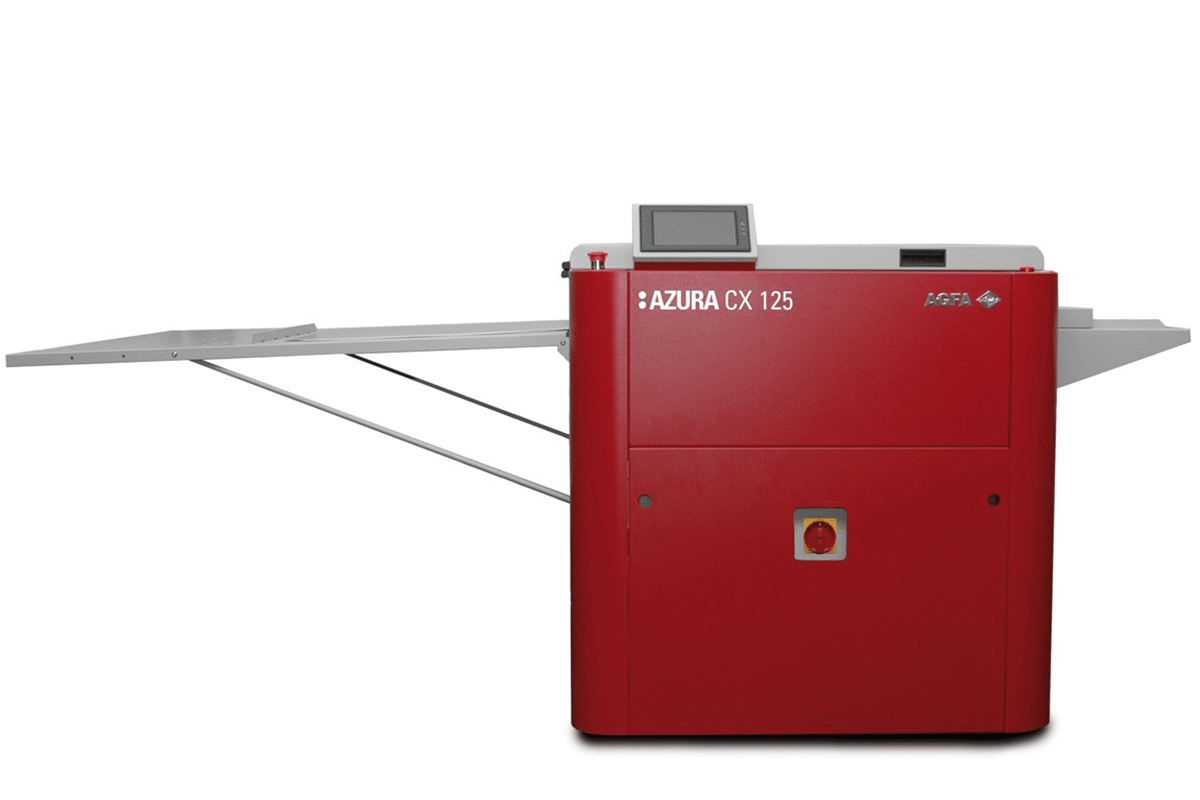 The clean-out units Azura CX 85, CX 125 and CX 150 are showpieces of Agfa's expertise. Their cascading clean-out technology enables you to handle more plates, with lower waste costs. The pH-neutral water-based gum circulates between two shallow trays, which raises the clean-out efficiency and reduces gum consumption. It also lengthens the bath life up to 7,000 m2.
Choose your model: connected online with the plate setter, or stand-alone. There's no need for a developer or replenisher and everything is pre-set. So once the Azura CX clean-out unit is installed, you're good to go: the unit is designed to handle up to 50,000 m2 of plates a year!
Minimized water and gum usage
No rinsing water required
Small ecological footprint
Easy to use
Significantly reduced waste
Energy-friendly
Low maintenance
Watch the movie
ECO³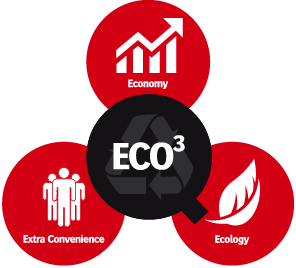 Agfa is committed to sustainable innovation focused on ecology, economy, and extra convenience – or ECO³. We develop integrated solutions – consisting of hardware, consumables, software and services – that streamline your prepress and printing operations and make them cleaner, more cost-effective and easier to operate and maintain. All while guaranteeing superior and consistent print quality.
The result? More value for your entire business!
Features
Cascading clean-out technology
Simplified clean-out step eliminates many process variables (temperature, pH, conductivity, dwell time, replenishment etc.)
Operates in daylight, always fully functional
State-of-the-art interface
Technical Specs
Plates
Azura TU, Azura TS
Plate type
Chemistry-free thermal offset plates
Plate width, min.-max.
200-850 mm (7.9-33.5")
Plate length, min.
275 mm (10.9")
Plate thickness, min.-max.
0.15-0.30 mm (0.006-0.012")
Consumption
Water: 7 ml/m²

Gum: 20 ml/m²

Performance

Plate speed
160 cm/min
Plate throughput (interdistance: 400 mm)

95 plates/h (landscape 745 x 605 mm)
67 plates/h (portrait 1030 x 790 mm)

Plate volume
Up to 50,000 m²/year
Dryer temperature
35-55°C (95-131°F)
Max. noise emission
< 70 dB

Physical specifications

Dimensions (width, length)
1424  x 942 mm (56.0 x 37.1")

Electrical specifications

EUR
Single-phase: 1W + N + PE 230V / 8.4 Amps, 50/60Hz.
US
Single-phase: 2W + PE 208 – 230V / 8.4 Amps, 50/60Hz.
Power EUR/US
1.9 kW

Compliancy

Approvals
CE standards – cTÜV – US certification

Options

Accessories
Feed table / Exit table / Drip tray
Interface for platesetters

Included for all Agfa platesetters
Optional for third-party platesetters
Plates
Azura TU, Azura TS
Plate type
Chemistry-free thermal offset plates
Plate width, min.-max.
200-1250 mm (7.9-49.2")
Plate length, min.
275 mm (10.9")
Plate thickness, min.-max.
0.15-0.30 mm (0.006-0.012")
Consumption
Water: 8 ml/m²

Gum: 25 ml/m²

Performance

Plate speed
160 cm/min
Plate throughput (interdistance: 400 mm)

95 plates/h (landscape 745 x 605 mm)
80 plates/h (landscape 1030 x 790 mm)

Plate volume
Up to 50,000 m²/y
Dryer temperature
35-55°C (95-131°F)
Max. noise emission
< 70 dB

Physical specifications

Dimensions (width, length)
1824 x 942 mm (71.8 x 37.1")

Electrical specifications

EUR
Single-phase: 1W + N + PE 230V / 8.4 Amps, 50/60Hz.
US
Single-phase: 2W + PE 208 – 230V / 8.4 Amps, 50/60Hz.
Power
1.9 kW

Compliancy

Approvals
CE standards – cTÜV – US certification

Options

Accessories
Feed table / Exit table / Drip tray
Interfacing with platesetters

Included with all Agfa Graphics platesetters
Optional for third-party platesetters
Plates
Azura TU
Plate type
Chemistry-free thermal offset plates
Plate width, min.-max.
400-1500 mm (15.7-59.0")
Plate length, min.
400 mm (15.7")
Plate thickness, min.-max.
0.15-0.40 mm (0.006-0.015")
Consumption
Water: 9ml/m²

Gum: 30 ml/m²

Performance

Plate speed
160 cm/min
Plate throughput

80 plates/h (landscape 1030 x 790 mm)
49 plates/h (portrait 1524 x 1143)

Plate volume
Up to 50,000 m²/y
Dryer temperature
35-55°C (95-131°F)
Max. noise emission
< 70 dB

Physical specifications

Dimensions (width, length)
1424  x 942 mm (56.0 x 37.1")

Electrical specifications

EUR
Single-phase: 1W + N + PE 230V / 8.4 Amps, 50/60Hz.
US
Single-phase: 2W + PE 208 – 230V / 8.4 Amps, 50/60Hz.
Power
1.9 kW

Compliancy

Approvals
CE standards – cTÜV – US certification

Options

Accessories
Feed table / Exit table / Drip tray
Interfacing with platesetters

Included with all Agfa Graphics platesetters
Optional for third-party platesetters