ATC UV60-2TS & UV80-2TS Liquid Coating System
Alliance Technology Corporation (ATC) has been researching and developing UV Liquid Coating systems for over 10 years and is recognized as the global industry leader in this safe and cost effective technology.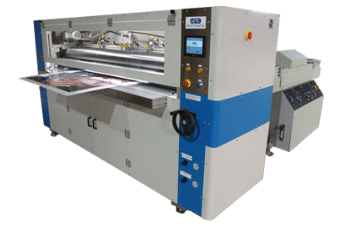 ATC introduces the latest advance in coating machine technology. The XL machines are designed for professional, heavy duty operation, specifically for the flatbed printer market. Available in both 60″/1.6m and 80″/2.0m effective coating widths, the units provide high speed, dry to dry protective lamination for digital ink-jet images printed with various types of inks including UV, solvent, and water-based.
The units coat both flexible and rigid substrates up to 3″/ 75mm thickness. They feature super sized rollers to assure precise, full width, edge to edge coating with a speed range from 30 ft /9m to 110 ft /34m per minute. All three rollers are motorized for precise coating control. Coating thickness is adjustable from 0.3 to 0.8 mil. The built in triple liquid delivery system handles two liquids and a cleaning fluid. All three liquids are filtered. The liquid metering roller and bottom roller scraper are pneumatically controlled.
Roll-to-Roll option
The ATC roll to roll machine is designed for rolls up to 10″/25.4cm diameter. The operating range of this unit is from 35 fpm/11 mpm to 70/21.5 (feet per minute/metres per minute).
The exact capture method varies with different materials. The feeding method is always the same: material is fed through the raised rollers of the coater until 18″/0.46m to 24″/0,61m of material is on the dryer transport belt. The coater rollers are lowered to zero, starting the coating process. Roll material is transported through the dryer, off the end of the dryer and into the automatic roll take up. Any roll material that can be fastened with adhesive tape can be run in this machine.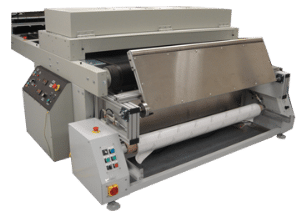 Technical Specs
Coating

Coating Width
60″
Full Roller Width
66″
Roller Coating Height
0-3″
Measured Coating Thickness
0.3-0.8mm
Coating Speed
30-110 feet per minute
Reservoirs (2 Lacquer, 1 Alcohol)
5 Gallons each

Machine Dimensions

Length
36″
Width
105″
Height
62″

Electrical Requirements

230 VAC, Single phase 20 Amps

Compressed Air

Machine available with air compressor
100PSi, 1 CFM
Availability
North America only