Asecuri, el integral flujo de trabajo de preprensa de alta seguridad
Asecuri eleva la exigencia en impresión de alta seguridad. El integral flujo de trabajo de preprensa provee automatización total, lo que reduce errores y crea pruebas realistas.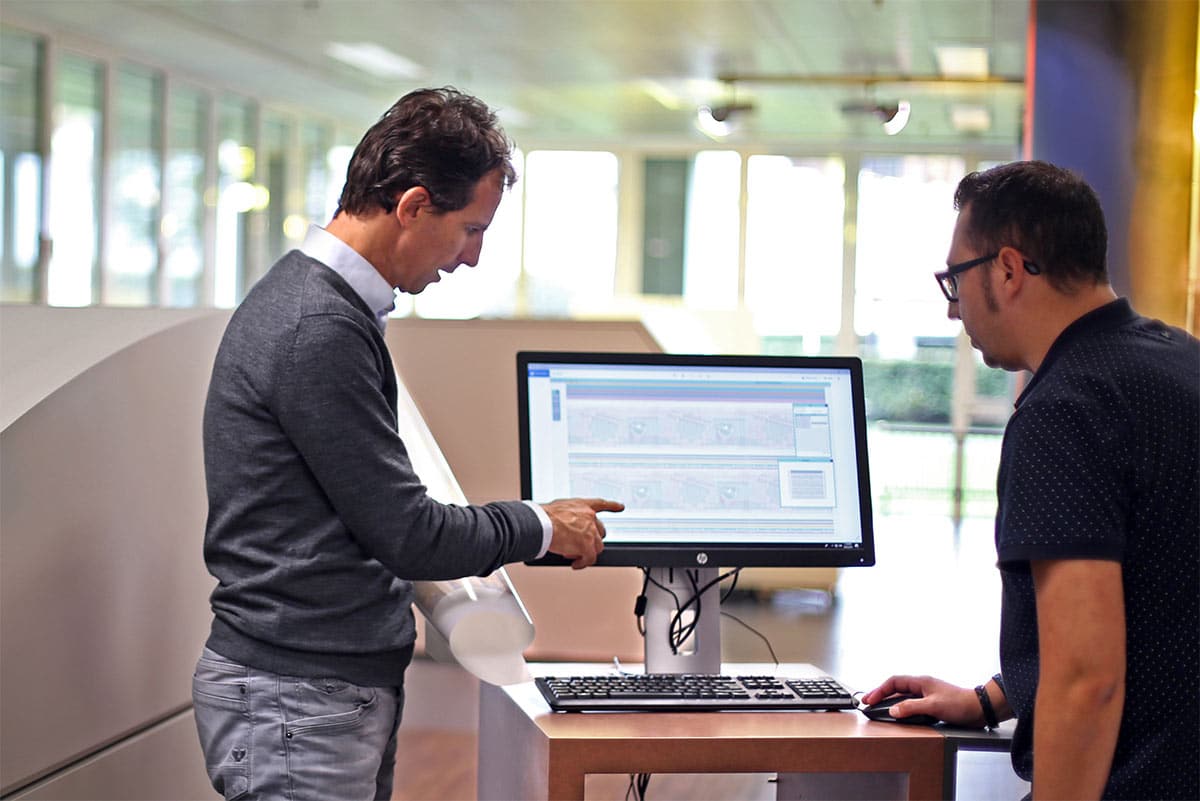 Con el integral flujo de trabajo de preprensa Asecuri, Agfa provee las ventajas de la automatización al mundo de la impresión de alta seguridad. Asecuri fue desarrollado por profesionales experimentados a la medida para abordar necesidades específicas de alta seguridad, confiabilidad, pruebas reales y eficiencia, por nombrar algunas.
Flujo de trabajo preprensa integral
Reducción de errores gracias a la automatización total
Pruebas realistas
Producción a medida para adaptarse a sus necesidades
Un equipo experimentado y dedicado a su disposición
Benefits
Cost-efficient, since less ink is needed to achieve the same high-quality result
No risk of spilling or color mix-up
A consistent, high-quality print
UV-curable, enabling rigid and roll media to dry instantly
Características
Diseño correcto y seguro, a prueba de todo
Asecuri corrige automáticamente el espesor de línea y los patrones, compensa deformaciones y realiza otras adaptaciones específicas necesarias para el diseño de seguridad. El software de preprensa interpreta los diseños de alta seguridad de Fortuna, ONE, Arziro Design u otras soluciones de diseño de seguridad.
Además, se incluyen marcas típicas de trabajo de seguridad y pueden importarse libros de colores personalizados de Fortuna y ONE a Asecuri para la gestión de color.
Alto rendimiento, aun mayor confiabilidad
Asecuri es una solución de software integrada que abarca y automatiza todos los procesos de preprensa, desde la imposición y las pruebas hasta la representación. Además, su interfaz moderna e intuitiva ofrece una previsualización y revisión con máxima resolución, y le permite revisar a la resolución deseada para asegurarse de que cada cambio se haya procesado correctamente, colocando una nueva fecha en el microtexto o en una tarjeta de identificación, por ejemplo.
Asecuri también contiene una característica totalmente integrada que compara automáticamente el resultado de dos trabajos diferentes a nivel del píxel para asegurarse de que solo se hayan cambiado las partes que debían modificarse. Esta función trabaja tanto en el nivel de artículo individual como en el nivel plano. Y por último, para acelerar la representación y garantizar que cada documento de seguridad sea 100 % idéntico, el proceso de interpretación puede realizarse antes de la imposición.
Intervención manual no necesaria, pero posible
Como automatiza todo su flujo de trabajo de preprensa, Asecuri prácticamente no requiere de intervención manual. Simplemente puede configurar los parámetros deseados y dejar que el software trabaje por usted. Pero, por supuesto, también es posible intervenir. Asecuri tiene una arquitectura cliente-servidor que les permite a los usuarios realizar modificaciones en trabajos desde el sistema según sus permisos de acceso.
Mejore la eficiencia con pruebas realistas
Debido a su menor conteo de dpi en comparación con las (extremadamente altas) resoluciones finales, las pruebas muchas veces fallan al ofrecer una representación realista del resultado final. Asecuri corrige este problema al generar una versión optimizada del diseño para el revisor, y se genera una prueba que es lo más cercana posible a la impresión final. Esto, en cambio, permite una aprobación más rápida y un proceso más eficiente en general.
Especificaciones técnicas
Infraestructura
Asecuri funciona en Windows 8 o 10, Windows 2012 R2 (Standard Edition) o Windows 2016 (Standard Edition) según los requisitos de producción y confianza.
Cliente
Compatible con PC y Mac
Windows 8, Windows 10 y Windows 2012
Mac OS X 10.7 y posterior
Idiomas
Chino (simplificado y tradicional)
Checo
Holandés
Inglés
Francés
Alemán
Italiano
Japonés
Coreano
Portugués
Polaco
Ruso
Español
Sueco