Asecuri, the all-in-one high-security pre-press workflow
Asecuri raises the bar in high-security printing. The all-in-one pre-press workflow unlocks full automation, reducing errors and creating true-to-life proofs.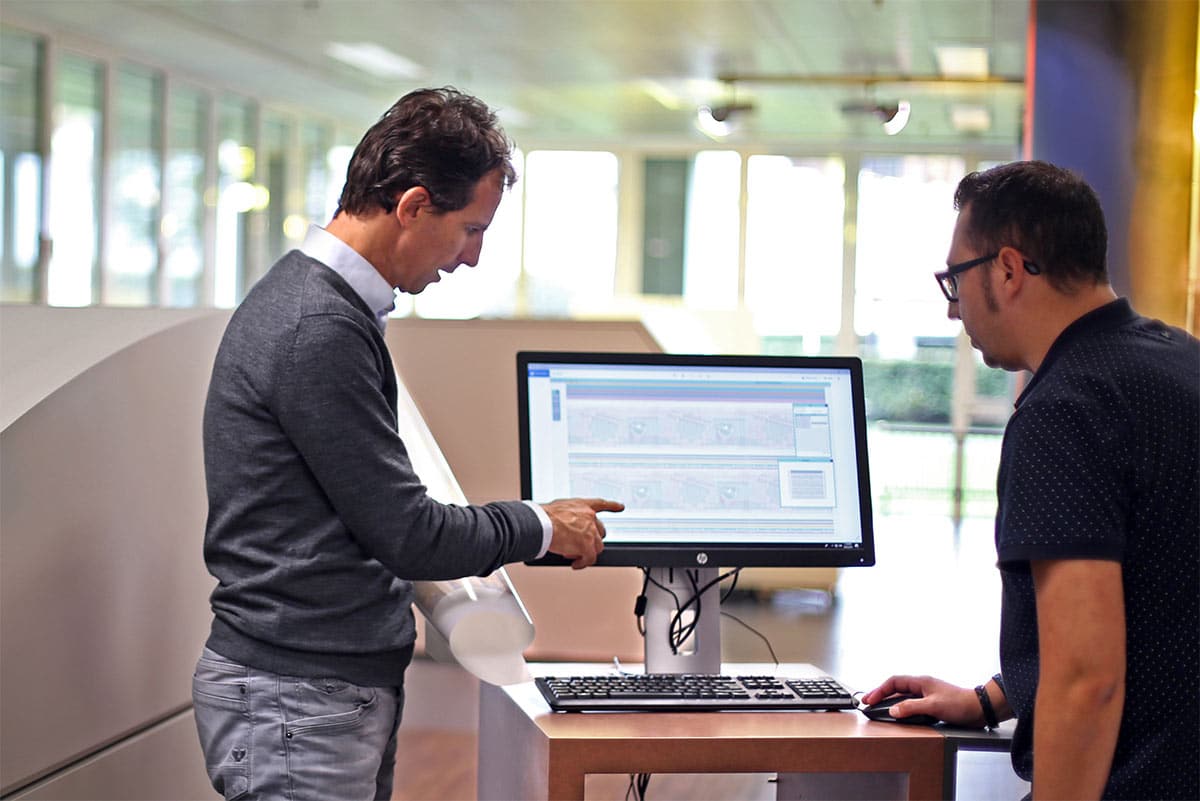 With the all-in-one pre-press workflow Asecuri, Agfa is bringing the advantages of automation to the world of high-security printing. Asecuri was tailor-made by seasoned professionals to address specific high-security needs – reliability, true-to-life proofs and efficiency, to name a few.
All-in-one pre-press workflow
Fewer errors thanks to full automation
True-to-life proofs
Tailored output to suit your needs
An experienced, dedicated team at your disposal
Benefits
Cost-efficient, since less ink is needed to achieve the same high-quality result
No risk of spilling or color mix-up
A consistent, high-quality print
UV-curable, enabling rigid and roll media to dry instantly
Features
Correct and secure design, no matter what
Asecuri automatically corrects line thickness and patterns, compensates for deformations and makes other specific adaptations that are required for security design. The pre-press software interprets high-security designs from Fortuna, ONE, Arziro Design or other security design solutions.
Additionally, typical security job marks are also included and it is possible to import custom color books from Fortuna and ONE to Asecuri for color management.
High performance, even higher reliability
Asecuri is an all-in-one software solution covering and automating all pre-press processes, from imposition and proofing to rendering. Additionally, its modern and intuitive interface offers a full-resolution raster preview, allowing you to double check at any desired output resolution to ensure that every change – putting a new date in the microtext on an ID card, for example – was processed correctly.
Asecuri also contains a fully integrated feature that automatically compares the result of two different jobs at pixel level to ensure that only the parts that needed to be changed, were affected. This function works both at individual item level and at flat level. And finally, in order to speed up rendering and ensure that each security document is 100% identical, the rendering process can be performed before imposition.
 Manual intervention not required, but possible
Because it automates your entire pre-press workflow, Asecuri requires barely any manual intervention. You can simply set the desired parameters and let the software work for you. But of course, it's still possible to intervene. Asecuri has a client-server architecture which allows users to make modifications to jobs on the system depending on their access rights.
Improve efficiency with true-to-life proofs
Due to their lower dpi count compared to the – extremely high – final output resolutions, proofs often fail to achieve a true-to-life representation of the end result. Asecuri fixes this issue by generating an optimized version of the design for the proofer, thus generating a proof that is as close as possible to the final print. This in turn enables a quicker signoff and more efficient overall process.
Technical Specs
Infrastructure
Asecuri runs on Windows 8 or 10 or Windows 2012 R2 (Standard Edition) or Windows 2016 (Standard Edition), depending on the throughput and reliability requirements.
Client
Supported on PC and Mac
Windows 8, Windows 10, and Windows 2012
Mac OS X 10.7 and later
Languages
Chinese (simplified and traditional)
Czech
Dutch
English
French
German
Italian
Japanese
Korean
Portuguese
Polish
Russian
Spanish
Swedish