Arkitex Veripress
Only the most accurate simulation assures you of top-quality prints. Arkitex Enhance Veripress is your complete soft proofing system.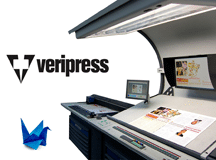 You've already optimized your workflow by installing Arkitex Production? Then Arkitex Enhance Veripress takes you even further. Veripress delivers verified screen proofs at the touch of a button. You see an accurate simulation of your printed page, with an exact color match. You're ensured that your proofs are ready for printing as soon as the plates arrive.
Arkitex Enhance Veripress comes with a touchscreen interface, saving you time and allowing you to thoroughly check your proof. Veripress is Client/Server-based and handles the most complex pressroom requirements with ease. Your soft proof files are quickly distributed to multiple press desks.
Precise, on screen color reproduction, negating the need for hardcopy proofs
Fast, fully-automated proofing workflow, direct to multiple press consoles
Revision of pages on different presses
Responsive touchscreen interface
Full utilization of multi-core CPUs, allowing multiple imaging and rendering tasks simultaneously
Features
Color Management
Veripress for Arkitex is ICC v4.2 compliant and capable of reproducing the gamut of virtually any print process on screen. Full multicolor support and unlimited spot color handling provides accurate proofing of any multicolor printing process.
Perfect Press Control
Precisely emulate press properties and substrates on screen. Create and store multiple press configurations to view soft proofs as they would appear on various press and paper types.
Virtual Loupe and Channel Viewing
Magnify page areas to examine image elements and provide accurate ink dot percentage readings. Toggle the ink channels to gain an accurate representation of the proof at various print stages. Apply a digital blueline to check for any traps or overprint areas before submitting the proof for approval.
Ink Key Viewer
A graphic interpretation of the ink keys and press ink ducts aids the press operator in examining each soft proof for over-inked areas and calculating the amount of ink required for an entire print run.
De-Imposition Module
Virtually cut imposed press files for proofing as individual pages at published size. Build custom signature groups or import directly from jobs in a number of industry formats. View overlaid signatures when proofing or instantly de-impose press sheets on screen. Spreads, entire publications and back page show-through are all displayed with ease.