Arkana
Deploying Agfa's revolutionary patented cascade system, the Arkana smart plate processor saves printers both time and money, while making operations more ecological and convenient.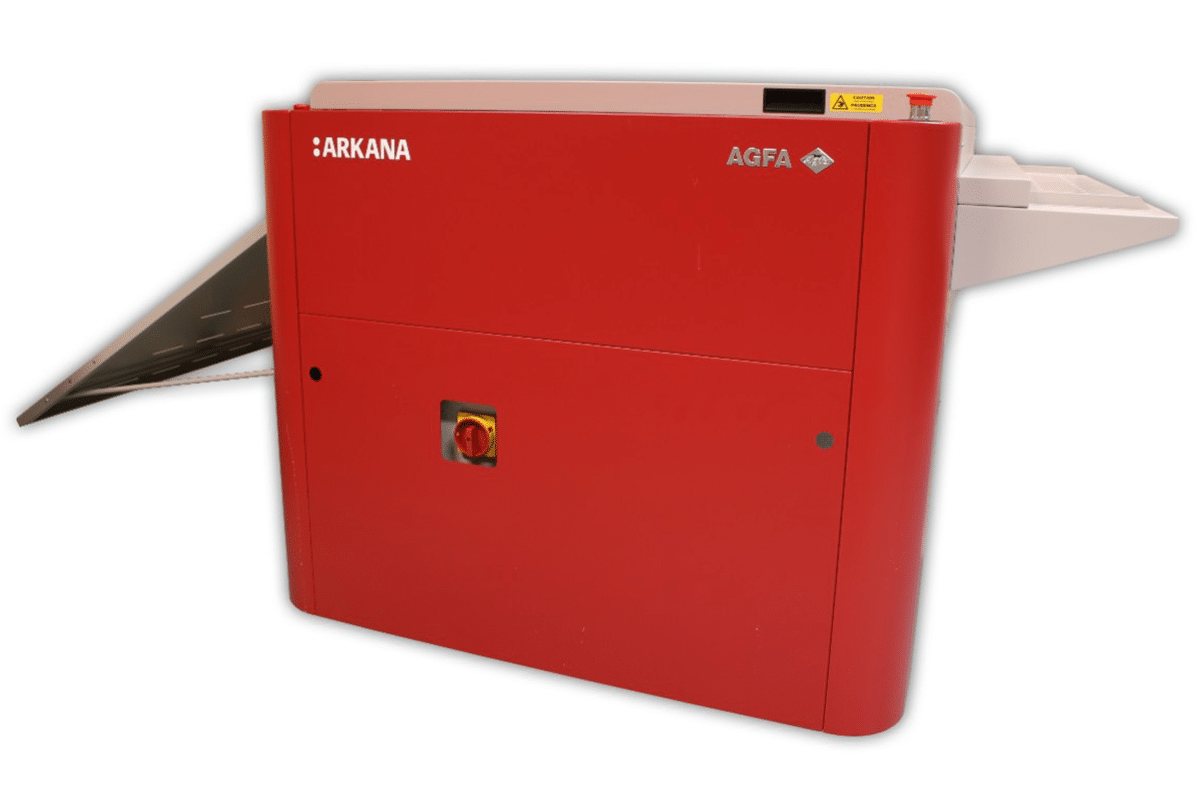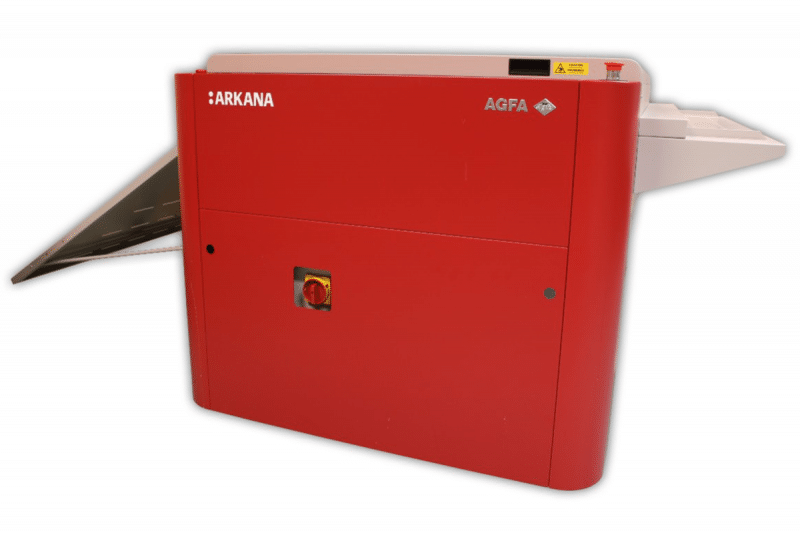 Building on Agfa's ECO³ framework, the Arkana smart processor offers consistent, high-quality plate processing with minimal chemistry usage and maintenance, thus allowing printers to further reduce their CO2 footprint. Maximum throughput on all 8-up and VLF CtP lines makes it the perfect match for high-production and heavy-duty environments.
Arkana features a small developer tank, drastically lowering replenishment rates and considerably reducing chemicals consumption. Thanks to Agfa's patented gum cascade system in which the gum both cleans the plate and protects it with a finishing layer, Arkana no longer requires water for plate rinsing. All in all, it produces up to 50% less collectable waste compared to other systems on the market. In addition, its long bath life drastically reduces maintenance frequency, while the clean chemistry used in the system reduces maintenance time.
Arkana makes a perfect combination with the Energy Elite Eco printing plate.
Absolute minimum of replenishment results in a chemistry consumption that is up to more than six times less compared to conventional thermal processing systems
Long bath life, extremely low replenishment rates and the total elimination of rinse water result in a drastic reduction of waste up to 50% compared to conventional thermal systems – and thus less packaging, transport and haulage costs
Bath life of up to 15,000 m² of plates results in a minimal cleaning frequency, creating higher up-time and avoiding maintenance costs
High-performing and consistent system
Energy Elite Eco's clean chemistry allows for easy and rapid cleaning
Wide operational processing latitude with the Energy Elite Eco printing plates
Watch the movie
ECO³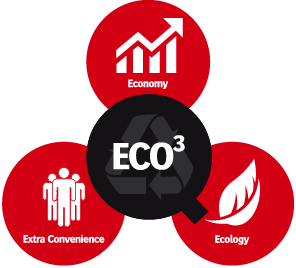 Agfa is committed to sustainable innovation focused on ecology, economy, and extra convenience – or ECO³. We develop integrated solutions – consisting of hardware, consumables, software and services – that streamline your prepress and printing operations and make them cleaner, more cost-effective and easier to operate and maintain. All while guaranteeing superior and consistent print quality.
The result? More value for your entire business!
Features
Small-volume developer section
The Arkana smart processing unit is designed with a 10 liter developer tank. In combination with Energy Elite Eco's clean chemistry this small tank allows for an extended bath life of up to 15,000 m² and extremely low replenishment rates. Total developer consumption is only a fraction (more than 10x less) of that of current systems. A long bath life and a minimum use of chemicals results in a lower cleaning frequency and a drastic reduction of collectable waste.
Cascaded gum sections
As Arkana is using the cascaded gum section for cleaning the plate as well as applying a protective layer, the use of rinse water can be eliminated. This is part of Agfa's Eco³ framework to reduce the consumption of valuable resources of our planet.
A thin layer of gum is put on the plate to prevent plate oxidation, and protects it for handling in the press room. The gum is optimized for optimal protection and only consumes 6ml/m².
Hot air dryer
The plate is dried by hot air, enabling immediate further handling.
Technical Specs
Plates
Energy Elite Eco
Plate type
Positive-working, digital thermal offset plate
Plate width, min.-max.
200-850 mm (7.9-33.5″)
Plate length, min.
300 mm (11.8″)
Plate thickness, min.-max.
0.15-0.40 mm (0.006″-0.015″)
Platesetters
830nm thermal platesetters

Performance

Plate speed
150 cm/min (59"/min)
Plate throughput
95 plates/h (landscape 745 x 605 mm)
67 plates/h (portrait 1030 x 790 mm)
Water for chemistry dilution
Total hardness < 6° dH
Temperatures
Developer: min.-max.: 20-28°C (68-82.4°F)
Dryer: min.-max.: 20-70°C (68-158°F)
Noise
70 dB

Physical specifications

Dimensions (width, length)
1424 x 1172 mm (56.1″ x 44.2″)

Electrical specifications (EUR)

EUR
Single-phase: 1W + N + PE – 230V / 15 Amps, 50/60 Hz
USA
Single-phase: 2W + PE – 208-230V / 15 Amps, 50/60 Hz
Power
2.7 kWatt (9213 BTU)

Compliancy

Approvals
CE standards – cTÜV – US certification

Options

Accessories
Feed table / Exit table / Drip tray
Interface for platesetters
Included for all Agfa platesetters
Optional for third-party platesetters
Plates
Energy Elite Eco
Plate type
Positive-working, digital thermal offset plate
Plate width, min.-max.
200-1250 mm (7.9-49.2″)
Plate length, min.
300 mm (11.8″)
Plate thickness, min.-max.
0.15-0.40 mm (0.006″-0.015″)
Platesetters
830nm thermal platesetters

Performance

Plate speed
150 cm/min (59"/min)
Plate throughput
95 plates/h (landscape 1030 x 790 mm)
Water for chemistry dilution
Total hardness < 6° dH
Temperatures
Developer: min.-max.: 20-28°C (68-82.4°F)
Dryer: min.-max.: 20-70°C (68-158°F)
Noise
70 dB

Physical specifications

Dimensions (width, length)
1824 x 1172 mm (71.7″ x 44.2")

Electrical specifications (EUR)

EUR
Single-phase: 1W + N + PE – 230V / 15 Amps, 50/60 Hz
USA
Single-phase: 2W + PE 208-230V / 15 Amps, 50/60 Hz
Power
2.7 kWatt (9213 BTU)

Compliancy

Approvals
CE standards – cTÜV – US certification

Options

Accessories
Feed table / Exit table / Drip tray
Interface for platesetters
Included for all Agfa platesetters
Optional for third-party platesetters
Plates
Energy Elite Eco
Plate type
Positive-working, digital thermal offset plate
Plate width, min.-max.
400-1500 mm (7.9-59.1″)
Plate length, min.
300 mm (11.8″)
Plate thickness, min.-max.
0.15-0.40 mm (0.006″-0.015″)
Platesetters
830nm thermal platesetters

Performance

Plate speed
150 cm/min (59"/min)
Plate throughput
80 plates/h (landscape 1030 x 790 mm)
49 plates/h (portrait 1524 x 1143)
Water for chemistry dilution
Total hardness < 6° dH
Temperatures
Developer: min.-max.: 20-28°C (68-82.4°F)
Dryer: min.-max.: 20-70°C (68-158°F)
Noise
70 dB

Physical specifications

Dimensions (width, length)
2074 x 1172 mm (81.7″ x 44.2″)

Electrical specifications (EUR)

EUR
Single-phase: 1W + N + PE – 230V / 15 Amps, 50/60 Hz
USA
Single-phase: 2W + PE 208-230V / 15 Amps, 50/60 Hz
Power
2.7 kWatt (9213 BTU)

Compliancy

Approvals
CE standards – cTÜV – US certification

Options

Accessories
Feed table / Exit table / Drip tray
Interface for platesetters
Included for all Agfa Graphics platesetters
Optional for third-party platesetters