Anapurna UV-curable Inks
Piezoelectric, UV-curable inks are the lifeblood of your Anapurna printer. They are top performers both during and after printing.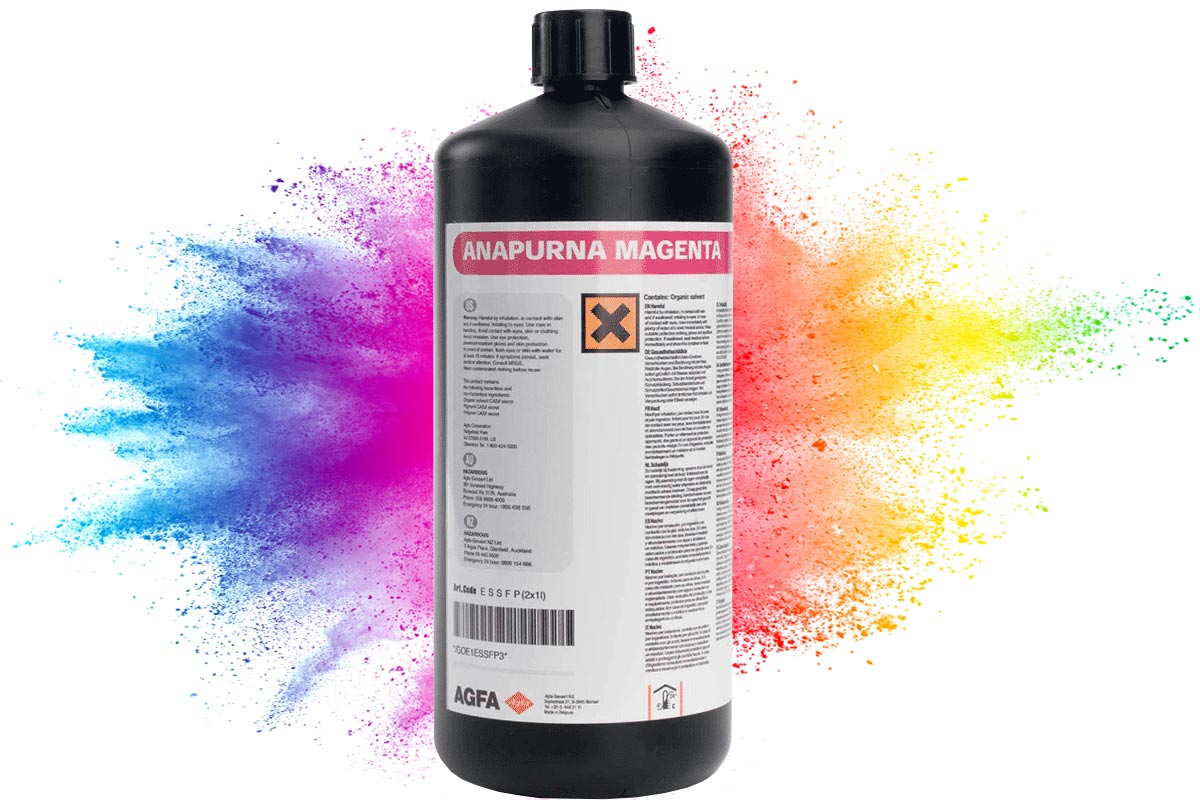 Anapurna inks are specifically formulated for Agfa's multi-pass, wide-format Anapurna printers. They provide a large color gamut, high color vibrancy and, thanks to good ink adhesion, high image longevity and outdoor resistance. Anapurna inks deliver the same high-quality results batch after batch. Thanks to UV-curing, your rigid and roll media are dry right away. And your media will retain their pristine shine for years.
Thanks to their high-pigment load, the ink consumption per square meter is low. This so-called 'thin ink layer' technology saves on costs and results in nicer looking prints.
The ink bottles are engineered to facilitate loading of Anapurna machines, with no risk of spilling or color mix-up.
Large color gamut
High color vibrancy
Outstanding jetting behavior
Extended shelf life
Good adhesion
Good chemical and abrasion resistance
Features
Thin Ink Layer Technology
Thanks to the 'thin ink layer technology', Agfa's large gamut of UV-curable inks enable printing on a broad range of flexible materials, including top quality banners, self-adhesive vinyls, and front- and back-lit graphics. These inks deliver the highest quality prints with the lowest ink consumption per square meter in the industry.
Vibrant Colors
Anapurna digital inks print in sharp, vibrant colors on a wide range of flexible and rigid, coated and uncoated media. Generating high image quality, they offer an ideal solution for various indoor and outdoor applications.
Outdoor Durability
Anapurna ink formulations are based on high quality pigments with high fade resistance to ensure stability for long-term outdoor applications. Accelerated weathering tests on different substrates indicate an outdoor durability of more than two years – probably even more than three years under Western European, outdoor conditions.
If your printed images may be subject to extreme outdoor conditions (e.g. desert climate), we recommend laminating them or coating them with a UV-protective layer.