Adamas COU
The Adamas COU series consists of dedicated, advanced and compact clean-out units that swiftly finish Adamas plates and take ecology to the next level.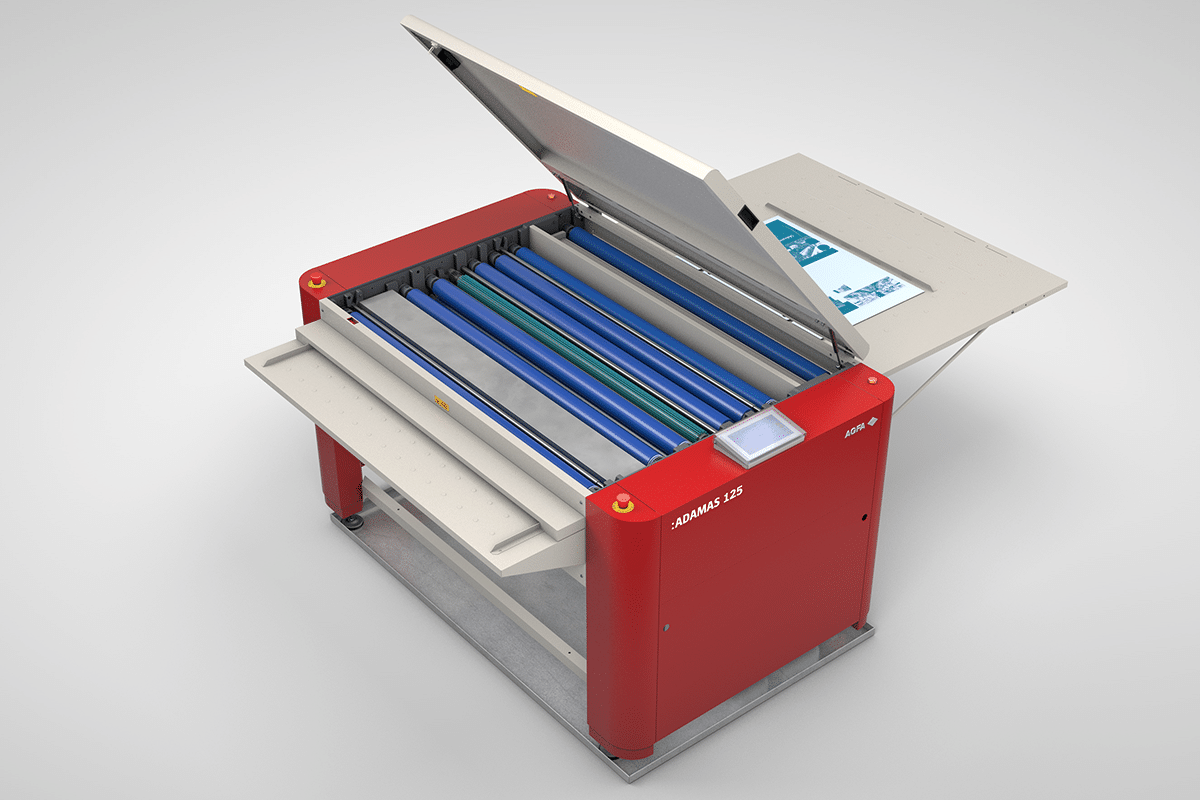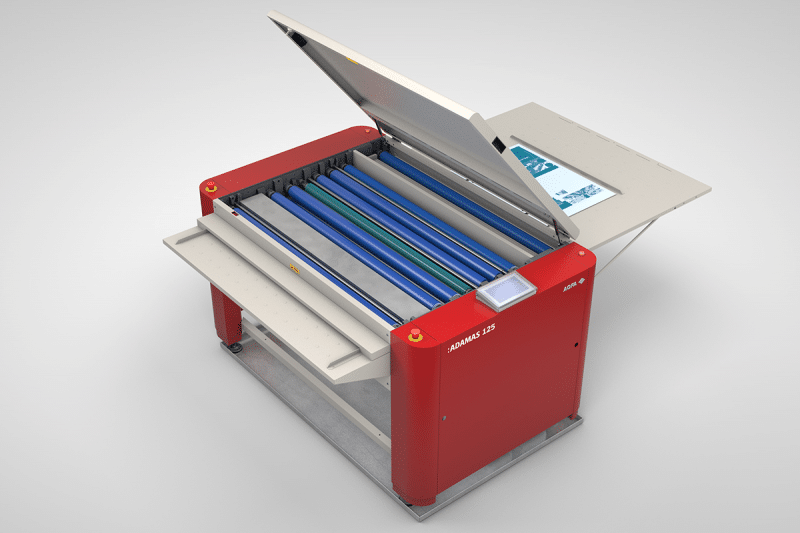 Unlock the Adamas plate's full potential with the compact Adamas clean-out units, based entirely on sustainable innovation that targets ecology, economy and extra convenience (cf. Agfa's ECO3 approach aiming at the development of cleaner and cost-effective solutions).
Adamas clean-out units rely on a two-gum concept – a dedicated clean-out solution and a protective finisher gum, with a bath life of 16.000 m² and no water requirements. A new brush design ensures efficient clean-out and requires only small quantities of liquids (35ml/m²) to swiftly clean plates. As a result, the COU produces up to 80 % less waste than other systems on the market.
Choose your model
Adamas clean-out units are available in three sizes: Adamas COU85, Adamas COU125 and Adamas COU150. They can be used stand-alone or connected online with the platesetter. The latest software version has an algorithm that enables maximal energy and waste efficiency. So once the Adamas clean-out unit is installed, you're good to go: the unit is designed to handle up to 60,000 m² of plates a year!
Small ecological footprint: energy-efficient, chemistry-free, no water required to clean the plate
Long bath life, low replenishment rates and total elimination of rinse water result in a waste reduction of up to 80% compared to conventional thermal systems
Two-gum concept: dedicated clean-out gum and protective finishing gum
Low-maintenance clean-out units designed to handle up to 60,000 m² of plates a year
ECO³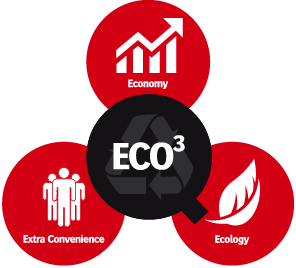 Agfa is committed to sustainable innovation focused on ecology, economy, and extra convenience – or ECO³. We develop integrated solutions – consisting of hardware, consumables, software and services – that streamline your prepress and printing operations and make them cleaner, more cost-effective and easier to operate and maintain. All while guaranteeing superior and consistent print quality.
The result? More value for your entire business!
Features
Cascading clean-out technology
Adamas clean-out units have two gum sections. In the first one, 95% of all non-imaged areas are removed from the plate. A new brush design contributes to efficient clean-out with minimal gum consumption. In the second gum section, the remaining non-imaged areas are removed, ensuring a perfectly clean plate.
Simplified cleaning
The addition of a self-cleaning module doubles the batch life to 16,000 m². Furthermore, three intermediate cleaning processes at 4,000, 8,000 and 12,000 m² are executed as part of an automated process that starts with a simple keystroke on the Adamas display and requires no further intervention from the operator.
Extra finishing and drying sections
A thin layer of gum is put on the plate to prevent plate oxidation and protect it for handling in the press room. Finally, The plate is dried by hot air, enabling immediate further handling.
Technical Specs
| | |
| --- | --- |
| Plate width min/max | 350 – 813 mm (13.8 – 32.0") |
| Plate length min/max | 350 mm (13.8") |
| Plate thickness | 0.15 – 0.30 mm (0.006 – 0.012") |
| Processing speed | 160 cm/min (63 inch/min) |
| Power | 2,900 Watt |
| Weight | 280 kg (616 lb) |
| Dimensions | 1,424 × 1,122 × 1,000 mm  (56.06 × 44.17 × 39.37) |
| | |
| --- | --- |
| Plate width min/max | 350 – 1,200 mm (13.8 – 47.2") |
| Plate length min/max | 350 mm (13.8") |
| Plate thickness | 0.15 – 0.40 mm (0.006 – 0.016") |
| Processing speed | 160 cm/min (63 inch/min) |
| Power | 2,900 Watt |
| Weight | 360 kg (792 lb) |
| Dimensions | 1,824 × 1,122 × 1,000 mm  (71.81 × 44.17 × 39.37) |
| | |
| --- | --- |
| Plate width min/max | 350 – 1,400 mm (13.8 – 55.1") |
| Plate length min/max | 350 mm (13.8") |
| Plate thickness | 0.30 – 0.40 mm (0.012 – 0.016") |
| Processing speed | 160 cm/min (63 inch/min) |
| Power | 2,900 Watt |
| Weight | 430 kg (946 lb) |
| Dimensions | 2,074 × 1,122 × 1,000 mm (81.65 × 44.17 × 39.37") |