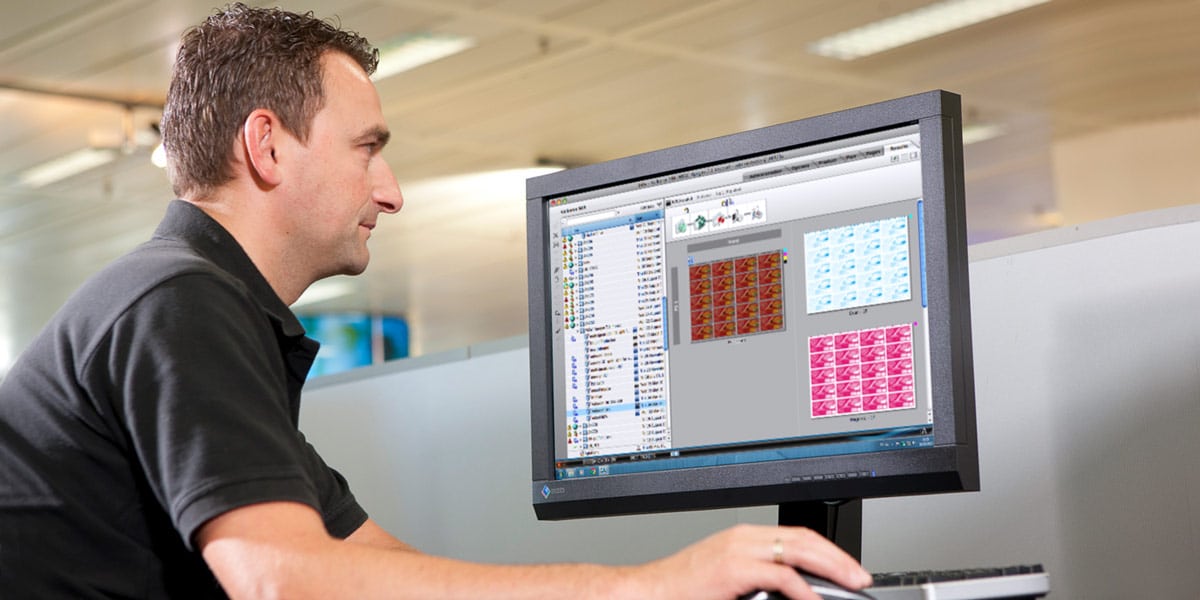 New features and major improvements boost production efficiency with new Apogee v11
A solid workflow adapted to changing market requirements is a high-value asset for printers. Building on its unique feature set as production hub, Apogee v11 takes print production to the next level by automating all prepress tasks. The new release also includes multi-product support to increase printing efficiency, while the integration with PressTune supports Agfa's ECO³ market approach focused on economy, ecology and extra convenience.
Press efficiency and order combination
Apogee v11 offers a mechanism to combine print jobs in an intelligent way in order to optimize press time, while also keeping track of the actual order. With this new feature, it caters to the needs of printers faced with shortening run lengths and looking for ways to keep their presses running as efficiently as possible to maintain sustainable margins.
The challenge of combining orders on a single press sheet does not lie in the actual placement of the various orders, but in keeping track of the separate orders and allowing for proper finishing. With Apogee v11, collation marks, signature barcodes and all other marks remain in place and refer to the original order.
"This is a major step forward in production efficiency," says Erik Peeters, Global Marketing Manager Software Solutions. "Combining orders reduces plate changes and lowers production costs. As paper waste is significantly less, the ecological footprint decreases too. As always, Apogee looks beyond pure functionalities and takes the full production cycle into account."
Production hub
In addition, Apogee v11 functions as the ideal production hub, guaranteeing reliable content reproduction independent of output devices, including digital presses. As such, it allows printers to increase their production efficiency and tackle the squeezed margins on low copy count orders.
Apogee v11 handles all necessary preparations, including specific production requirements like cut 'n stack, or booklet printing. To reduce the manual job preparation even more, orders can be processed in a fully automatic way using AutoImpose, a new function of the award-winning Apogee Impose. This simplifies the workflow and reduces production costs as digital press operators now only need to manage and control devices and output quality.
"The automatic imposition feature in Apogee v11 is a key feature for digital print production," says Erik Peeters. "Combined with Agfa's cloud-based automation solution, PrintSphere AutoPilot, which uses XML or JDF information to intelligently route orders to the appropriate output device, it becomes a very powerful tool to increase the overall efficiency of a printing company."
Print buyers get greater control
Apogee WebApproval, the online portal that lets print buyers access their jobs for file upload and page approval, also gets an update. Firstly, printers can now allow their customers to create new jobs directly, limiting the workload of prepress operators for repeat jobs. Secondly, the new 'Guest' function makes it easier for print service providers to offer the easy-to-use WebApproval service to print brokers and one-time users. Thirdly, users can now also preview foldouts and check the size and position of layout elements.
Easy online access to production data
Apogee WebFlow is a new module that gives customer service representatives, press and finishing operators or others within a printing company access to prepress job data. It makes it easy to check job status, visualize page content and check which signatures are ready for output. WebFlow exchanges job info with Agfa's ECO3 software solution PressTune, enabling CSRs to quickly review the print quality of their customers' orders and as such avoid the cost of re-runs due to print quality rejection by the print buyer.
"Whether you are on the road or sitting in your couch with a tablet, you can track jobs anytime, anywhere," Erik Peeters states. "We keep extending our family of web tools while at the same time listening to our users who insist on keeping things simple for their customers."
Geared towards the future
Innovation is the driving force within Agfa. More than 20 years ago, Apogee Series 1 was the first workflow to use PDF as a production file format. The newest generation of Apogee continues to take the lead in prepress workflow solutions, which is also why the latest technologies from key partners Microsoft and Adobe are integrated. Apogee v11 includes the Adobe PDF Print Engine 5 to prepare printers for full compatibility with the new PDF 2.0 standard and to output designs correctly.
"After Adobe launched PDF and Acrobat twenty-five years ago, Agfa followed with the first prepress solution to use the new PDF file format for print workflow," said Mark Lewiecki, Senior Product Manager, Adobe. "Today's release of Apogee 11 builds on this long-standing relationship by taking advantage of Adobe PDF Print Engine version 5. Agfa customers will benefit from greater workflow efficiencies, powerful new color capabilities, and full support of PDF 2.0 print features."
Version 11 from Apogee will be available from mid-November 2018 onward. It will be offered both as on-premise and cloud solution. The on-premise version will also be available via a subscription model for customers who want to transition easily to this powerful prepress workflow solution.
Agfa