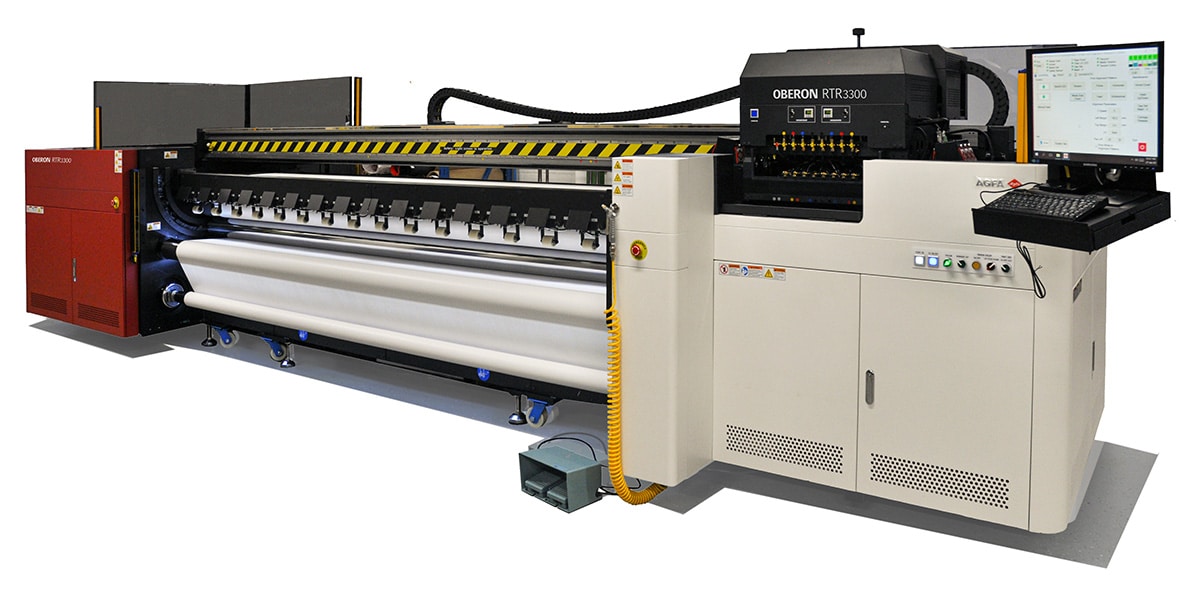 European Digital Press Association rewards Agfa's Oberon RTR3300 large-format printer
Agfa's Oberon RTR3300 inkjet printer has received the 2020 EDP Award for 'large & wide format printing system in the category roll-to-roll printer up to 320 cm'.
The European Digital Press Association (EDP) reviews products introduced to the European market, and grants the EDP Awards to those introductions it deems best in terms of quality, as well as value to the user, support and service. This year's award for the Oberon RTR3300 marks the eighth time that Agfa gets recognized by the EDP for one of its large-format printing solutions.
The EDP jury described the Oberon as a "sturdy and reliable" printer and praised a.o. its capability to print good solids in the difficult colors like Red and Black, and its smart optimization of media use. It concluded that "the price performance of this printer makes it a good all round 3.2 m solution".
"We are proud to have our printing solutions marked with this label of excellence," states Product Manager Philip Van der Auwera. "We are committed to providing complete printing solutions that enable printing companies to grow profitably. The EDP Award bears witness to the added value we provide to our customers."
The Oberon was introduced on the market at the beginning of this year. It is a dedicated 3.3 m high-end roll-to-roll machine that combines outstanding quality with an extensive media scope and a unique ease of use. The Oberon RTR3300 hits an impressive 224 m²/h (2411 ft²/h). The dual-roll option is capable of handling two rolls each up to 1.6 meters wide, doubling the total output.
The Oberon RTR3300 covers significant media diversity and a wide range of applications. In addition to its air-cooled LED curing lamps, the Oberon RTR3300 features a unique water-cooled table that keeps the printing zone at room temperature in order to smoothly process any kind of heat-sensitive roll material. The dedicated mesh printing functionality makes printing on mesh (with or without liner) easy. The UV LED inks on the Oberon RTR3300 were optimized for flexible media and obtained the highest category of GREENGUARD Gold certification, which means they meet some of the world's most rigorous chemical emissions standards.
Growing with the Oberon
3Motion is a Belgian print service provider specialized in visual communication, displays & packaging, and 3D solutions. Even in this challenging year, 3Motion manages to grow its turnover thanks to its integrated solutions approach, its flexibility and its high-tech printing equipment. The company recently added an Oberon RTR3300 to the Agfa large-format printers it already owned, a Jeti Tauro H2500 LED and an Anapurna H3200i LED.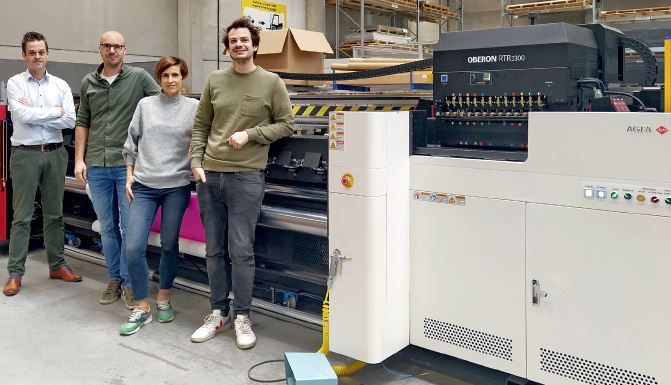 Left to right: Agfa Sales Manager Inkjet Niko Dheedene with 3Motion owners Wouter Mouton, Femke Helon en Gerd Mouton
"We mainly use the Oberon to print banners, seamless wallpapers and adhesives," says Gerd Mouton, co-owner of 3Motion. " It is a reliable engine that handles long high-quality print runs. The Oberon achieves twice the speed of our Anapurna and we can nearly double production by printing two rolls of 1.6 m simultaneously. This high productivity enables us to cope with production peaks." He adds: "It is very convenient that we can drive all engines through Agfa's Asanti workflow software. Last but not least, the ecological aspect as well as a safe working environment are also important to us. The UV LED inks used by the Agfa printers carry the GREENGUARD Gold certificate, guaranteeing their compliance with the most stringent norms for chemical emissions."
About the European Digital Press Association
The European Digital Press Association (EDP) acts as a recognized industry forum and is comprised of publishers of leading European magazines devoted to digital printing and associated products. They cover 14 European countries and address more than 1 million professional readers.
Contact