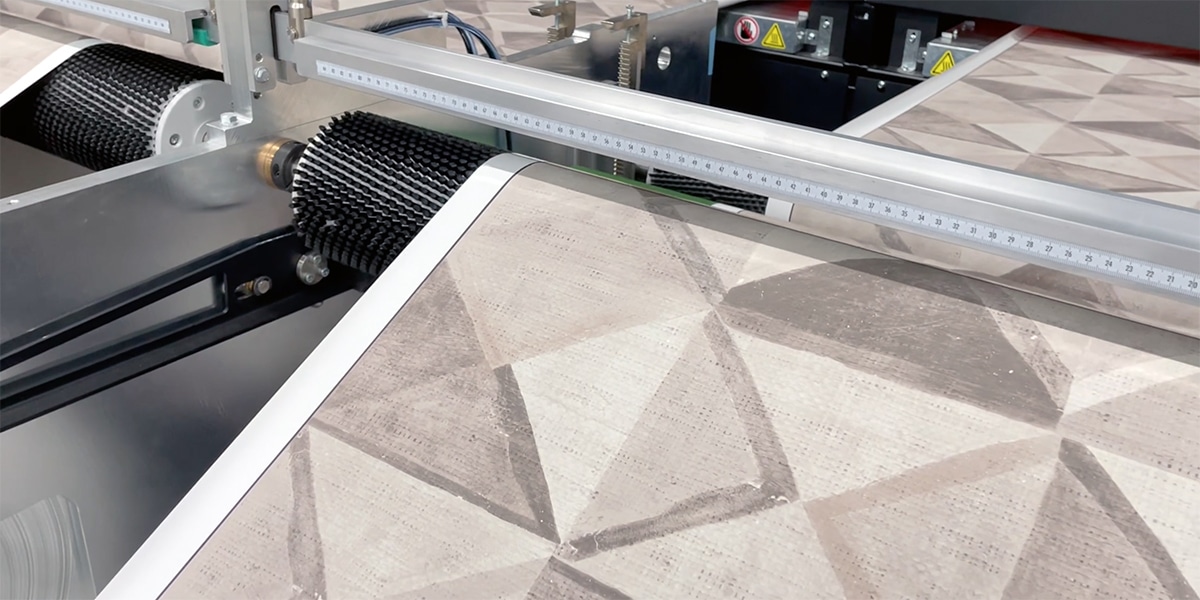 Chiyoda increases versatility and productivity with InterioJet décor paper printing solution from Agfa
Décor paper printing company Chiyoda recently installed an InterioJet 3300 water-based printing press from Agfa at its European headquarters in Genk, Belgium. Its new press will enable Chiyoda to supply printed décor paper with exclusive designs to flooring, furniture and car laminate panel makers.
The installation of the new press was completed in June. Complementing Chiyoda's gravure presses, the InterioJet lets them run a reliable 24/7 digital printing production with consistent color quality. The InterioJet surpasses the limitations of gravure printing when it comes to printing interior decoration applications, as it is not limited by cylinder length – thus enabling the printing of more complex designs and non-repetitive patterns. Chiyoda will deploy the digital press for shorter print runs of up to two tonnes of décor paper, mainly for prints on demand and just-in-time deliveries. The InterioJet uses Agfa's water-based inks and primer, which fit perfectly with the traditional melamine impregnation and lamination post-processes of the panel manufacturing industry.
"Agfa's unique knowledge of chemistry, inks and software warrants the highest print quality and color consistency, ensuring that our customers can use the InterioJet prints in exactly the same way as gravure prints without any modification to their laminate production process," says Peter Coenegrachts, COO of Chiyoda. "In addition, they will benefit from our ability to cost-efficiently produce shorter runs in the sense that they will now need to hold less stock, and thus less working capital."
"I am pleased to count this trendsetting company as one of our customers," says Tom Cloots, Director Industrial Inkjet at Agfa. "We have known Chiyoda for a long time. We were confident that the InterioJet 3300 would prove the ideal press for their needs, and we are pleased to see how it is boosting their business."
The InterioJet is powered by Agfa's Asanti workflow software complete with a décor printing plug-in for décor image optimization. Asanti works in conjunction with the industry standard AVA CAD CAM software to match the gravure prints as closely as possible.
More about the InterioJet
Agfa introduced the InterioJet printing press in November 2020, and is convinced that this cost-efficient solution for medium and short production runs will accelerate the transformation from analog to digital printing in the laminated surface market. The eco-friendly water-based inkjet press can print on two rolls of decor paper simultaneously – each with a width of up to 157 cm and a weight of up to 700 kg – at a speed of up to 340 m² per hour. It excels through its superior contrast, sharpness, and color saturation, matching typical decorative industry color profiles. Agfa developed a unique water-based CRYKlk ink set for the printer that is perfectly tuned to the laminate quality requirements and the existing lamination production process.
About Chiyoda
Chiyoda Europa NV prints premium decor papers on ultra-modern four- and five- color presses. Chiyoda offers its customers more than 2,000 designs for furniture, the building interior completion industry, panels and floor coverings, ranging from natural wood decors and trendy fantasy looks, to authentic stone images. The company employs approximately 200 people in its premises in Genk, Belgium. It is a 100% subsidiary of Chiyoda Gravure Corporation (Tokyo, Japan).
Contact: Olaf Leonhardt, Creative Director
Contact