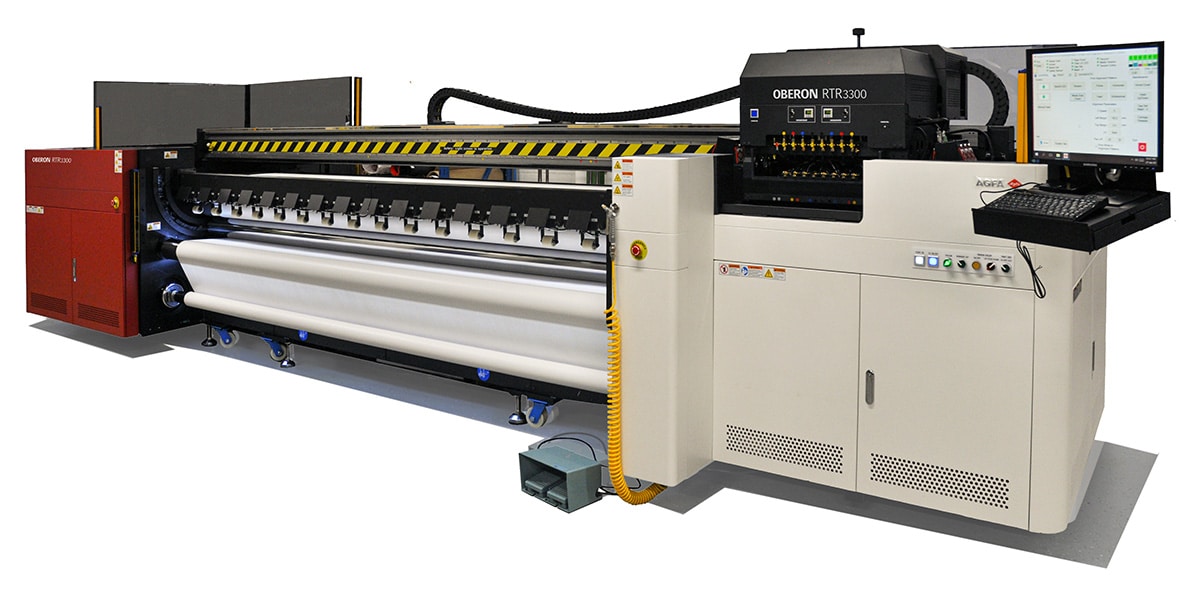 Agfa introduces Oberon RTR3300
Agfa today announced a new addition to its large-format inkjet printer assortment. The Oberon RTR3300 is a dedicated 3.3 m high-end roll-to-roll machine that combines extreme productivity and quality with an extensive media scope and a unique ease of use.
The new Oberon RTR3300 comes in a four color plus white, and a six color version, depending on user needs and preferences. In 'express mode', the Oberon RTR3300 hits an impressive 150 m²/h, while still delivering Agfa's well-known exceptional image quality. In 'production mode', the Oberon reaches a consistent 85 m² per hour. The dual-roll option is capable of handling two rolls each up to 1.6 meters wide, doubling the total output.
The UV LED inks on the Oberon RTR3300 were optimized for flexible media and excel in the smooth printing of solid colors. They obtained the highest category of Greenguard Gold certification, which means they meet some of the world's most rigorous chemical emissions standards and can be used in sensitive indoor environments like schools or healthcare facilities.
Wide media scope
The Oberon RTR3300 covers significant media diversity and a wide range of applications, enabling print service providers to execute all their customers' creative wishes, while also inspiring them to explore new directions.
In addition to its air-cooled LED curing lamps, the Oberon RTR3300 features a unique water-cooled table that keeps the printing zone at room temperature. Therefore, print service providers can smoothly process any kind of heat-sensitive roll material, including lower cost media.
The dedicated mesh printing functionality makes printing on mesh (with or without liner) more convenient than ever.
User-friendly, efficient and reliable
The Oberon RTR3300 was designed with a view to offering convenience, lean operations and peace of mind. Thanks to a unique media loading setup, a single operator can quickly load the media. The smart multi-queue functionality guarantees effortless job planning in view of the available materials. The free fall option, which may be used to print on demand, reduces media waste. A light box next to the printing area allows for on-the-spot quality inspection of backlit prints, while a double light curtain ensures that jobs don't get interrupted and media wasted, even when an operator accidentally moves into the safety zone.
Taking printing to the Extreme
"When developing the Oberon, we once again focused on merging extreme productivity with extreme quality, in addition to delivering the lowest ink consumption levels and reduced overall operational costs. It is a position to give print service providers a competitive edge," said Tom Vermeulen, Head of Sign & Display, Agfa. "This new engine builds on decades of experience in developing and manufacturing versatile large-format printing solutions. Our unique systems approach integrates and optimizes engine, ink, media, workflow and color management to ensure the highest quality, consistency and reliability."
The Oberon RTR3300 will make its debut at the C!Print show (Lyon, France, 4-6 February 2020) and at FESPA (Madrid, Spain, 24-27 March 2020).
Download