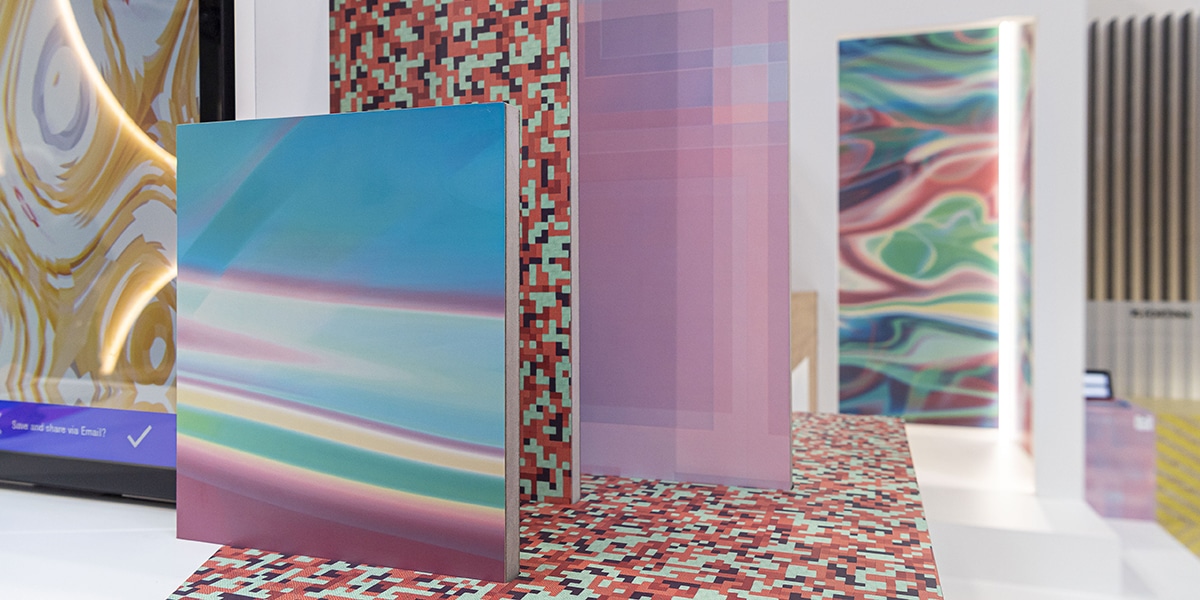 Agfa, Interprint and Koenig & Bauer partner for digital décor printing
Décor paper printing company Interprint expands its product range by deploying Agfa's water-based pigmented inkjet ink set on two of its single-pass high-speed Koenig & Bauer RotaJET presses.
Interprint recently invested in a third RotaJET system, their second one of the latest generation. Both of these are now running on the same Agfa ink set. The cooperation between the three parties has made it possible for Interprint, which already became an industry pioneer when it adopted inkjet printing on décor paper as a key strategy for growth, to expand its digital printing range with first-rate laminates. Because of the consistent and interchangeable prints on both lines, Interprint can roll out a wide variety of designs, from the early sampling phase right to the full production.
"We are excited to be able to show full flexibility in designs thanks to digital décor printing", says Robert Bierfreund, Managing Director of Interprint GmbH. "The cooperation with Agfa and Koenig & Bauer during the start-up phase of the RotaJET lines has been very professional and resulted in a consistent print process that enables us to serve our customers with a huge freedom of design choices and superior print quality."
Close cooperation
Over the past years, Agfa has invested heavily in the design and production of water-based inks to print on décor paper for the production of laminates (floorings and furniture panels). The pigmented inks deliver consistent prints with a wide color gamut and low metamerism (for wood designs). As they are tuned to the existing lamination processes, they allow for a straightforward replacement of gravure prints by digital prints.
With the RotaJET range, Koenig & Bauer has developed a top-class single-pass print system that meets the demands of the laminate industry. With various print widths and a linear print speed up to 135 m/min, it can handle production jobs that would have been printed in gravure before, as well as quickly ánd economically print very short consecutive runs.
Koenig & Bauer and Agfa cooperated closely to validate the performance of the Agfa ink set for use with the RotaJET print solution. "Koenig & Bauer extensively tested the Agfa ink set on the RotaJET print solution at its Customer Technology Centre in Würzburg", says Christoph Müller, member of the management board of Koenig & Bauer. "The fine-tuning of ink to the print system was managed carefully by both parties. This has resulted in the RotaJET running in a very controlled manner, delivering excellent image quality and overall performance."
"Agfa is committed to the laminate industry, with many years of R&D invested in inks for this industry, and has recently built a new dedicated ink production plant", says Tom Cloots, Agfa's Director Industrial Inkjet. "We have a long tradition of handling pigments and have built strong expertise on how to disperse them in a water-based ink carrier. Agfa technology enables the consistent production of inkjet inks with a very wide color gamut – a key element of the overall ink performance – yet a low ink consumption."
About Koenig & Bauer
Koenig & Bauer is the oldest printing press manufacturer in the world with the broadest product range in the industry. For more than 200 years, the company has been supporting printers with innovative technology, tailor-made processes and a wide array of services. The portfolio ranges from banknotes, board, film, metal and glass packaging, and includes book, display, coding, decor, magazine, advertising and newspaper printing. Sheetfed and webfed offset and flexo printing, waterless offset, intaglio, simultaneous perfecting and screen printing or digital inkjet – Koenig & Bauer is at home in virtually all printing processes and is the market leader in many of them. In the financial year 2020, the approximately 5,593 highly qualified employees worldwide generated annual sales of €1.029 billion.
About Interprint
"Think global, act local" – Interprint has demonstrated this philosophy for over 50 years. With around 1,300 employees worldwide, 390 of these at the company's headquarters in Arnsberg, Germany, Interprint is one of the leading finish printing houses. Established in 1969, Interprint soon began to explore uncharted territory by adding a new dimension to the wood-based materials market: the surface. Since then, Interprint has continuously reinvented itself: milestones such as the introduction of digital printing or Press Play, or going beyond the classic collection of trendy finishes, illustrate the company's innovative drive, which became even more dynamic in 2019. Interprint joined the Japanese Toppan Group, thereby hugely increasing its product range and technical possibilities. The finishes are applied to the surfaces of numerous wood-based materials which are then used to manufacture furniture or flooring and interior fit-out elements. The digital printing technology also makes small batch production possible. Interprint's wood, stone and fancy finishes look strikingly "authentic". This authenticity is also part of the corporate culture. Interprint employs people with a real passion for finishes from over 30 global cultures.
Contact