Agfa to showcase latest inkjet innovations at FESPA Munich with a focus on strategic growth and sustainable success
On a booth themed 'Strategic growth. Sustainable success', inkjet printing solutions provider Agfa will highlight its latest innovations at FESPA in Munich (23-26 May).
Mortsel, Belgium – March 15, 2023
According to Arnaud Calleja, Vice President of Digital Printing Solutions at Agfa, "Of course, we are thrilled to showcase our latest printing innovations at FESPA. However, trade fairs also serve as an excellent way to stay tuned with the industry. Our team takes pride in being a true partner to print service providers by scrutinizing their requirements and delving into how our comprehensive array of inkjet printers, inks, software, training, and services can best suit their growth trajectories and contribute to sustainable success."
Visitors to Agfa's booth will be able to attend demos of the following printing innovations:
Onset X3 HS with Agfa inks: better than ever
After drawing crowds at Printing United in Las Vegas last year, the Onset X3 HS will now make its debut at a European trade show. This extremely high-speed page-wide flatbed inkjet printer, running on new Agfa inks, and driven by Agfa's Asanti workflow software, is capable of 24/7 printing on a wide variety of substrates at speeds of up to 1450 m²/h. Its impressive uptime is due to its 30-second job setup using robotics and various automated features, making it a true game-changer. At FESPA, the printer will be demonstrated with a ¾ automation setup, featuring a lay table and an unloading robot, and will run a variety of stocks, including corrugated boards.
Jeti Tauro H3300 UHS LED: corrugated cardboard with varnish
Agfa also brings its fastest hybrid inkjet wide-format printer to FESPA. The Jeti Tauro H3300 UHS LED is designed for reliable 24/7 print production of outstanding quality and features multiple automation options. The printer has recently been upgraded with a varnish printing option that allows producers of corrugated cardboard displays to enhance their prints by adding a layer of high-gloss or satin varnish. The varnish can be applied to the entire surface (flood varnish) or selectively (spot varnish).
Avinci CX3200: vibrant soft signage prints with next-gen inks
Also on the booth: the 3.2 m Avinci CX3200, Agfa's dye-sub printer that produces consistently vibrant high-quality prints on a wide range of polyester-based fabrics for indoor or outdoor soft signage, interior decoration, and fashion items. It prints both directly to fabric – which is easy and fast, and ideal for applications such as see-through flags – and to transfer paper, perfect for obtaining super-sharp backlit applications with deep blacks, as well as for handling stretchy fabrics.
The new Avinci 110 printer inks have received the OEKO-TEX® ECO Passport, indicating that they are free of any hazardous components and can be utilized for eco-friendly textile manufacturing.
Oberon RTR3300: even the thinnest flexible media
Agfa is also set to present the Oberon RTR3300, a robust roll-to-roll UV LED wide-format inkjet printer that boasts exceptional print quality and high productivity, while consuming minimal ink and offering unparalleled user-friendliness. The Oberon is a dependable machine that can handle even the most heat-sensitive materials and excels at printing white on translucent media for window decor. Its dual-roll feature allows for efficient printing on two smaller media rolls.
Streamlining operations for the highest efficiency and consistency
Also on demo will be Agfa's workflow software Asanti, which seamlessly interlinks the entire print production flow, thus minimizing manual interventions and errors. Its browser-based Production Dashboard monitors production time, as well as ink and media consumption, and interfaces with MIS/ERP systems to optimize quotes and post-calculations. The latest version (v6.0), powered by the latest Adobe PDF Print Engine (APPE), includes automation features like job ganging and packaging production-specific tools to improve efficiency. It also introduces a new feature named SureTone, which guarantees that print runs will appear identical, even if they are conducted several months apart. SureTone's first focus is on the industrial laminate flooring market.
Industrial inkjet solutions
Agfa's industrial inkjet specialists will also be at FESPA to discuss how the integration of inkjet printing in industrial production environments can lead to enhanced cost-efficiency and versatility.
Agfa provides high-performance UV and water-based inks for industrial inkjet presses, in addition to comprehensive industrial inkjet printing systems. These include the InterioJet water-based press for printing on décor paper for laminate production and the Alussa solution for producing stunning and lasting designs on genuine leather. Actual customer samples will be presented at the booth.
About Agfa
The Agfa-Gevaert Group is a leading company in imaging technology and IT solutions with over 150 years of experience. The Group holds four divisions: Radiology Solutions, HealthCare IT, Digital Print & Chemicals and Offset Solutions. They develop, manufacture and market analog and digital systems for the healthcare sector, for specific industrial applications and for the printing industry. In 2021, the Group realized a turnover of 1,760 million Euro.
About Agfa's Digital Printing Solutions business unit
Agfa's Digital Print & Chemicals division drives the adoption of inkjet printing across various industries. We empower graphic printing and goods-producing industries to become more versatile and efficient through the innovative use of inkjet printing technology.  We do so by analyzing their experiences, needs and challenges, and actively partnering with them and industry experts.
Our actual offering consists of in-house developed and designed high-quality inkjet printers, inks, software and services, either as an integrated perfectly matched solution or as customized components within a larger production process. Our offering is best in class in terms of quality, productivity, sustainability and cost of ownership, with impeccable service across the globe.
Contact
Mike Horsten
Global PR & Press Manager Digital Printing Solutions
Mobile: +32 494 56 06 44
mike.horsten@agfa.com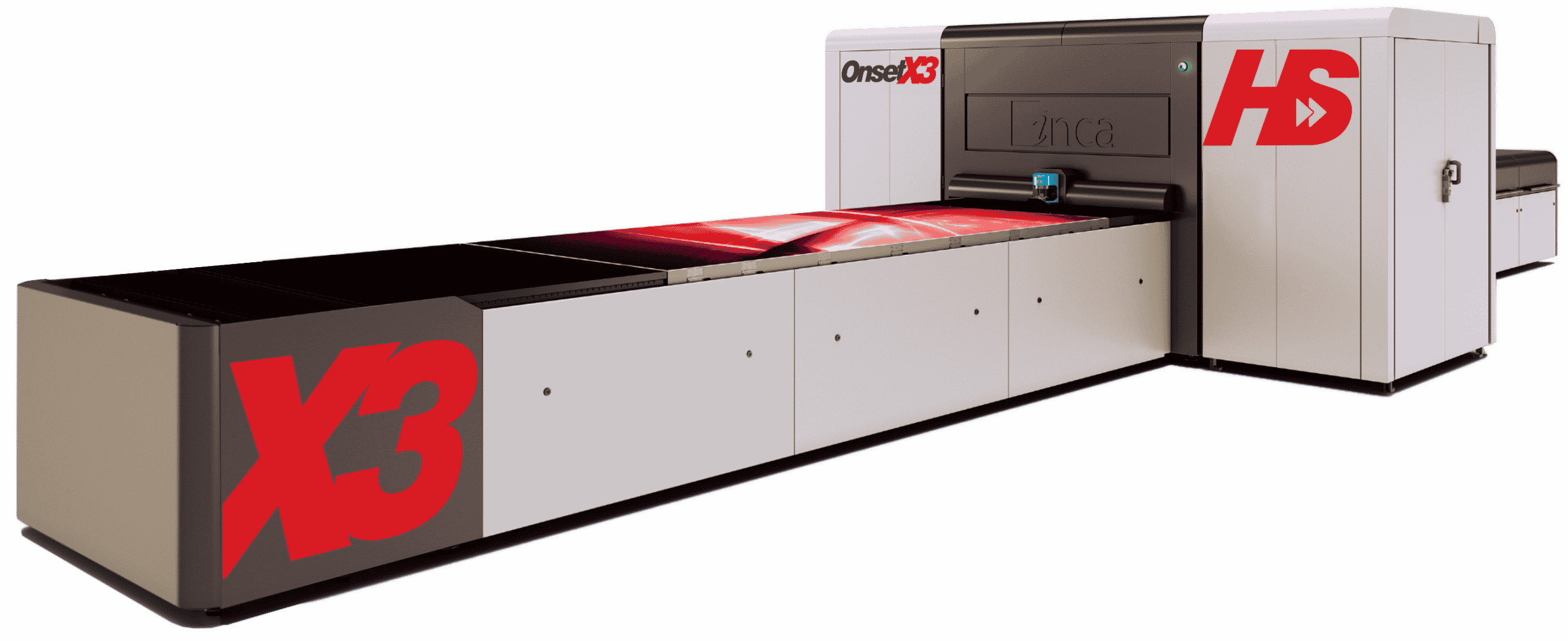 When fast gets even faster… The Onset X3 HS enables single-cycle printing, pushing productivity up to 1450 m²/h*, and has features on board that enable fast 30-second job turnaround.