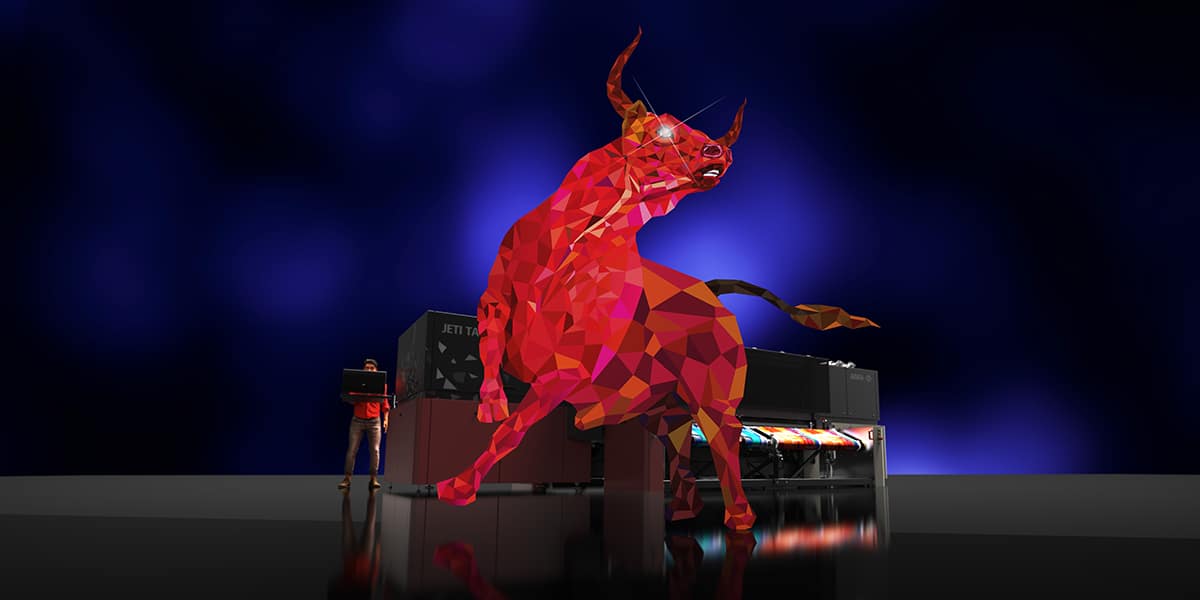 Agfa introduceert snelste Jeti Tauro inkjetprinter tot nog toe
Stevige hybride UV LED-printer met doorgedreven automatisering voor 24/7-productie
Zeer geschikt voor golfkarton en verpakkingen
Met Agfa's bekende beeldkwaliteit en lage inktverbruik
De Jeti Tauro H3300 UHS LED is Agfa's nieuwste vlaggenschip voor de sign & display-markt. Deze UV LED-inkjetprinter bedrukt media tot 3,3 m breed in vier of zes kleuren aan een snelheid tot 600 m²/u. Zoals de andere modellen in de familie combineert de machine toonaangevende drukkwaliteit met een grote veelzijdigheid, extreme productiviteit en geavanceerde automatisering, maar is ze nog steviger en tot 30% sneller. Als een echte hybride kan ze moeiteloos zowel borden en vellen als flexibele materialen aan.
Gebouwd voor 24/7-prestaties
Elk onderdeel van de nieuwe Jeti Tauro H3300 UHS LED (UHS staat voor 'ultra-high speed') werd ontworpen met het oog op een betrouwbare hoge productiviteit met een minimum aan onderhoud. Voorbeelden daarvan zijn de ultrasnelle autoloader voor media-invoer, en de grote inktcontainers die het toestel een grote autonomie geven.
Dankzij de verlengde vacuümzones en mediageleiders is de nieuwe machine ook goed geschikt voor het bedrukken van golfkarton voor verpakkingen of displays. Dat stelt sign & display-drukkerijen in staat hun aanbod uit te breiden en nog volledigere oplossingen aan te leveren voor de marketingcampagnes van hun klanten.
De master roll-to-roll-configuratie kan zowel één rol als twee rollen tegelijk bedrukken, en kan uitgerust worden met een optionele camera om block-out-media gelijktijdig accuraat aan beide zijden te bedrukken.
"De Jeti Tauro-familie stond al synoniem voor een hoge productiviteit en doorgedreven automatisering, maar met de Jeti Tauro H3300 UHS LED hebben we de lat nog wat hoger gelegd," zegt Reinhilde Alaert, Product Manager Sign & Display Agfa. "Toen we dit nieuwe vlaggenschip ontwikkelden, hebben we er alles aan gedaan om het uit te rusten voor een extreme werkbelasting. Daarenboven is het een veelzijdige 'alles-in-één'-machine die zowel starre als flexibele materialen kan bedrukken aan de hoogste kwaliteit en met het laagste inktverbruik. Ze is de perfecte belichaming van ons 'Extreme Productivity. Extreme Quality'-motto."
"Meet the Beast"-evenement
Op 9 maart organiseert Agfa een virtueel event dat volledig gewijd is aan de nieuwe Jeti Tauro H3300 UHS LED – onder de naam "'Meet the Beast'. Presentaties over de bijzondere eigenschappen en features van de nieuwe printer zullen afgewisseld worden met uitleg van de Agfa-experts over markttrends, applicaties en workflow- en kleurenbeheer
Registreren voor het evenement kan via http://studio5d10.com/.
Duurzame inkten met het laagste inktverbruik
De Jeti Tauro H3300 UHS LED gebruikt Agfa's Anuvia UV LED-inkten, die het GREENGUARD Gold-certificaat dragen en gekenmerkt worden door een breed kleurengamma en zeer levendige kleuren. Het inktverbruik is uitzonderlijk laag dankzij Agfa's gepatenteerde 'Thin Ink Layer'-technologie: een combinatie van de uitzonderlijke kleursterkte van de pigmenten in Agfa's inkten, de slimme algoritmes in de Asanti-software, en de perfect op elkaar afgestemde printeronderdelen. Witte inkt en primer zijn optioneel.
Aangedreven door Asanti-workflowsoftware
De nieuwe Jeti Tauro H3300 UHS LED wordt aangestuurd door Agfa's Asanti-workflowsoftware, die het volledige proces van drukvoorbereiding tot afwerking beheert en automatiseert, en daarbij ook de kleurconsistentie garandeert en het inktverbruik optimaliseert. Het slimme Asanti Production-Dashboard geeft een overzicht van inkt- en mediaverbruik en de duur van elke drukopdracht. Dankzij de Calibrated Print Mode (CPM) kunnen op eenvoudige wijze gepersonaliseerde productiesjablonen gemaakt worden voor een bepaald substraat met het oog op automatische jobcreatie.
Over de Jeti Tauro H3300-familie
Agfa introduceerde de Jeti Tauro H3300 in de lente van 2018. Deze hybride grootformaatinkjetprinters hebben sindsdien drukkerijen in de hele wereld geholpen om hun productiviteit op te drijven en nieuwe opdrachten binnen te halen. De Jeti Tauro H3300-familie omvat nu:
De oorspronkelijke Jeti Tauro H3300 LED, in een vier- en een zeskleurenversie, waarbij de eerste vooral mikt op snelheid en de tweede op de hoogste kwaliteit.
Het 'instapmodel' Jeti Tauro H3300 S, dat in het najaar van 2020 geïntroduceerd werd en een ideaal vertrekpunt vormt voor de verdere groei van sign & display-bedrijven dankzij de optie om te upgraden naar de snelheid van het originele model.
De nieuwe Jeti Tauro H3300 UHS LED
Alle Jeti Tauro H3300 LED-printers kunnen in verschillende configuraties gebruikt worden: voor borden, vellen of rollen, van manueel tot volautomatisch.
Contact