Oberon RTR3300
De Oberon RTR3300 is een speciale 3,3 m brede hoogwaardige rol-naar-rolprinter die extreme productiviteit en kwaliteit combineert met een uitgebreid scala aan media en uniek gebruiksgemak.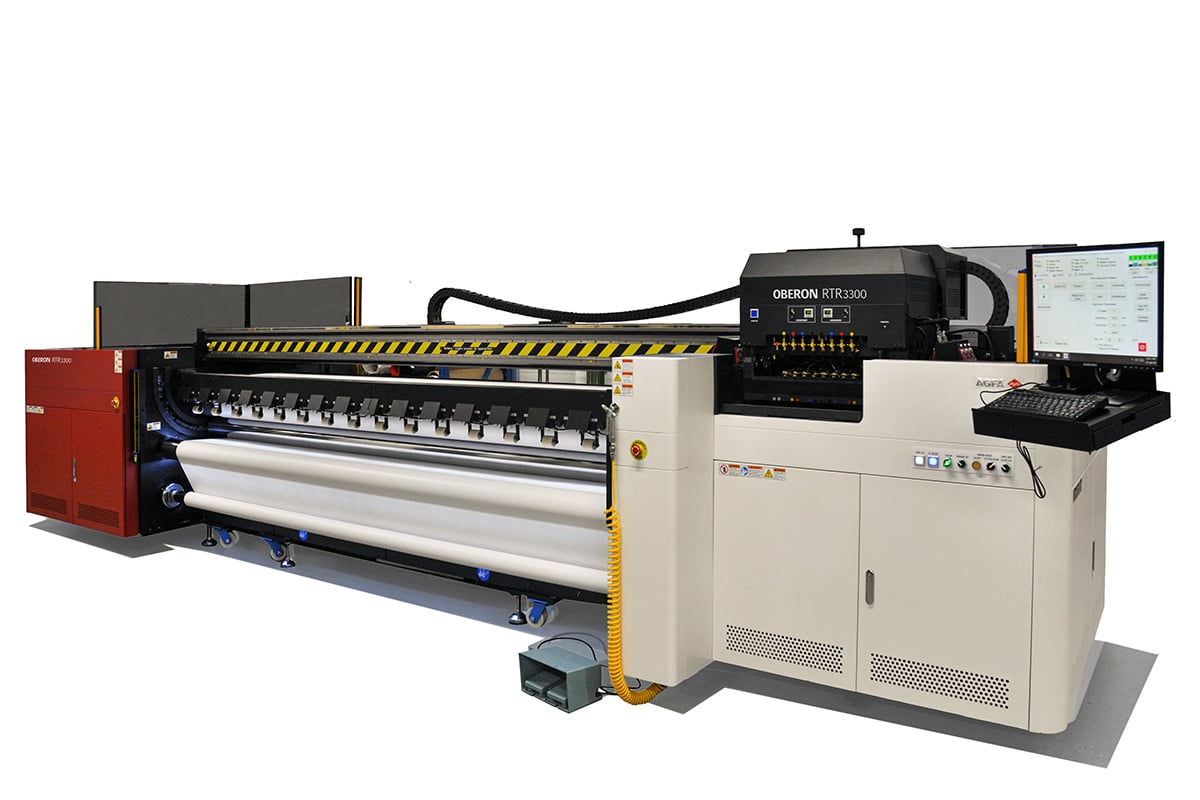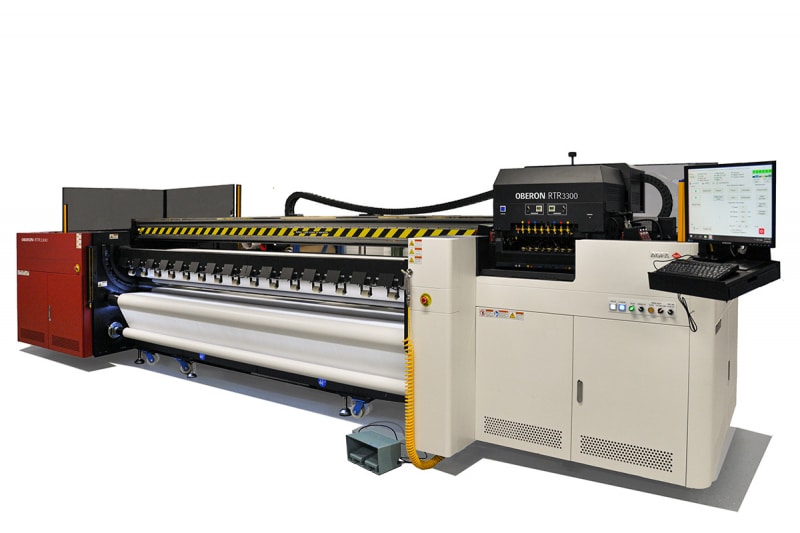 De Oberon RTR3300 is geschikt voor heel diverse media en uiteenlopende toepassingen, zoals printen op mesh en op panelen die moeten worden verlicht. Zo kunt u alle creatieve wensen van uw klanten vervullen en hen tegelijk inspireren om nieuwe richtingen in te slaan.
Afhankelijk van de behoeften en voorkeuren van de gebruiker wordt dit robuuste, betrouwbare werkpaard geleverd in een vierkleurenversie met wit en een zeskleurenversie. Met de 'dual-roll'-optie kunnen twee rollen met telkens een breedte tot 1,6 meter worden bedrukt om de productie te verdubbelen. Een aantal intelligente functies optimaliseert het mediagebruik.
De uv-led-inkten op de Oberon RTR3300 zijn geoptimaliseerd voor flexibele media en blinken uit in het gelijkmatig printen van effen kleuren. Ze zijn volledig in overeenstemming met de industrienormen voor gezondheids- en milieubescherming. De hoogste categorie van de GREENGUARD GOLD-certificering die ze ontvingen, garandeert dat ze voldoen aan een aantal van 's werelds strengste normen voor chemische emissies.
De Oberon RTR3300 wordt aangestuurd door Asanti, Agfa's workflowsoftware voor grote formaten die het hele printproces automatiseert en vereenvoudigt, van drukvoorbereiding over productie tot afwerking.
Extreem breed spectrum aan media en toepassingen
Optie om twee rollen tegelijk te bedrukken voor hogere productiviteit
Optimaal mediagebruik dankzij een reeks intelligente functies
Uitstekende gebruiksvriendelijkheid
Agfa ontwikkelde speciale & gecertificeerde inkten voor de beste kwaliteit en het laagste inktverbruik
Kenmerken
Milieuvriendelijke uitharding met uv-leds bespaart tijd en kosten
De Oberon RTR3300 is voorzien van luchtgekoelde uv-ledlampen, die een brede inzetbaarheid, een hoge productiviteit (onmiddellijk opstarten) en een laag energieverbruik opleveren.
Watergekoelde tafel voor breder scala aan media
Naast luchtgekoelde led-uithardingslampen beschikt de Oberon RTR3300 over een unieke watergekoelde tafel die de printzone op kamertemperatuur houdt. Zo kunnen bedrijven elk soort warmtegevoelig rolmateriaal vlot verwerken, inclusief goedkopere media.
Handige printkit voor mesh
De speciale printfunctionaliteit voor mesh maakt het nog gemakkelijker dan ooit om te printen op mesh (met of zonder backing).
Minder mediaverspilling dankzij optie 'free fall'
Aandrukrollen voor en achter de transportrollen maken 'free fall'-printen mogelijk. Dit komt goed van pas voor korte opdrachten tussendoor en levert optimaal mediagebruik op.
Handig laden van media
De Oberon RTR3300 is ontworpen om gemak, gestroomlijnde operaties en gemoedsrust te bieden. Dankzij een unieke laadopstelling kan één operator snel media laden. Assen van koolstofvezel verlagen het gewicht van de rollen.
Slimme meerdere wachtrijen
De slimme functionaliteit met meerdere wachtrijen garandeert dat taken moeiteloos kunnen worden gepland op basis van de beschikbare materialen.
Onmiddellijke kwaliteitscontrole
Met een lichtbalk naast de printzone kan de kwaliteit van afdrukken die moeten worden verlicht ter plaatse worden gecontroleerd.
Dubbel lichtgordijn om ononderbroken te printen
Betreedt een operator per ongeluk de veiligheidszone, dan stuurt een dubbel lichtgordijn de printshuttle terug naar de uitgangspositie, maar blijft de printtaak geactiveerd en klaar om zo snel mogelijk te worden hervat. Zo worden er geen media of tijd verspild.
Inkten conform industrienormen
De inkten voor de Oberon hebben de hoogste categorie van de GREENGUARD GOLD-certificering ontvangen en voldoen dus aan een aantal van 's werelds strengste normen voor chemische emissies. Daarom zijn ze geschikt voor gevoelige omgevingen binnenshuis, zoals scholen of zorginstellingen.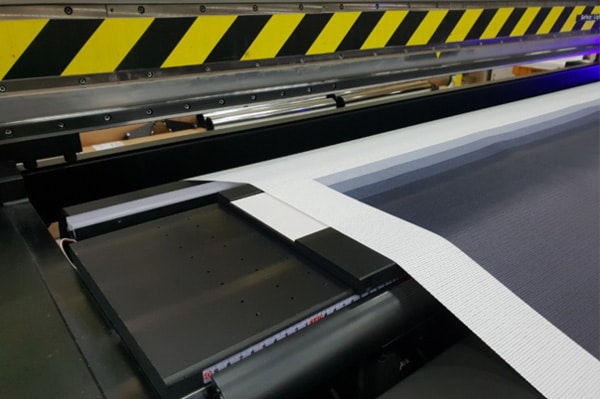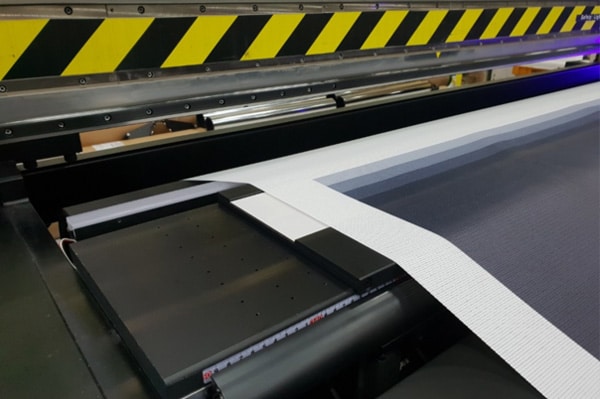 Handige printkit voor mesh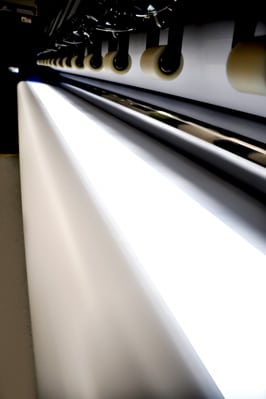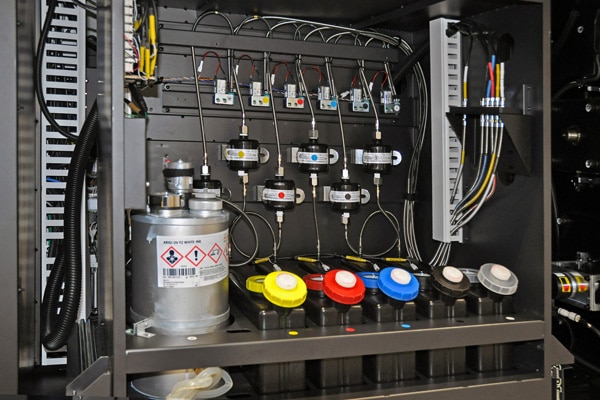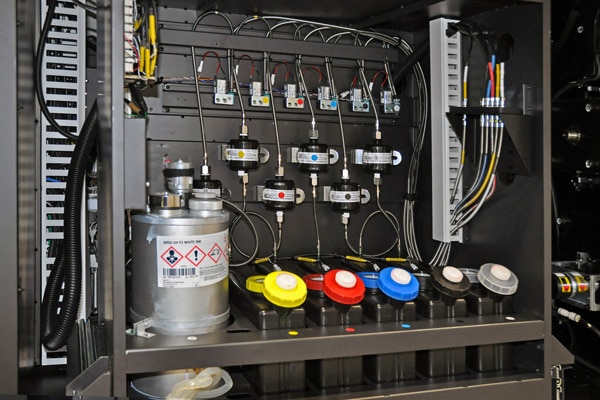 Technical Specs
Media- & printspecificaties
Mediabreedte
61-330 cm (24"-130")
Optionele 'dual-roll'-kit beschikbaar: ondersteuning voor 2 rollen van 160 cm (63")
Printbreedte
Tot 330 cm
Randloos printen met mesh-kit
Mediabreedte tot 320 cm (126")
Mediadikte
Minstens 0,2 mm
Maximaal rolgewicht (inclusief as)
160 kg (180 kg) voor 3,3 m of 0,5 kg/cm mediabreedte
Maximale roldiameter
36 cm (14.17")
Productiviteit
Express-modus
150 m²/u (1615 ft²/h)
Production-modus
85 m²/u (904 ft²/h)
Standard-modus
48 m²/u (517 ft²/h)
High-quality-modus
25 m²/u (269 ft²/h)
Printkoppen & inkten
Printkoppen
6 Kyocera-printkoppen met hoge frequentie
Inkten
7 Oberon 1470-inkten voor led-uitharding (CMYKLcLm W)
Tekstkwaliteit
Tekstkwaliteit positief
4 punten
Tekstkwaliteit negatief
6 punten
Gewicht & afmetingen machine
Afmetingen (b x h x d)
6620 x 1960 x 2040 cm (21.7 ft x 6.5 ft x 6.7 ft)
Gewicht
4600 kg
Vloeroppervlakte
9,62 x 4,36 m (31.5 ft x 14.3 ft)
Elektriciteit
Europa
400 V 3-fasige sterschakeling met nulgeleider (3 x 30 A) 50/60 Hz
VSA
230 V 3-fasige driehoekschakeling zonder nulgeleider (3 x 30 A) 50/60 Hz
Systeemintegratie RIP-/workflowsoftware
Geïntegreerde productieoplossing met Asanti; andere RIP's op verzoek
Media-/inktprofielen Oberon RTR330 beschikbaar op Asanti
Veiligheidsvergunningen
CE, FCC, NRTL, ROHS