Value for money with Agfa's ECO³ solutions
Economy, ecology, extra convenience – or ECO³ in short. These are the key benefits that characterize Agfa's next-generation innovations for the printing industry. The focus not only lies on the company's well-known strong portfolio in the prepress area, yet equally on quality, productivity and efficiency improvements in the pressroom environment. Agfa wants to show printers how they can get the most value for their money.
What does ECO³ stand for?
"ECO³ is short for Ecological, Economic and Extremely Convenient," says Joan Vermeersch, Vice President Technology, Marketing & Business Development Prepress at Agfa. "The term 'eco' has been used for many years to designate solutions that are environmentally friendly. Yet the other two E's are just as important to a printer. In the field of offset printing, we focus on transforming technology into sustainable solutions that create value for our customers. The environmental impact of these solutions is an important factor, yet we add total cost of operations and convenience to the equation. Our innovations are always market-driven."
"We aim to make our entire portfolio ECO³", states Vermeersch. "We have a long record of accomplishment when it comes to sustainable development. With the introduction of the Azura printing plate in 2004, we pioneered chemistry-free prepress solutions; we are still the industry leader. In the meantime, we also keep improving conventional system so they fit in with the ECO³ framework. Environmental sustainability is embedded as a set of technical requirements in all of our R&D projects for new systems, which are equally valued as quality, performance and cost specifications."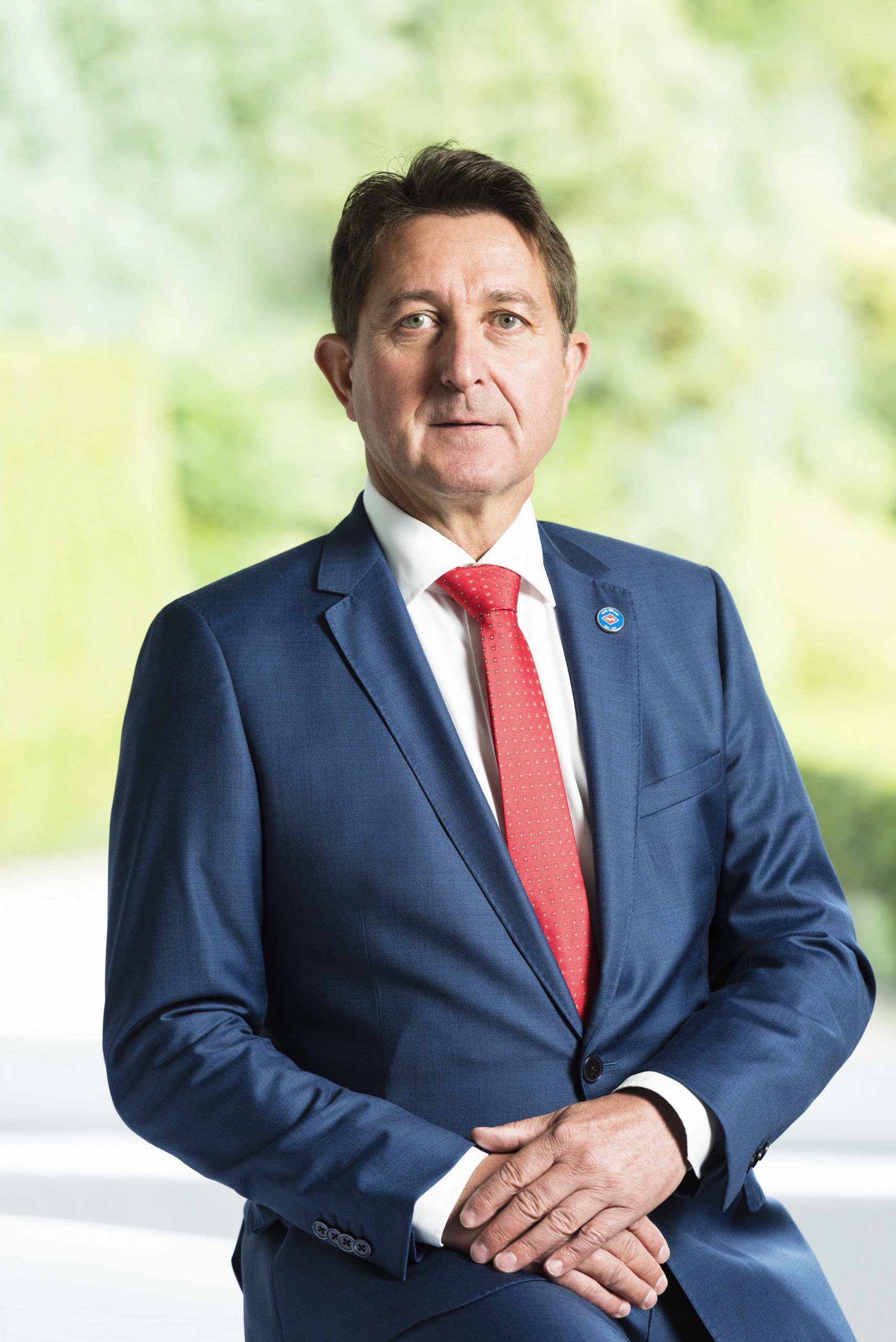 From prepress to press
What are the flagships of your ECO³ offering?
"One of them is the Energy Elite Eco printing plate. It has a best-in-class run length for no-bake positive thermal plates (up to 600,000 copies) and is both mechanically and chemically compatible with today's needs in sheetfed and heatset applications. Combined with the truly disruptive Arkana smart plate processing technology—with its extremely low replenishment rates and its total elimination of rinse water—waste is reduced by up to 50%. This not only shrinks a printer's ecological footprint, it also means less transport, less storage space, less handling and less empty bottles. In addition, the clean chemistry of the Energy Elite Eco printing plate used in the system allows for easy and rapid cleaning, and extends bath life up to 15,000 m² of printing plates (3 times more than a conventional system)."
Vermeersch adds: "Other illustrations of the ECO³ advantages are the Avalon N8-90 thermal platesetter, achieving ultra-high productivity levels of up to 71 B1 plates per hour, but also our innovative cloud solutions. We are the only ones to take printers' workflows into the cloud, thus allowing companies to minimize their operating costs, while ensuring business continuity and security. Add to this our state-of-the web-to-print and file management software."
Agfa's offering does not stop where the prepress environment ends. How do you make a difference in the pressroom too?
"Indeed, a wide range of our solutions yields significant improvement and savings in the pressroom. Software such as Apogee Impose, for instance, can minimize paper waste by calculating smart impositions. A plate like Energy Elite Eco enables a wide press latitude and shows excellent lithographic performance, leading to fast restarts, low dampening levels, and a stable ink-water balance – and therefore time and money savings. The plate also has an outstanding chemical resistance. This means more flexibility in choosing fountains, washes and plate cleaners. Its excellent mechanical robustness means less risk of plate wear issues, remakes and associated costs. Our pressroom consumables, too, add value. These include a.o. blanket and roller washes, fountain additives and auxiliaries that extend the lifetime of printing plates, blankets and rollers, and improve both press uptime and the stability of runs."
Nowhere else do printers get such good value for money. We are committed to providing the highest quality of products and services, and let our customers grow their business in a profitable way. That is why we invest in sustainable innovation with a focus on ecology, economy, and extra convenience – or ECO³. In addition to our cleaner and cost-effective prepress solutions that are easier to operate and maintain, our newly introduced software solutions will see printers profit from enhanced automation and quality management, resulting in an impressive amount of savings, both in the prepress and press environment.
"Recently, we also released a true printing power combo in the shape of the software packages PressTune and InkTune. They will add value by reducing costs, both in the prepress and press environment, while improving quality and productivity. PressTune is a comprehensive and unique print standardization tool that ensures color matching to specifications and color consistency throughout the press run. Through a trend analysis of production, it allows printers to track, manage and improve press and operator performance. As such, it reduces make-ready time up to 40% and cuts down waste during the print run by 5%. InkTune applies intelligent processes that fine-tune press settings in order to increase the profitability of press operations. It reduces ink consumption by up to 30% while maintaining or even increasing print quality. It also improves color stability on the press, as well as image quality and consistency, and it leads to higher printing speeds and faster drying times. The two software packages work their magic best when combined."
In black and white
You promise printing companies added value and cost savings. How do you prove this to them?
"We propose printing companies to make a detailed calculation of their potential savings. To this end, we have developed a Value Calculator which compares our offering with competitive systems, including hardware, software, and consumables. In this process, we take a wide range of prepress- and press-related elements into account: water consumption, energy consumption, developer or gum use, labor costs, maintenance costs, waste disposal costs, amount of plate remakes, first sellable sheet etc. Our Value Calculator generates a detailed, fact-based report that summarizes – both in volumes and in money – what is the potential gain for a customer."
>> Discover how you can save money on www.agfa.com/eco3.