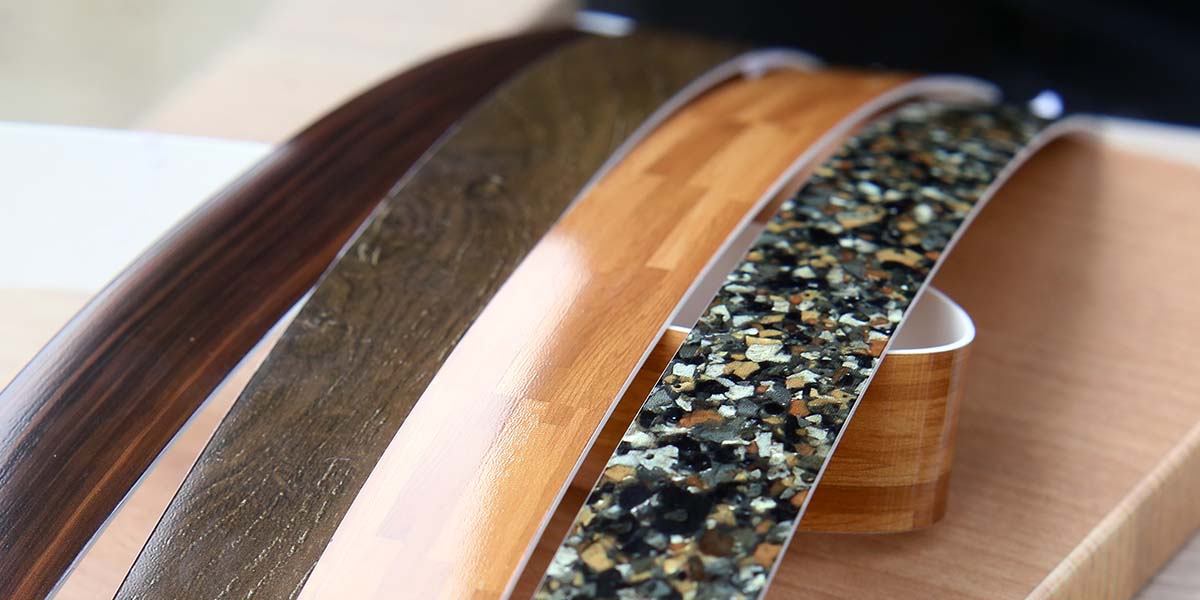 Printing furniture edge bands with UV inkjet
Things are moving fast in the world of interior decoration. There is an increasing interest in printing wallpaper, furniture, floors, panels, etc. with digital inkjet. Agfa focuses on integrating inkjet printing in industrial production runs. It recently launched an ink set that will save time and costs when printing furniture edge bands.
The new Altamira Design PID, a 6-color ink set for printing interior decorative parts, including edge bands, skirtings (base plates), panels, window blinds, profiles, and automotive and transportation elements (interior parts of cars, buses, caravans, etc.).
Replacing gravure
In the traditional edge band manufacturing process, polymer granules are extruded into a thin edge band film. Typical surfaces for edge banding are ABS, PP or PVC. During extrusion, a colorant is usually added to obtain a colored bulk material. Furthermore, a primer is applied to improve adhesion and ink wetting of the ink that will come on top, typically by means of gravure printing (requiring one engraved cylinder for each color and each design). The printed image is protected by a topcoat, typically a UV varnish. For an aesthetic effect, a relief can be embossed to depict the wood nerve structure. Embossing can also be done prior to printing. The last step is to cut the edge band to size. Rotogravure printing of edge bands has multiple disadvantages: the need for many basic colors, a stock of cylinders, in addition to limited speed.
The analog gravure method can be replaced by single-pass inkjet printing. UV inkjet is the preferred option because of its good adhesion on the plastics and primers. The benefits of inkjet are many: no stock of cylinders, a fixed set of process color inks, and a shorter preparation time – resulting in more cost-efficient production runs. In addition, the products can be differentiated and personalized. The production can run at a higher speed and has a smaller footprint. The run length of edge bands is limited, which makes them perfectly suited for inkjet production printing.
Consistent prints of any design
Agfa has been supplying inkjet inks for interior decoration for many years. The Altamira UV inkjet inks for single-pass printing are well-known for delivering consistent prints (begin to end, left to right). This consistency results from excellent jetting reliability (long open head times, no satellite formation etc.) and batch-to-batch consistency.
Recently, Agfa introduced a third-generation 6-color inkjet ink set for printing furniture bands. Altamira Design PID is based on Agfa's patented pigment dispersion technology delivering high color strength at a low ink consumption. Ink formulations are perfectly tuned for jetting reliability, adhesion, color gamut and image quality.
Next to the CMYK inks, the ink set comprises two colors specific for wood designs. That means that the designers of edge bands will have no limitation in color. For "wood grain designs", all wood colors can be obtained by combining the Wood-Red and Wood-Yellow inks with Black and Cyan inks. These Wood-Red and Wood-Yellow inks deliver low metamerism prints, a key feature for edge bands that need to meet the color of the printed top plate. For standard designs, natural stone, concrete look and other fashion colors, the 4-color approach with CMYK will deliver the best option because of its wide color gamut.
The new inks have been designed to provide excellent adhesion and a full process fit with the furniture band manufacturing process. For each combination of inks, the printed color is stable very shortly after printing, which makes it possible to continue with the next process steps right away. The outstanding ink consistency allows repeated printing of the same design.
The reliability of single-pass printing was proven in production run lengths (printing during four hours without maintenance) with zero missing or failing nozzles.
All six inkjet inks comply with IKEA regulations, which include IOS-MAT066 (surface coatings and coverings) and IOS-MAT010 (chemical compounds and substances) as the strictest regulations related to printing of edge bands.