#CountOnUs: Free social distancing templates
Agfa offers a couple of free templates on its website which print service providers can use for the production of COVID-19 related signage. Shops or companies can use these tools to remind customers of the social distancing measures required to avoid spreading the corona virus – such as not shaking hands and leaving enough space.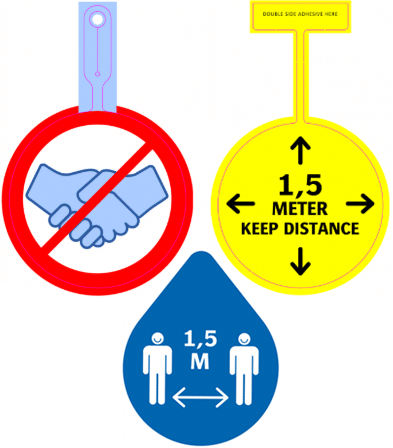 The button hanger is a nice addition to the use of traditional pin buttons, but it is easier to put up and there is no risk of damaging one's clothes. Because it is a completely new communication tool it is certain to draw everyone's attention.
Wobblers can be positioned on shop shelves like standard product promotion wobblers. They are laser cut or die cut and mounted on the shelves using a strip of double-sided adhesive tape on the basis.
Agfa's synthetic SYNAPS material is just perfect to print these tools on. It prints just like paper, yet is resistant to water, tearing and UV light. SYNAPS papers can be printed with standard inks on offset presses as well as HP Indigo and dry toner printers.
Download the templates from the SYNAPS product page.