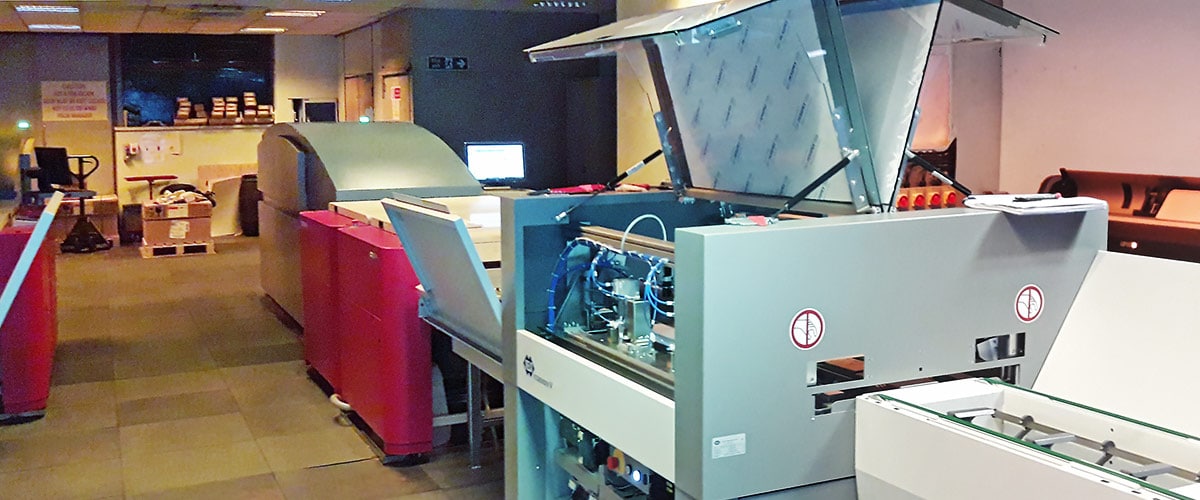 Agfa customers scoop top slots at the UK's newspaper awards
Due to the coronavirus crisis, only some categories of the UK's highly respected newsawards could be judged this year. Among them the Printer of the Year awards, with once again excellent results for a number of Agfa customers…
The annual gala evening that celebrates the brightest and the best in the UK's newspaper printing and publishing industry had to be cancelled at the beginning of May. However, a number of the categories were judged prior to lockdown, and Agfa customers again did very well, scooping up both the awards for National Newspaper of the Year and Regional Printer of the Year.
For the third year in a row, St Clements Press (SCP), a printing site owned by the Financial Times, was awarded National Newspaper Printer of the Year. SCP were awarded this prestigious title for their FT Weekend paper, printed on pink paper. The quality and colour rendition were once again judged superb, showing a true comment to producing a quality product. SCP has worked with Agfa on their colour rendition, using Agfa's IntelliTune software for smart image analysis and improvement, and the OptiInk software for optimized separation and ink saving – as part of the overall Financial Times workflow system that spans 18 print sites around the world. Last year, SCP also switched to Agfa for their plate supply, installing two new Attiro clean-out units and two Nela punch benders, running with Agfa's violet chemistry-free printing plates N95-VCF. Dean Baker, general manager of the SCP print site, endorsed Agfa: "Agfa products and support most definitely contribute to the excellent performance of our plant, and we are proud to partner with them."
Highly commended in the same award category was The Irish Times print plant, another Agfa customer.
The Regional Newspaper Printer of the Year award was presented to Newsquest Oxford for Stourbridge News, once again showing a true commitment to quality for local news print. The Newsquest Group runs with Agfa's Advantage CTP engines, Attiro clean-out units and N95-VCF plates across all three of their print sites, achieving an extremely high-quality output. The Newsquest Group also moved their complete Arkitex workflow into Agfa's Cloud. This gives them consistency of their workflow across all sites and puts the responsibility of system management in Agfa's safe hands, allowing them to concentrate on the daily tasks involved in running each print site.
With Interpress NI, publisher of The Irish News, another Agfa account gained the Highly Commended award.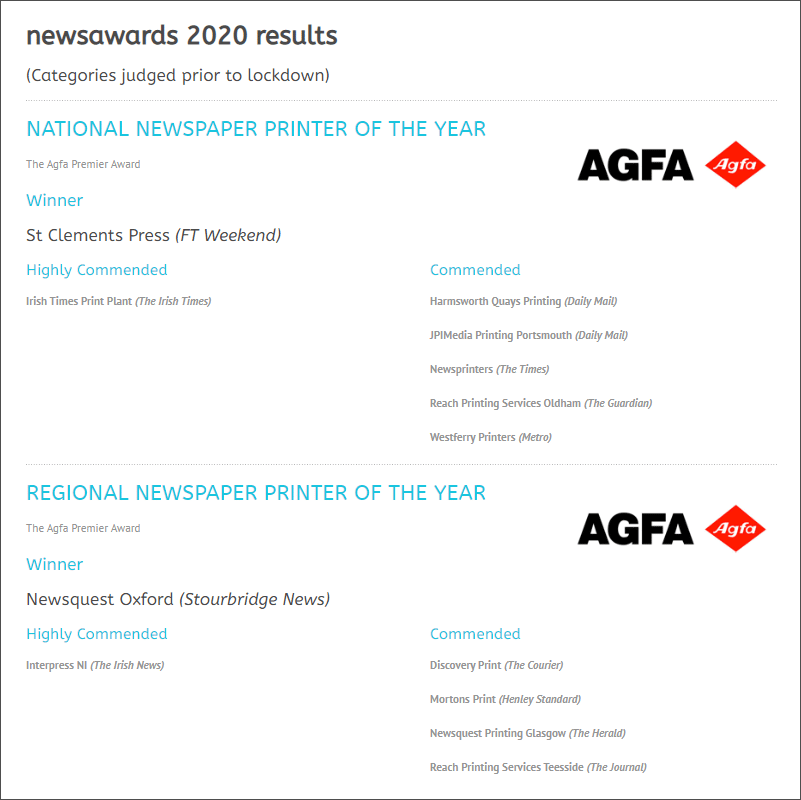 "Despite the restrictions and lock downs, 2020 has proved another successful year for Agfa regarding these highly respected awards," comments David Bottomley, Agfa's Sales Manager Newspapers UK & Nordics. "The list of our customers' achievements is too great to sum up. Let us hope that the 2021 Awards continue to show Agfa's leading role in the newspaper market."