Nanogate

 and Agfa Announce 

Digital 

O

n

–

Demand 

I

nkjet

–

P

rinted

 Polycarbonate 

G

lazing for use in Commercial 

V

ehicles, Specialty 

V

ehicles and Rally 

C

ars

Nanogate Netherlands, a specialist in thermoforming and coating of composite parts, has developed a technology to produce inkjet-printed black borders on polycarbonate glazing, resembling the appearance of automotive cured black enamel ("ceramic frit").
Agfa provides the wide-format printer and ink solution for printing on the raw polycarbonate material. Its Anapurna FB2540i flatbed inkjet printer proved the perfect industrial printing platform that was needed.
During a three-year cooperation with Agfa's inkjet R&D department, the right inkjet ink was developed and tested together with patented primer technology to create a durable printed window.
This development opens opportunities for the on-demand production of tailor-made and complex 3D-shaped glazing products. Adapting the production process for ceramic frit on glass is not economically viable for low production volumes.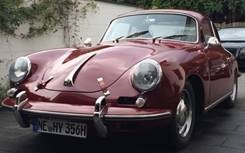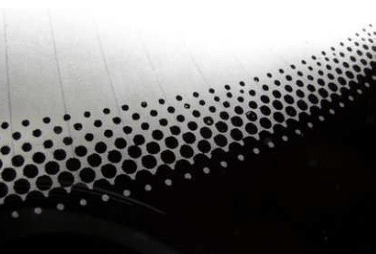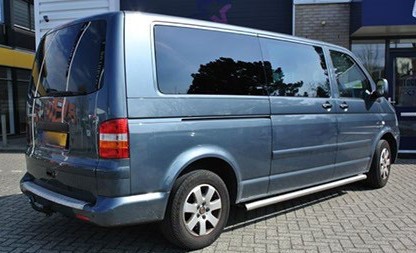 Examples of inkjet-printed window border and commercial van glazing
The new development generates a solution to replace the window of a classical car long out of production, or to give impact resistance to the windscreen of a rally car and van back windows ("burglar free"), but it can also be used for mass production of vehicle and van windows and to enhance vans with glass-look panels – at a cost comparable to that of standard glass.
Nanogate on-demand inkjet-border printed polycarbonate glazing systems make for lightweight, highly durable and shatterproof vehicle window solutions. The combined Nanogate-Agfa technology is well adapted for both mass production and tailor-made solutions, on flat panels as well as complex 3D-shapes.
Introduction
Regular glass windows have a high risk of shattering, and even though glass has properties good enough for common mass-produced vehicles, there are circumstances that require a more advanced solution.
Commercial vehicles for specific uses can require a very strong impact resistance of their windows; either to protect passengers from objects hitting the windshield, protect the vehicle interior contents from theft or to maintain outer aesthetics after the impact of objects.
Hard-coated polycarbonate windows are virtually unbreakable and exhibit very high scratch resistance, making them a perfect match for such demanding circumstances.
Polycarbonate glazing is lightweight, highly resistant to impacts and extremely durable.

Commercial van polycarbonate window bonding options: glass-look panels
Nanogate Netherlands has developed an obscuration ink solution for car window borders.
The technological solution consists of a two-step process:
Creating polycarbonate sheet receptiveness to UV inkjet inks is the first step, followed by the second of inkjet printing the matrix-dot black obscuration graphics border.
The on-demand inkjet printing is done using Agfa's Anapurna FB2540 UV flatbed large-format printer. Making use of this patented inkjet technology (PCT/EP2019/084005), Nanogate Netherlands is able to produce polycarbonate thermoformed and coated windows.
Mounting of the windows onto the vehicle requires an adhesive solution that demonstrates high durability and excellent bonding properties, without chemically changing or damaging the printed border or the polycarbonate sheet. Bostik Adhesives has designed material that perfectly matches with Nanogate's glazing solution.
Markets
The potential applications can be found in:
glass-look panels for commercial vans
unbreakable back- and side-door van windows
windscreens for special equipment like forest harvesters, demo-trailers, police vehicles etc.
unbreakable windows and windshield for rally cars
side- and back-door windows of out-of-production, exclusive and classic cars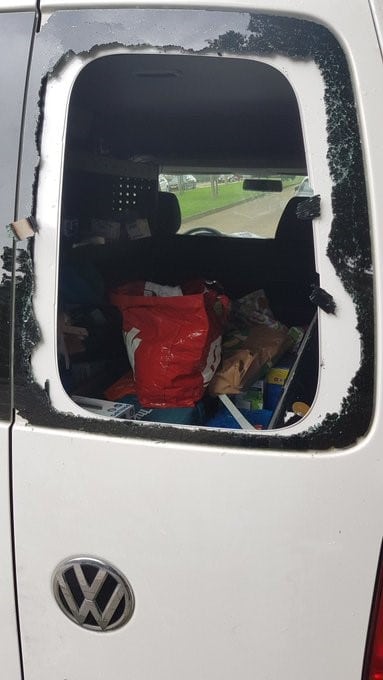 Why choose on-demand polycarbonate glazing?
Moving vehicles are a common concept in regular day life, but requirements for vehicles are constantly changing and quality standards are requiring the utmost from vehicles.
The weight of vehicle components becomes increasingly important and gives room for the usage of composites on vehicles where formerly glass or steel were the substrates of choice.
Mass production of commercial vehicles is the standard, but what about replacing vehicle windows that are out of production? A mass-produced window will not fit your classical car.
What to think of protecting the interior of vehicles from vandalism or protecting its passengers from dangerous situations outside the vehicle? Only think of the forces and impacts to which a rally-car is being exposed, or a police riot van out on the streets.
How much time and money is spent on repairing smashed van windows and replacing the expensive stolen equipment?
Replacing standard automotive / commercial vehicle glass with polycarbonate will give a strong and durable result, at a cost comparable to fitting standard glass onto the vehicle.
Polycarbonate will reduce the total vehicle weight while offering the same protection of vehicle windows as it is virtually unbreakable.
Nanogate Netherlands – Agfa solution
For many decades now, companies have tried to improve the efficiency of their operations and manufacturing by implementing new and faster equipment as well as new technologies.
In the digital era, many markets have seen major shifts in the production of equipment and goods. Products known to us for decades suddenly became cheaper to manufacture, integration was possible, and some markets/products even disappeared.
Examples from the recent past are analogue photo & film, lithography, compact cassettes and fax machines.
Up to now, vehicle windows are all created with the screen printing process, which has distinct disadvantages:
the creation of screens is expensive and time-consuming
the screen printing process uses chemicals
due to these factors the process is only economically viable for high volumes.
The inkjet-printed dot matrix border of our polycarbonate glazing can be printed with the push of a button, immediately. Every inkjet-printed window can be for a different car/van. Delivery times shrink from weeks to days!
The inkjet-printed windows are produced with an industrial inkjet printing system from Agfa. Whereas others systems for commercial inkjet printing were too light, the heavy-duty Agfa system proved to be perfectly fit to master full day production of the heavy sheets, and to provide an excellent price/performance ratio. One of the key components is the ink, which was also developed by Agfa and matches the print head and primer characteristics. The entire printing solution relies on Agfa's Thin Ink Layer technology to warrant the lowest possible ink consumption.
In its plant in Geldrop (NL), NANOGATE has the complete process of primering, printing, coating, (3D) forming and routing in house, a major advantage to keep control of the entire production chain.

Additional examples of PC-window and bonding solutions
Nanogate windows are bonded to the car/van with Bostik Industrial adhesives. Bostik designed SMP-based adhesive chemistry is an excellent chemical fit to mount windows on a vehicle. The health- and safety-friendly SMP (no isocyanate, no solvents, no plasticizer) can be applied to the hard-coated polycarbonate without surface pre-treatment; just a well-cleaned surface is sufficient.
The above allows for an easy and simple bonding process that will not give rise to stress cracking of the composite window or chemical degradation of the printed border.
Together with Agfa and Bostik, Nanogate has developed a complete solution enabling car glass refitters to do what they do best: help stranded customers in need as fast as possible.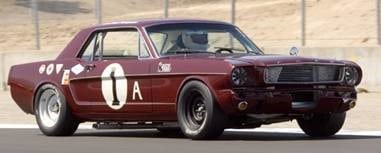 The advantages of on-demand inkjet-printed border, polycarbonate windows in a nutshell
Inkjet-printed border polycarbonate windows (Nanogate Netherlands)
Inkjet-printed border for mass production and batch-to-batch projects. Small batches (from one piece) are cost-effective to produce. With inkjet "every copy is an original".
UV-stable border protecting the adhesive bond line and window from ageing.
Virtually unbreakable windows:
Ideal to prevent vehicle intrusion, "smash-and-grab" robbery and stone chip damage.
(Project-based) Thermoform possibilities for complex 3D-shapes.
Automotive specification ECE-R43-compliant coating technology for industry compliant wear, chemical resistance and outdoor stability.
Fast turnaround time. No need to create expensive screens. Ready in days compared to weeks.
Environmentally friendly process, no chemicals needed. Environmentally and H&S responsible entrepreneurship.
Large array of colours available (e.g. grey for glass-look panels).
Printed logo possible for customization.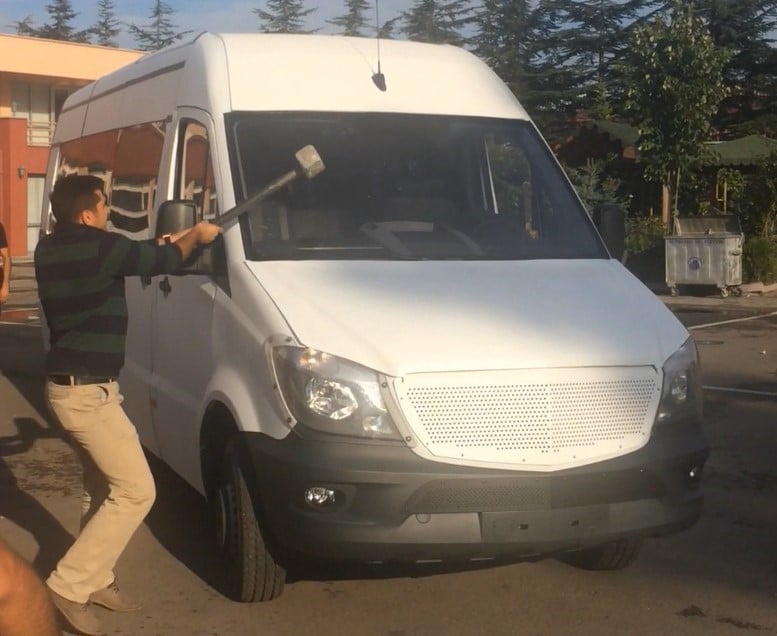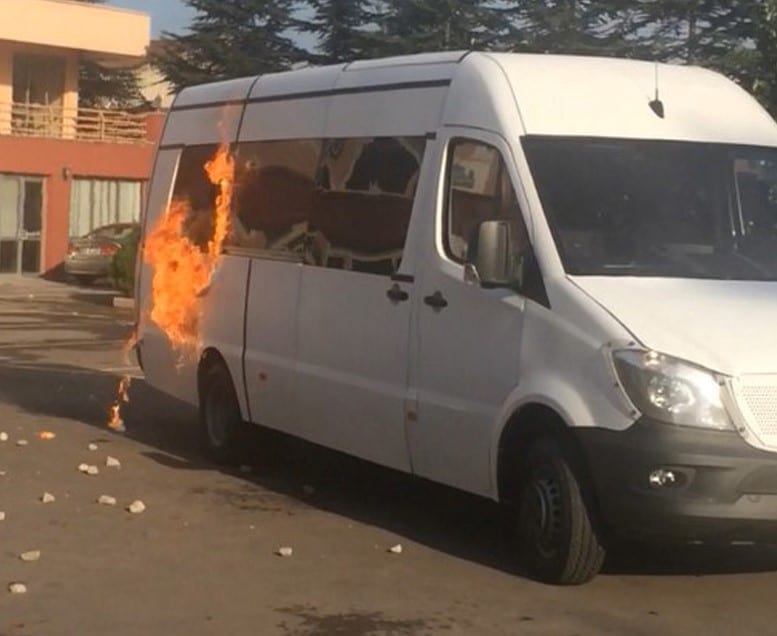 Riot-proof glazing for a.o. police vehicles.
Summary
Apart from being technically apt, the polycarbonate-adhesive system is an economical choice for durable glazing. This makes the window bonding solution ideal for vehicles that require impact resistance as well as specific low volume repairs:
Commercial van windows
Police riot van windows
Rally cars
Classical car restoration
Forest equipment
Trailers
About Nanogate
Nanogate (ISIN DE000A0JKHC9) is a leading global technology company for design-oriented, multifunctional components and surfaces and enhances them with additional properties (e.g. nonstick, scratchproof, anticorrosive). Several hundred mass production projects for customers have already been implemented successfully.
It aims to improve customers' products and processes and to provide environmental benefits by using multifunctional surfaces, such as those made of plastic or metal, and innovative plastic components. The Group focuses on attractive applications, primarily for the mobility, aviation, home appliances, interior, leisure, and medical sectors – its target industries.
Please visit us at
For further information, please contact:
Nanogate Netherlands B.V.
Jurgen van Peer
Application Manager
Industries – transparent glazing
Info@Nglaze.eu
Glazing/coating products:
N-Glaze solutions
Sicralan hard coat systems
Agfa NV
Pedro Overmeer
Sales Manager Inkjet, Agfa Netherlands
Inkjet Sales Agfa Netherlands
pedro.overmeer@agfa.com
Printing products:
Anapurna FB2540i LED
Asanti RIP/workflow software