#CountOnUs: gratis sjablonen voor social distancing
Op zijn website biedt Agfa een aantal gratis sjablonen aan die printservicebedrijven kunnen gebruiken voor de productie van COVID-19 gerelateerde signalisatie. Winkels of bedrijven kunnen deze tools gebruiken om klanten te herinneren aan de 'social distancing'-maatregelen die nodig zijn om de verspreiding van het coronavirus te voorkomen – zoals geen handen schudden en voldoende ruimte laten.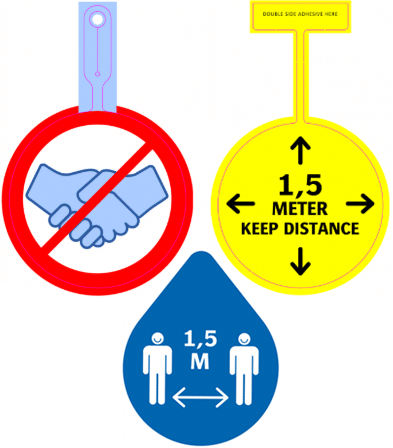 De knophanger is een mooie aanvulling op het gebruik van klassieke pins, maar is gemakkelijker op te hangen en er is geen risico op schade aan kleren. Omdat het een volledig nieuw communicatiemiddel is, zal het zeker ieders aandacht trekken.
Wobblers kunnen op winkelrekken worden geplaatst, zoals standaardwobblers voor productpromotie. Ze worden met een laser of matrijs uitgesneden en op de rekken bevestigd met een strook dubbelzijdige plakband onderaan.
Het synthetische SYNAPS-materiaal van Agfa is ideaal om deze tools op af te drukken. Het print net als papier, maar is bestand tegen water, scheuren en uv-licht. SYNAPS-papier kan worden afgedrukt met standaardinkten op offsetpersen en met HP Indio- en droge-tonerprinters.
Download de sjablonen op de SYNAPS-productpagina.