How to use GWG 2015 preflight profiles in Apogee Prepress v10
The preflight task processor in Apogee Prepress validates incoming files to make sure they contain all the data needed to guarantee optimum print quality. Apogee Prepress version 10 offers a choice of two preflight engines:
Apogee Preflight is the most recent preflight task processor. It was created to simplify file validation and is integrated with other task processors so that press configuration settings and other job parameters are automatically taken into account for validating files.
Preflight is a different task processor that uses Enfocus Pitstop technology, which offers a wide array of checks and fixes for in-depth file validation and manipulation.
Both Apogee Preflight and Preflight use profiles, which are sets of parameters that specify the criteria to be checked. These criteria include font embedding, minimum type sizes, image resolution, etc.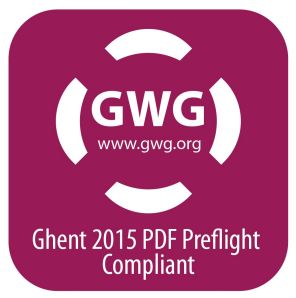 In Apogee Prepress 10, both task processors are capable of checking if a PDF file meets the GWG 2015 specifications. This page provides more information about the specifications and how matching preflight profiles can be used to check compliancy within Apogee Prepress.
The GWG 2015 specifications
The Ghent Workgroup or GWG is an international organization made up of graphic arts users, associations and developers who define best practices for publishing workflows. One of the key activities is creating standards for file exchange, with the GWG 2015 Specifications being the most recent ones.
The 2015 Specifications define the specifications that PDF documents should follow to make sure that files created by designers or agencies can be processed and printed properly. There are variants for different types of applications. These include delivering pages for digital or offset printing and supplying ads for inclusion in magazines and newspapers. There are separate specifications for companies that only accept CMYK content or that accept files containing RGB, spot colors, etc. All the specifications build upon the industry-standard PDF/X-4 file format.
The GWG website has a section dedicated to the 2015 Specifications with links to download the technical documentation and related white papers. The site also offers downloadable settings files for popular design applications, PDF viewers, and preflight tools.
To work with the GWG 2015 specifications, you need to first decide which specific variant best meets your production needs. Check the GWG website for an overview of all the variants. For general commercial printing using process colors and possibly spot colors, the 'GWG_SheetCmyk_2015 CMYK + RGB' specifications are a good starting point.
Using GWG 2015 with the Apogee Preflight task processor
If your workflow includes the Apogee Preflight task processor, use the procedure below to configure the system and create proper production plans. The Apogee Preflight task processor is easily recognizable by the 'A' in its icon.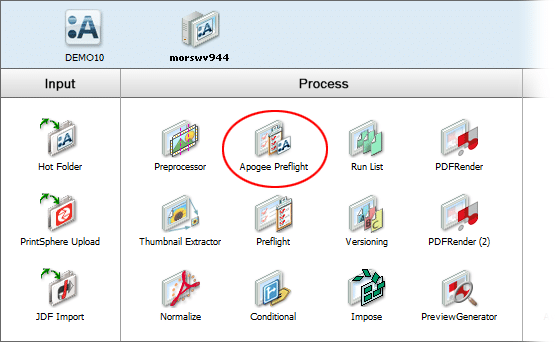 Standard Apogee Prepress 10 installations do not include the GWG 2015 preflight profiles. Contact your local services team or dealer for a copy of the latest profiles. There are two types of profiles that are made available:
Regular profiles, such as 'GWG_SheetCMYK_2015 CMYK + RGB v10.0.1.mime' will check if documents adhere to the GWG 2015 specifications and, if possible, files will be modified to make sure that they are compliant.
Profiles with 'Verify' in the file name, such as 'GWG_SheetCMYK_2015 CMYK + RGB Verify v10.0.1.mime' will only check if documents are compliant, without trying to enforce this.
Profiles need to be imported in the Apogee Preflight Profiles Resource in the System Overview of the Apogee Prepress client.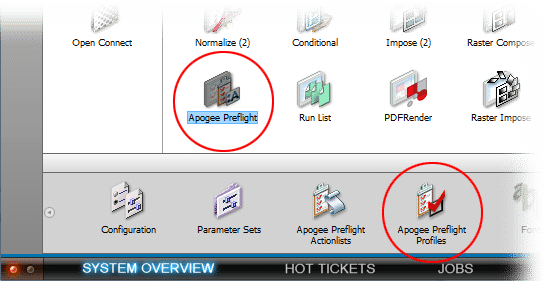 Double-clicking the Resource icon opens a window in which you can import the profile or profiles. After import, the profiles can be used in Apogee Prepress jobs and hot tickets to check and create GWG 2015 compliant documents.

To make sure GWG 2015 compliant documents are used in a job or hot ticket, add the Preflight task processor to the production plan and select the appropriate GWG profile in the job profile drop-down menu. You can create a parameter set if you intend to use certain profiles regularly. Consult the Apogee Prepress online help for more information on creating parameter sets.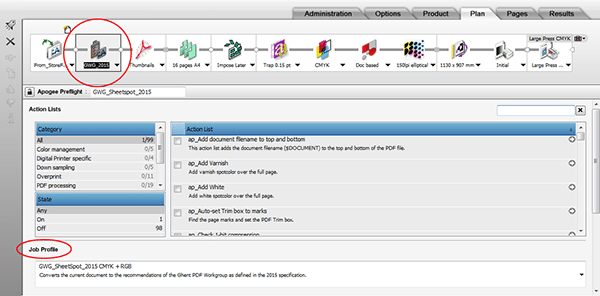 You can create GWG 2015 compliant PDF files with an export hot ticket or by adding an export flow to a job ticket. Below is an example of a hot ticket. The action list 'ap_Set color conversion parameters' from the color management set of action lists is needed to set the correct output intent profile and other color management settings.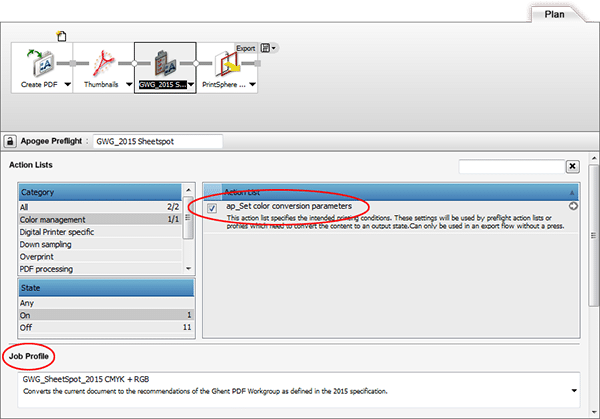 Using GWG 2015 with the Preflight task processor
The icon for this task processor looks slightly different and is simply called 'Preflight' in the System Overview. It uses Enfocus Pitstop preflight profiles.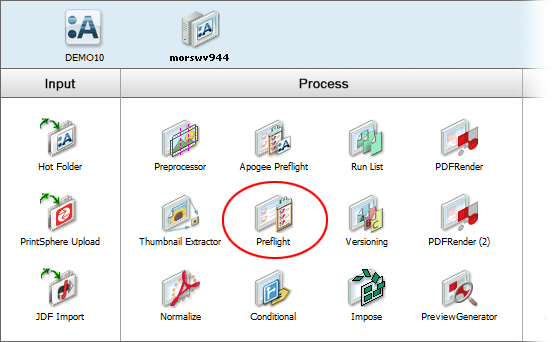 The GWG 2015 profiles are by default included in Apogee Prepress 10. Simply add the Preflight task processor to your hot ticket or job ticket and select the appropriate profile from the Job Profile pop-up list. Make sure the profile has '_2015' in its name, as the older 2012 settings are also included in the setup.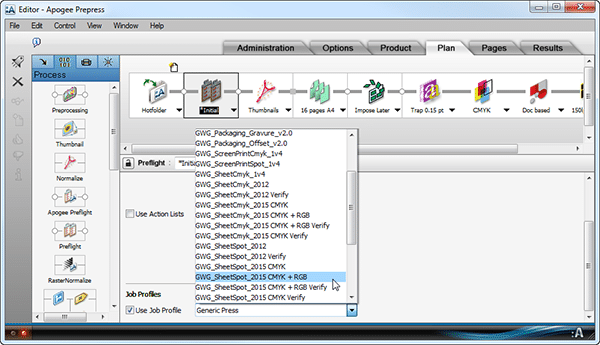 To learn more
Visit the APOGEEnetwork forum to discuss preflight and other workflow-related issues with fellow Apogee users. The forum is free for users of Apogee Prepress, WebApproval, StoreFront, and other Agfa workflow products. To subscribe, fill in this form.