Inkjet applications with extreme stopping power
Innovative applications like 3D lens prints, multi-dimensional printing or day-and-night printing can create stunning effects that provide print service providers with a unique selling proposition to their customers.
In a highly competitive market, it is critical to be able to create innovative and appealing applications on a variety of substrates that will make your customers stand out from their competitors, and enable you to make more money. Agfa's inkjet printing solutions are designed to achieve just that…
The following applications are discussed:
Acrylic comes in many thicknesses, finishes and colors, making it the ideal substrate for either front-lit or back-lit graphics. Because acrylic is such a hard surface, printing on it is difficult. Our state-of-the-art wide-format printers, equipped with LED curing, ensure that the inks set and adhere well to the acrylic. Agfa's inkjet printers print directly onto the acrylic medium itself. Printing on acrylic starts with the application of primer. On top of this, layers of color are added.
Backlit
Backlit print is achieved by using the 'double strike' method on a translucent or clear medium: the same image is printed twice, with the second colored ink layer exactly on top of the first one.
The backlit (or diffused) matte finished banners make a powerful and elegant impression. Printing 'double strike' heightens contrast and perfects the richness of the colors. The translucent substrate allows the diffusion of light over its entire surface. This creates a vibrant effect with popping colors when the image is illuminated from behind.
The corrugated packaging market is growing quickly, fueled by the expansion of e-commerce and digital printing technologies. We now have the ability to personalize to brands, regions, stores or individuals, with a level of quality that was not available to digital even 3 years ago. Agfa offers unique capabilities for corrugated including the strongest hybrid vacuum system in the market designed to address warped substrates. The low impact media feed guides easily enable two sided printing across a full range of corrugated substrates—brown box, kemi, Gaylord etc. Agfa's flexible inks allow for complex folds and creasing on corrugated sheets. Our extended color gamut utilizes high opacity white for brown box applications and single color white applications.
Day and night
A day-and-night effect is created by printing two (identical or different) images over each other on a transparent surface, separated by a layer of white ink. The standard image will be the 'day' effect, while the backlit version shows the 'night' effect of the image.
With the day-and-night effect, it is imperative that the three layers are in perfect register if they are identical. All Agfa UV inkjet printers are able to print these three-layered applications in a single run while each ink layer is cured perfectly.
3D elevated printing
Agfa's inkjet printers create 3D effects by adding a layer of white ink and/or varnish to the regular CMYK printing process. A neutral white ink functions as the ground layer, which is then printed over with color inks. A single layer of white ink can be up to four times thicker than a CMYK layer. Varnish, on the other hand, is transparent and added at the end, on top of the CMYK layers, in order to highlight certain parts of the print.
3D or elevated printing adds value to your print. It creates a full sensory experience as you can both view and feel it.
3D lenses
By digitally printing images and lenses on acrylic glass, Agfa inkjet printers can create a lenticular 3D effect, allowing you to add striking optical illusions to your prints without using lenticular media. This application requires the use of a special Photoshop plug-in, which relies on a patented technology to create phantom 3D images and printed lenses.
Read more
Glass
There are two possibilities in glass applications, depending on whether the glass is treated or untreated. The main difference between the two is that an untreated glass substrate requires an additional layer of primer before applying the colored and white layers of ink. Agfa's UV inkjet printers are able to print both treated and untreated glass applications in a single run.
Flat glass can be used for interior shop furnishings, bar decorations, gaming machines, touch screens, shower stalls, elevator cover panels and doors. Outdoor applications include building facades, temporary stores, seasonal outdoor signs, temporary exhibitions and solar panels.
One Way Vision
One-way vision graphics transform windows into opportunities for advertising, branding, one-way privacy, solar shading and decorative architectural features, while retaining excellent see-through from the other side.
Agfa has partnered with Contra Vision®, the pioneer and world leader in one-way vision graphics, to include a new print feature within its Asanti workflow software that enables you to generate stunning window graphics without needing to buy perforated window film. You can just use regular, clear, self-adhesive foil.
The one-way-vision effect can be built with Photoshop or Illustrator patterns. To imitate the classic perforation you can use a variety of lines/ovals/blocks of different sizes, depending on the end application.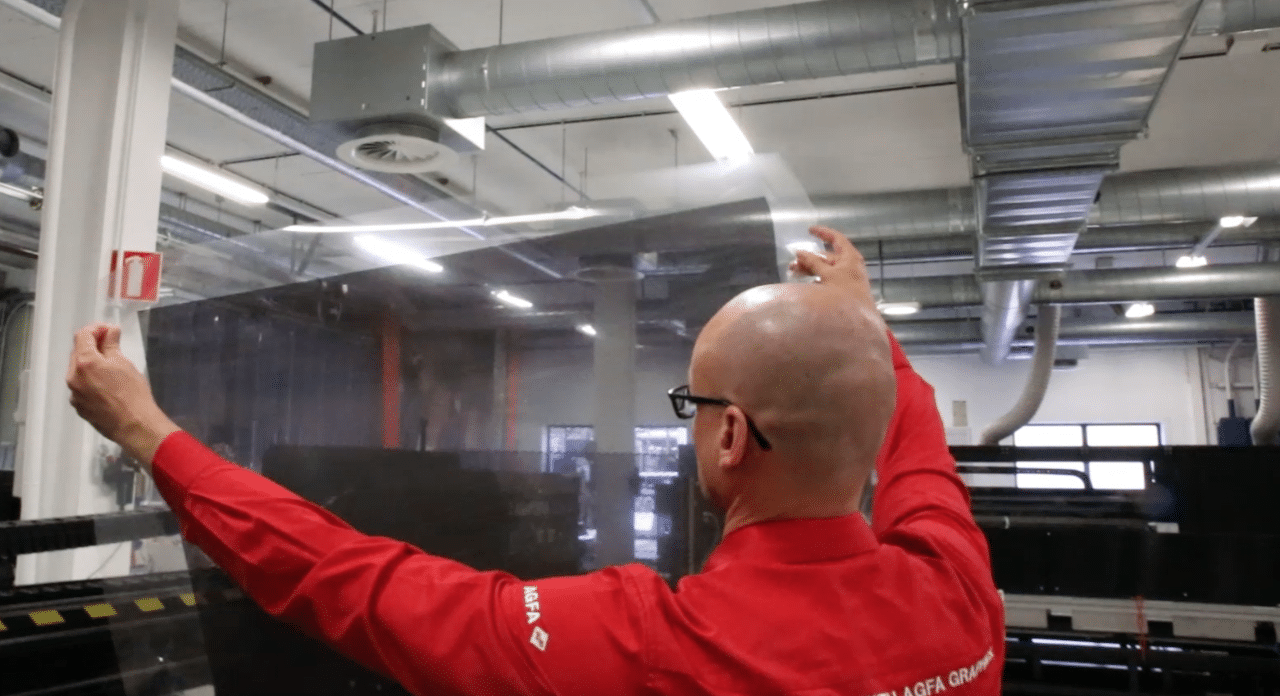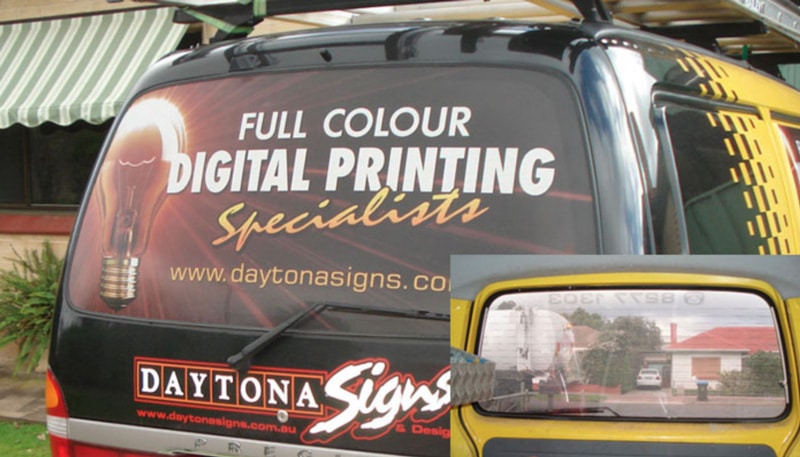 A file will typically consist of three layers: black, white and the actual color design. All layers are masked using the Illustrator/Photoshop pattern. In Asanti, the colored top layer and the white/black layer can be ripped separately, to be joined later on the printer. For additional automation and simplification, you can also link the setup to predefined templates and/or hot tickets.
Backlit one-way vision and double-sided graphics are built up slightly differently.
Key benefits:
'Regular lenticular' is a printing technique with which colors and white are printed on top of each other in one print run onto lenticular media. A specific software module is used to create interlaced images, which are a sliced combination of two images.
Lenticular media are used to produce images with an optical illusion of depth and movement. The print changes when viewed from different angles.
Glossy elements are printed with transparent inkjet ink, also known as varnish. Varnish is often applied to enhance the impact of a printed piece as a whole, or even parts of a printed job, e.g. rain drops. The effect is achieved by printing the colored image in CMYK and then adding layers of varnish on top, using special masks in the design software.
Varnish (lenticular and braille)
Varnish can be used to create two different effects in applications: a lenticular effect and braille.
The lenticular effect requires a printer capable of extremely high resolution, accuracy and repeatability, as well as a varnish and a white channel. At the back of the substrate, a color image is printed according to a software-generated pattern, followed by a layer of white. Finally, a lens pattern is printed on the front of the substrate using cone-shaped drops of varnish. It is important that front and back are printed exactly in register.
For decades, logos and other marks on wood were created either by brand or stencil marking—both labor-intensive and prone to quality issues. Now you can print colorful, consistently high-quality icons, graphics and text directly on unfinished wood with Agfa UV inkjet printers and ink technology—more efficiently and cost effectively. There is no need to stop production or manually apply artwork. Finish with epoxy coating for extreme durability.
Want to know just how you can achieve extreme productivity and extreme quality at the lowest cost of ownership? Let our experts advise you.