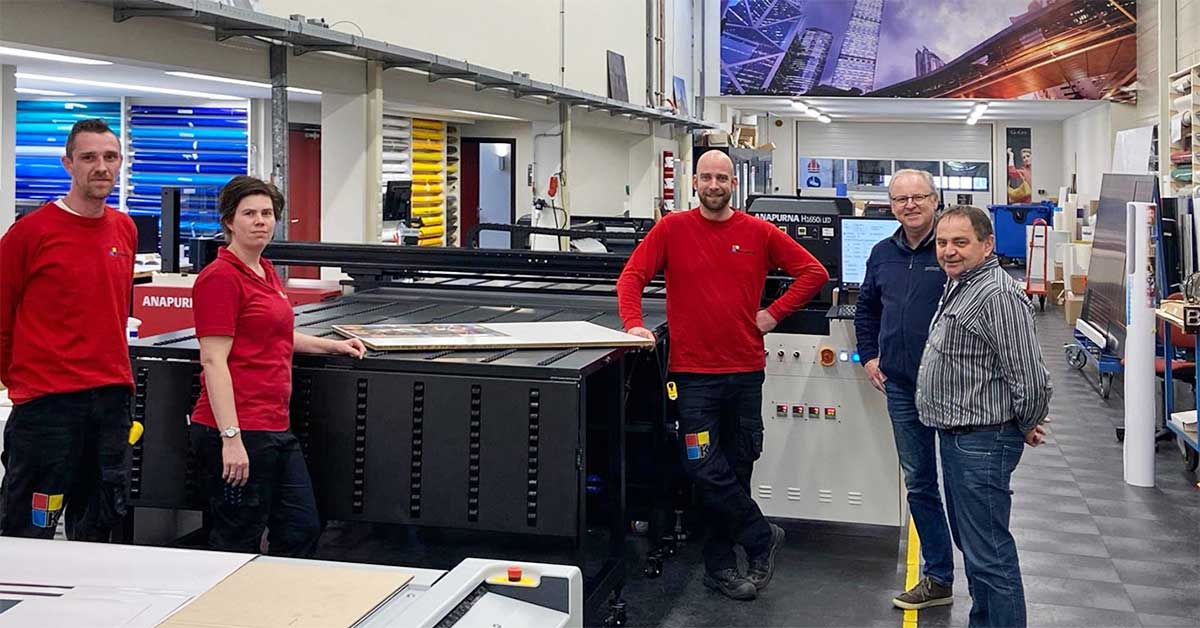 Korteland ruilt twaalf jaar oude Anapurna in
Korteland uit Nieuw-Lekkerland was een van de allereerste signbedrijven met een Anapurna-grootformaatprinter van Agfa. Na twaalf jaar trouwe dienst is de Anapurna M vervangen door de nieuwste Anapurna H1650i LED.
In twaalf jaar is er veel veranderd. De nieuwe hybride machine levert nu met 63 m²/u bijna vijf keer meer productie dan voorheen. De printer bevat nu ook twee witkoppen en hiermee zijn talloze extra toepassingen mogelijk. Tegenwoordig zijn de inkten flexibel; ze kunnen tot 95% uitgerekt worden. De inkten beschikken over het GreenGuard Gold-certificaat en zijn hierdoor onder meer geschikt voor prints in hotels, zorginstellingen en overheidsgebouwen.
Korteland is specialist in bijzondere indoor signproducties voor o.a. kantooromgevingen. Hierbij wordt veel gebruik gemaakt van luxe raamfolies.
Met de nieuwe Anapurna H1650i LED kan tot wel vijf lagen in een doorgang geprint worden. In de Variable Pixel Mask-modus wordt tussen twee druppels kleur een druppel wit gelegd, gebaseerd op beelddensiteit. Op transparante folie worden hiermee zeer krachtige kleuren behaald. Met de vijflagenmodus kan zelfs een reliëf of een block-out in één doorgang geprint worden.
Adrie Korteland, eigenaar: "Met de verhoogde productiviteit kunnen we nu ook het grotere werk aan. De doorloop van kleinere orders gaat nu ook veel sneller; de led-droging heeft daar groot aandeel in. De lampen hoeven niet meer op te warmen of af te koelen. Bovendien kunnen we nu ook op warmtegevoelige materialen printen. Mooi ook is het lage inkt- en energieverbruik, een voordeel voor het bedrijf én milieu".