Vierde Anapurna grootformaatinkjetprinter bij Die Keure
Met de recente investering in een Anapurna H2500i LED hybride printer, staat bij het Brugse die Keure de teller al op vier. Denis Rau, largeformatverantwoordelijke bij die Keure: "Een goede printkwaliteit, maar ook het gebruiksgemak en de veelzijdigheid van deze robuuste printers waren opnieuw doorslaggevend bij onze keuze."
Die Keure bestaat al sinds 1942 en is zowel actief in offset, digitaal als zeefdruk en afwerking. Initieel gespecialiseerd in overheidsdrukwerk, is het bedrijf  gaandeweg geëvolueerd naar een drukkerij-uitgeverij met het accent op educatieve, juridische en business-economicsgerelateerde publicaties. Daarnaast geniet  die Keure ook wereldwijde erkenning voor het produceren van hoogwaardige kunstuitgaven voor gerenommeerde kunstgalerijen en musea, kwaliteitstijdschriften en het betere commercieel drukwerk.
De uitstekende printkwaliteit, maar ook het gebruiksgemak en de veelzijdigheid van de printer gaven opnieuw de doorslag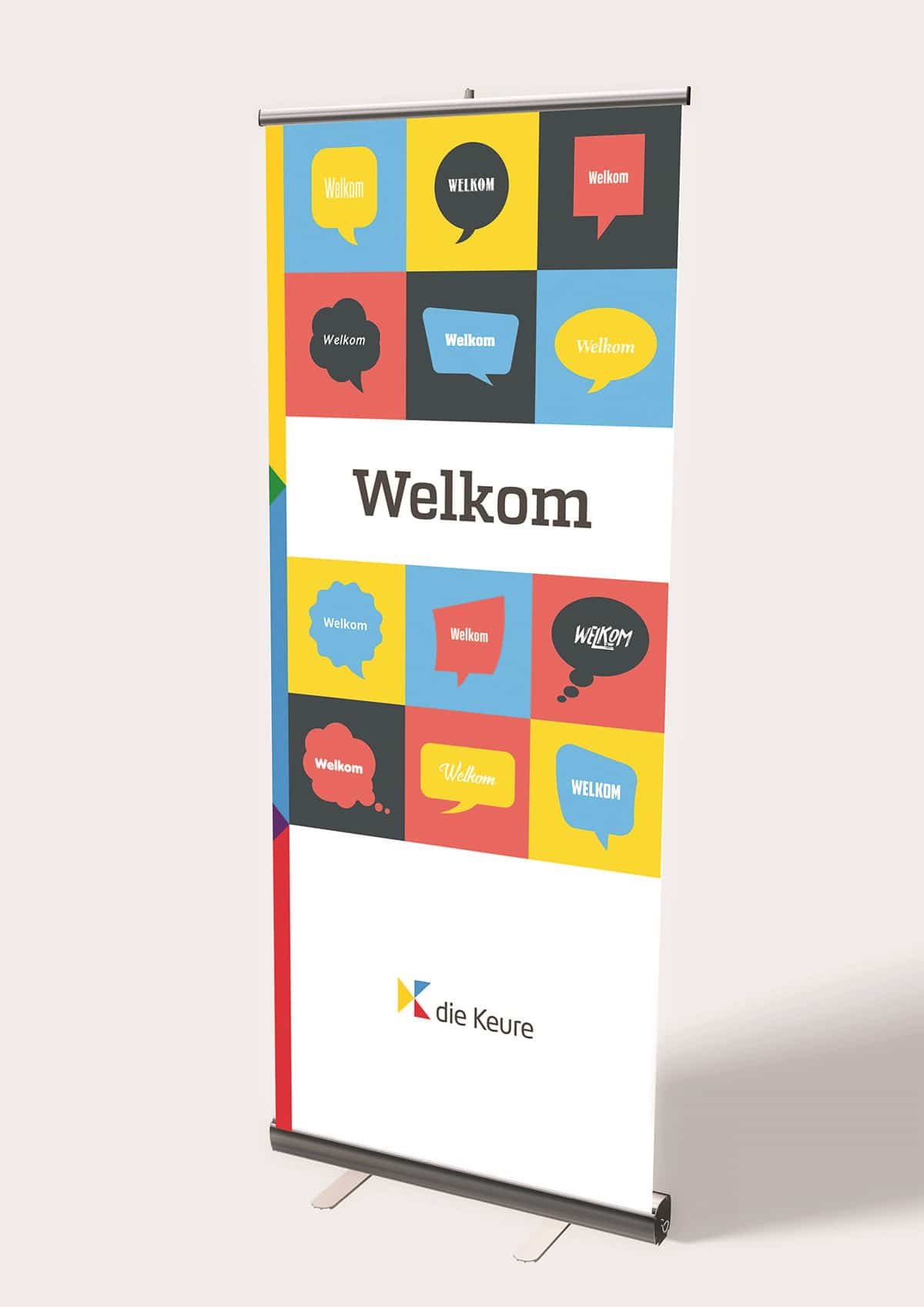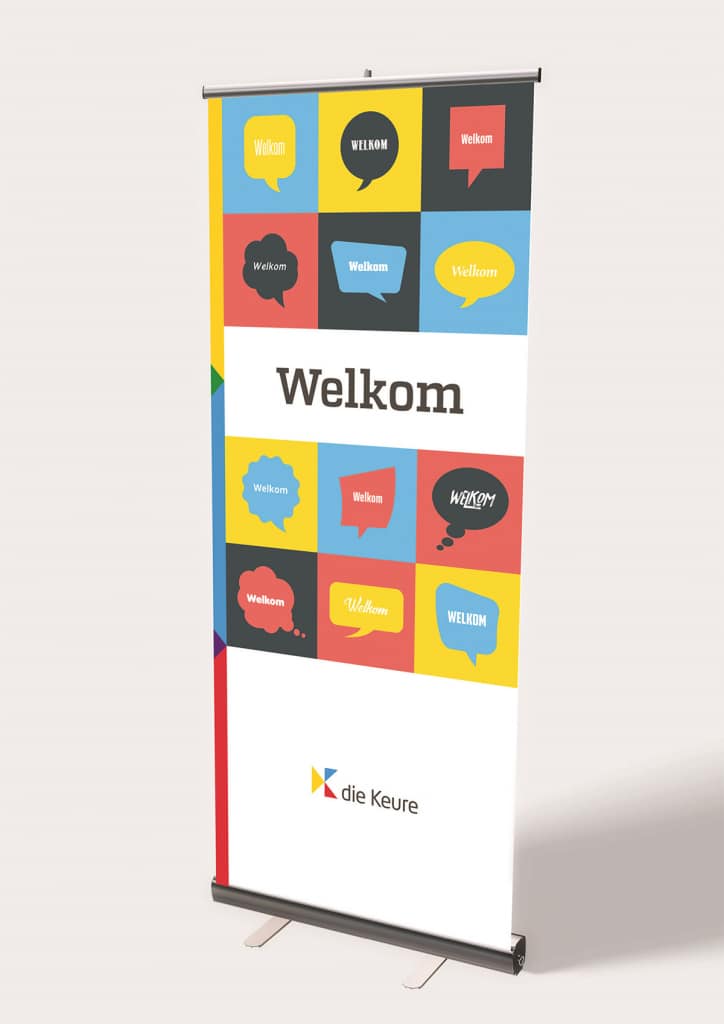 Uitgebreide largeformatafdeling
Wat echter minder gekend is en waar die Keure ook niet echt mee naar buiten komt, is dat het bedrijf beschikt over een uitgebreide largeformatafdeling, waar ze de meest uiteenlopende opdrachten realiseren in zowel zeefdruk als digitaal. Denis vult aan: "Jaren terug vroeg een goede klant of we ook stickers voor hen  konden drukken. Daar is toen een zeefdrukinstallatie voor aangeschaft. Als je dan toch over zo'n machine beschikt, kan je hiermee ook nog andere zaken doen, zoals het veredelen van boekomslagen, en zo is de bal aan het rollen gegaan. Vandaag beschikken we over een productiehal van zo'n 2500 m² en zijn we van  één zeefdrukapparaat verder geëvolueerd naar digitaal printen, alsook afwerken met een Zünd-snijoplossing. Recent hebben we trouwens nog een volautomatische zeefdrukmachine aangekocht, want voor sommige applicaties blijft zeefdruk nog steeds de beste oplossing."
Reeds vierde Anapurna
Bij Die Keure besefte men echter vrij snel dat er naast zeefdruk ook opportuniteiten waren voor digitaal printen. Denis legt uit: "Als diezelfde stickerklant vervolgens vraagt of je ook POS-materiaal of ander promotioneel materiaal kan maken, dan is de stap naar digitaal zo gemaakt. Zo is hier een 15-tal jaren terug de
eerste Anapurna in huis gekomen. Ondertussen zijn we met de nieuwe Anapurna H2500i LED aan onze vierde machine toe, dus dat wil wel een en ander zeggen over het vertrouwen dat we zowel in Agfa als in de apparatuur hebben. Het is opnieuw een hybride oplossing, waarmee we zowel harde substraten als rolmedia kunnen bedrukken."
Dit is onze vierde Anapurna. Dat zegt genoeg over ons vertrouwen in Agfa en de printers.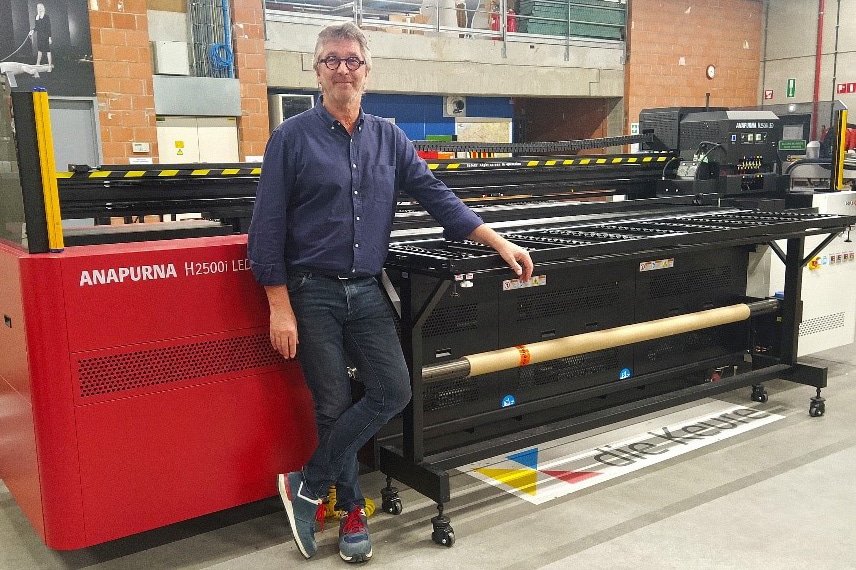 Denis Rau, verantwoordelijk voor de grootformaatafdeling, bij de Anapurna H2500i LED
Geen labeurwerk, maar wel speciallekes
Bij Die Keure besefte men echter vrij snel dat er naast zeefdruk ook opportuniteiten waren voor digitaal printen. Denis legt uit: "Als diezelfde stickerklant vervolgens vraagt of je ook POS-materiaal of ander promotioneel materiaal kan maken, dan is de stap naar digitaal zo gemaakt. Zo is hier een 15-tal jaren terug de
eerste Anapurna in huis gekomen. Ondertussen zijn we met de nieuwe Anapurna H2500i LED aan onze vierde machine toe, dus dat wil wel een en ander zeggen over het vertrouwen dat we zowel in Agfa als in de apparatuur hebben. Het is opnieuw een hybride oplossing, waarmee we zowel harde substraten als rolmedia kunnen bedrukken."
Als afsluiter geeft Denis nog het volgende mee over de Anapurna en Agfa: "De Anapurna-printers zijn robuuste productiemachines die doen wat ze moeten doen. Maar zoals bij alle apparatuur gaat er wel eens wat mis en dan is het goed om weten dat je kan rekenen op een topservice vanuit Agfa. Ze beschikken over een team van stuk voor stuk goede techniekers en als er al een probleem is, dan wordt het ook supersnel opgelost. Voor ons is zoiets goud waard."