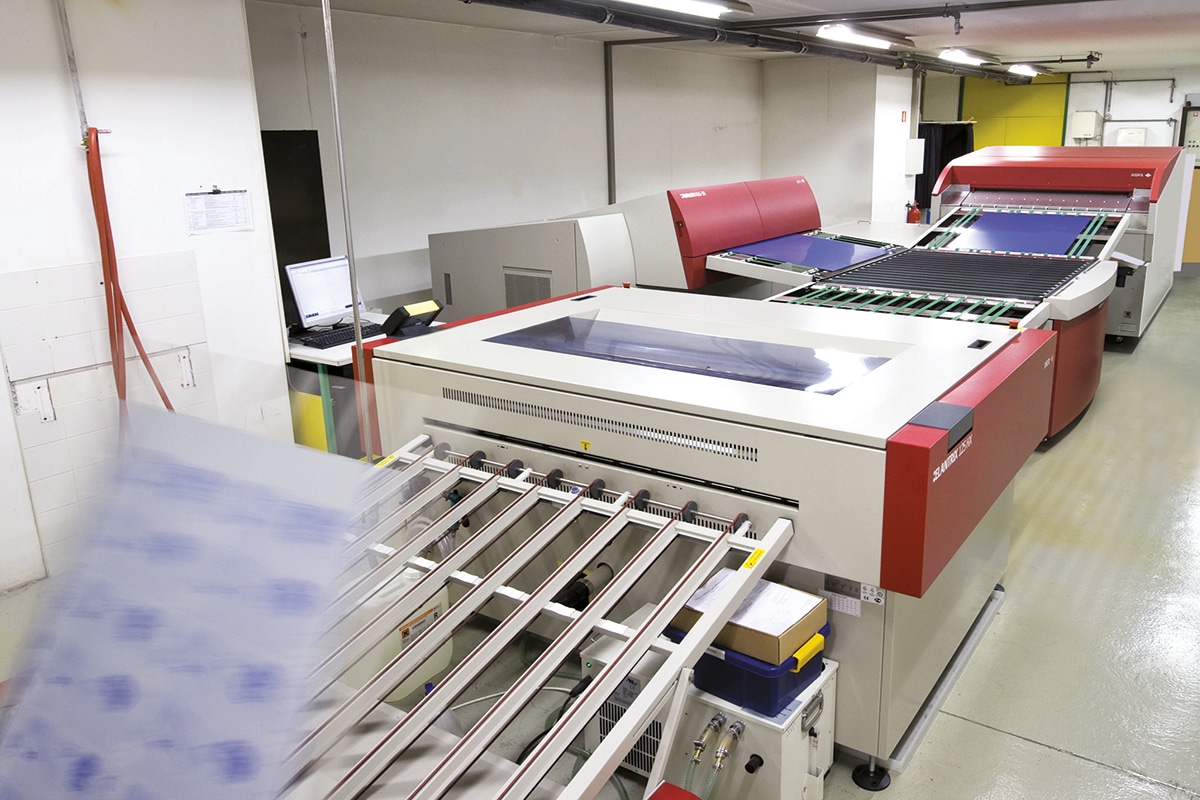 Computer-to-plate platesetter Avalon N16S, with FM screening, GLV technology with laser diodes.
Printing plate size 100 × 140 with 31 plates/hour and uninterrupted production.
Workflow in the cloud at Fratelli Roda
When the Swiss printing company Fratelli Roda SA had to update its valued Apogee workflow software, they had to choose between a conventional update with hardware on site, and a completely new solution in the cloud. Fratelli Roda decided on the second option. Since the summer of 2015, their Apogee Cloud is up and running – an installation that is trend-setting for the graphic industry.
Edited version of an article published in viscom print & communication | No. 23/24 | 7 December 2015
Cloud computing has been used for quite a while in parts of the graphic industry (think online shopping solutions or editorial systems) and specific IT services have been outsourced longer than the present day too. But that a printing company could put the operations that lie at the heart of its production in the cloud, seemed utopic for a long time – until recently.
Founded in 1942, the company nowadays focuses on packaging with the emphasis on pharmaceuticals and food. Twenty percent of turnover, however, still stems from commercial printing products and books. Fratelli Roda has always been an innovative company, deploying new technologies and services to stay ahead of its competitors, even while operating from a high-wage country such as Switzerland. In recent years, it installed a Heidelberger Speedmaster XL 106-6+XL to complement its KBA-Rapida-142 press. A very important investment was the purchase of a Bobst Accucheck, an inline quality control system that can check op to 80,000 packages per hour in the folding box production line. Fratelli Roda SA implemented the system as one of the first companies worldwide; customers from the pharmaceutical industry often put it as a requirement.
Swiss printing company Fratelli Roda company is a true cloud pioneer and advocate. Their benefits: security, automatic updating, no maintenance worries, and 24/7 support.
For many years, Fratelli Roda has been using printing plates and CtP systems from Agfa , and Agfa's Apogee workflow has been at the heart of its production processes for a long time. The workflow software needed an update however, as did part of the hardware.
Swiss printing company Fratelli Roda company is a true cloud pioneer and advocate. Their benefits: security, automatic updating, no maintenance worries, and 24/7 support.
Agfa came with an innovative proposal: an upgrade of the workflow running in the cloud from Agfa's data centers. Engineer Franco Roda was immediately keen to study the case. For him, the advantages of such a solution were:
No need to purchase dedicated hardware
Less energy consumption and more space
The highest possible data security in Agfa's data centers
No more cost for hardware and software management and service
Up-to-date workflow at all times
Of course, there were challenges too. The company wondered whether the network standard band width would be sufficient. They also felt a little uneasy about processing customer data on an external server, and they wondered what would happen if the connection was ever lost.
All points were thoroughly studied. Tests pointed out that the capacity of the data lines were sufficient. As Agfa secures thousands of patient data in its data centers for its healthcare activities, the security of customers' data was guaranteed. And the risk of a data lines failing turned out not to be higher than the risk of a server problem or power failure. On top of that, Agfa gave Fratelli Roda the additional security of a conventional back-up in addition to the cloud solution.
The system was installed in July 2015 and immediately used in production. Franco Roda was surprised at how smoothly the system was implemented and at its error-free functioning.
Why Agfa ?
Workflow management in the cloud is a relatively new fact. Agfa proves that it can be done in an effortless and secure way. Cloud computing requires powerful and perfectly organized data centers with a corresponding infrastructure and knowhow. A central concern is data security. That is where the Agfa Group is ahead of its competitors. It has built experience with secure data management in its HealthCare business group. Just like in the graphic industry, hospitals have been exchanging analog technologies for digital ones over the past decade. Agfa HealthCare realized very early on that the task of storing and organizing digital X-rays could not be left to separate hospitals and doctors, but that a total solution in the cloud was the answer. For a certified provider (ISO 27001) that handled patient data that needed to be protected from third-party interference, data security was an important theme right from the start. Thanks to the development of cheaper storage media on the one hand, and a leap in performance on the other hand, the capacity of the Belgian data center can take care of additional amounts of data next to those needed for the healthcare area. Stefan Wundrig, Project Manager Pre-Sales Agfa Switzerland: "Whoever can treat worldwide patient data in a secure way is also capable of guaranteeing the security of data for users in the graphic industry."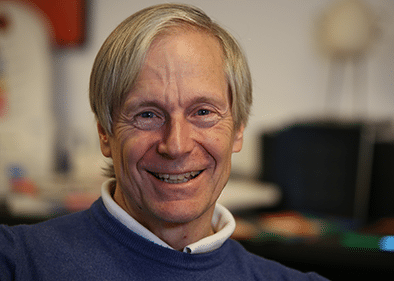 With Apogee Cloud, all updates, modifications, and improvements happen practically in real time. We don't need to wait to do updates, with time and productivity losses. Also e don't need to worry anymore about making copies. We particularly appreciate this security and the possibility to get online support at any time.
Marco Roda, Director of the Board
A turning point
At drupa 2016, Agfa officially launched its Apogee workflow as a cloud solution. It is there that lies the fate of the graphic industry in the next decade, and not necessarily with different printing press technologies. All trend watchers agree: digital competencies will be even more essential in the development of companies than today. This is especially true for the graphic industry, which gives evidence of a large paradox today: on the one hand all printing companies process large amounts of digital data every day. But when it comes to processes and organization, they remain stuck in the 'ISDN era'.
With the advent of cloud-based total solutions the cards are shuffled though. Even small companies that do not stand a chance to survive in the digital race can join in again thanks to cloud computing, and even improve their competitive position. Cost savings are not the main focus here. Those who think that cloud computing boils down to a major cost savings program have got hold of the wrong end of the stick. Franco Roda is clear about it: "Financially, it does not make a difference whether we have our own workflow in-house with our own servers, or whether we deploy Apogee in the cloud. The major potential comes from the resulting effects such as the disappearance of IT system maintenance, license costs, and accompanying structures for IT systems such as air conditioning. Most of all: we do not have to worry anymore in the future about using up-to-date technology."
Apogee and beyond
Apogee Prepress offers a complete JDF-driven production hub for prepress, which manages and drives all prepress processes. The vast automation options make it possible to process more print jobs in a shorter time span. In addition, all CtP engines of Agfa can be used with it, as well as enhancement options such as Apogee InkSave to save ink and stabilize print processes, or Apogee PlateMaker for continuous printing plate production.
As of 2014, Fratelli Roda has offered its customers a web-to-print shop, powered by Agfa's StoreFront solution. The company is also testing other Agfa applications, such as the new Apogee WebApproval.
Apogee WebApproval strengthens the communication and cooperation between printing companies and their customers. It enables all participants to cooperate on projects and tasks via an internet-based application that is available 24/7. Apogee WebApproval is an integrated solution from Agfa Graphics for printers and publishers expanding the Apogee prepress workflow with extra functionalities. Apogee WebApproval makes it possible to transfer separate pages or entire publications over a fast and easy-to-use internet portal to a print service provider, agency or other company within the graphic industry. In addition approval processes can be managed case by case and in a flexible way with Apogee WebApproval. The software functions in an easy, fast and well-organized way. The intuitive operation is based on an HTML5 interface, which makes a lot of useful functions immediately accessible and leaves no customer wish unanswered. In addition, the use of HTML5 renders auxiliary programs such as Java, Adobe Flash etc obsolete and allows for the unlimited use of mobile devices.