UPG buys Jeti Tauro to print POS and textiles: "The printer is flawless and versatile"
There's an intoxicating enthusiasm that prevails at UPG, a rapidly expanding full-service print manufacturer and installation management team, in part fueled by their delight in the performance of their new Jeti Tauro H2500 LED UV Print engine.
UPG is a relatively new company and part of the Picture Playground Group in Kent.  It's run by two brothers, a family business based across two sites; a soon to be launched retail POS and visual merchandising innovation hub in Rochester and their manufacturing base on the outskirts of Ashford in Kent, part of their purchase of Print Big, established over 30 years ago. Their fresh approach, unbounding energy and serious investment appears to be working, with business growing over 100% across the last two years of trading and turnover expected to hit £2m by the end of 2022.
The business employs 20 people across all disciplines who are largely based on the Ashford site with support teams in London. However, when their exciting new innovation centre opens, a hub to promote the latest innovative print technologies, the creative, estimating and account handling staff will be based there. This leaves more space for the pre-press, production and fulfillment team to remain at the Ashford site and allows for plenty of meeting room space for customer press passes, hot desking and conference facilities too, if they fancy a trip to the country side.
Investment in the Ashford site has seen it double in size in the last three months to 11,000 sq ft with the purchase of the unit next door. Work is in place to link the two units together and for one side to house their arsenal of printers and focus on manufacturing, and next door to give space to finishing and fulfillment. The team are keen to further streamline all processes assisted by the implementation of both ISO9000 and ISO14001. There's certainly lots going on at UPG, the team are on a journey of growth and the ISO processes are helping them all to focus on a culture of constant improvement and driving change with environmental printing technologies and materials for any job type already in place.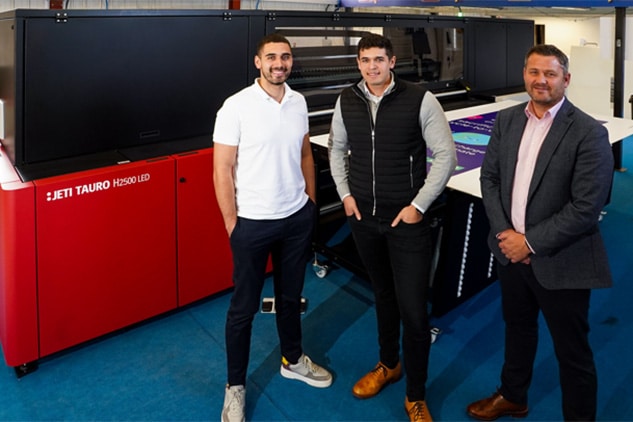 We spoke to brothers Kier and Tallis Simons who hold the reigns at the business: "We have a great mix of experience within the business, and we are obsessed with offering great service, second best is just not good enough. We want to work with long-lasting supply partners and output great products. We think we offer a fresh approach; we have some very creative people within the team and our customers appear to like our philosophy, it's showing in our results."
Whilst we largely print POS on rigid and corrugated materials, the Jeti Tauro has taken us to a new market with great results on textiles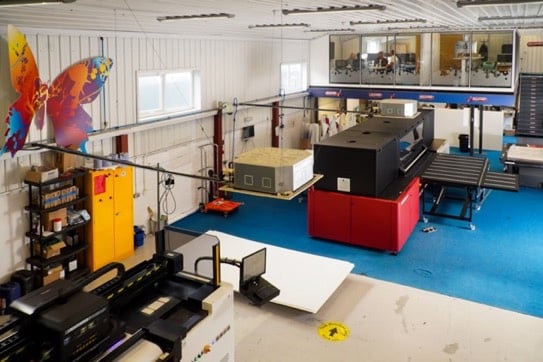 UPG is primarily a UV print house that specialises in large-format digital print, predominantly for Point of Sale (POS). That's where most of their investment has been placed and where their fire power is with an Agfa Anapurna H3200i LED print engine coupled with their new Agfa Jeti Tauro H2500 LED printer, both powered by the Agfa Asanti workflow. They also run solvent and latex machines for smaller runs and a dye sublimation engine too. The business has had the Agfa Anapurna since 2018, but Kier and Tallis were keen to assess the market when they decided a new UV engine, with larger capacity was needed to cope with the growing demands.
"We may have been happy with the Anapurna, but that did not guarantee the Jeti Tauro sale." Said Kier. "We were impressed with the new technology, print capability and versatility of the Jeti Tauro, so we visited Agfa in Antwerp to get a feel for the overall business before a decision was made. Agfa were very receptive and understanding of a relatively new business and they have delivered what they agreed to do in every way. The installation was super smooth and we have been blown away by the high quality that the Jeti Tauro engine produces, it's flawless and so versatile."
"Part of the added value from Agfa was the engineering assistance on the shop floor, which was awesome and whilst we largely print POS on rigid and corrugated materials, the Tauro has taken us to a new market with great results on textiles, which is hard not to get excited about. We have produced great high quality and large volume light box textiles for high street retailers and with the flexible UV inks from Agfa, we have folded and mailed out the finished product to stores without bruising and cracking, it's opened up a new revenue stream and our customers have been very impressed. We will certainly be considering Agfa as we grow, we have had great service at every stage and even now, after delivery, they continue to give us support and that means a lot to us."
We have had great service at every stage and even now, after delivery, Agfa continue to give us support and that means a lot to us
The robust hybrid Jeti Tauro H2500 LED relies on UV LED curing to offer six vivid colours (plus white or white and primer) prints, coupled with high-speed productivity of up to 390 m² per hour. Printing up to 2.54m wide it enables continuous and automated feeding of rigid and flexible media and features 32 fast-firing Ricoh inkjet print heads, each with 4 nozzle rows for 2 colours per head. It is powered by smart Asanti workflow software and integrable with cloud service PrintSphere.
There is no doubt that the innovative approach at UPG will certainly push to test the limits of the new Jeti Tauro machine, they have a drive for bringing new ideas to life and filling the gap between creative and technology. It will be interesting to see their imminent 'Innovation Hub' when it opens in Rochester in early 2023, where they say it aims to provide early adopting customers with the confidence to try the latest ideas and eco-print materials.