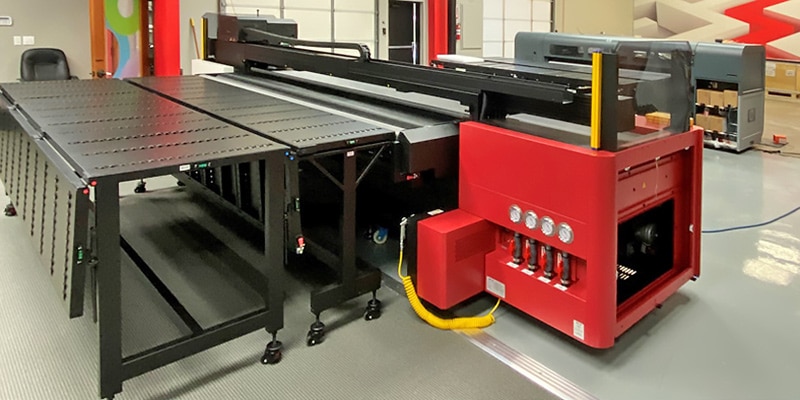 SpeedPro customizes sustainable solutions for commercial designers
Sustainable large-format solution Anapurna H3200i LED helps exceeds customer demands
SpeedPro (Irving, Texas, USA) is known across the USA for providing clients with top-quality large format printing that meets extreme resolution levels and unparalleled quality standards. In its 15th year, the studio consistently exceeds customer demands with unmatched timeliness and the utmost professionalism in delivering a range of print products, including environmental graphics, murals, event, and trade show displays, vehicle wraps, and more.
David Ostermann, CEO of SpeedPro Irving, recognized a market need to fulfill if he upgraded his technology to a sustainable, large-format solution. His research pointed to Agfa's Anapurna H3200i LED, a UV inkjet system with a printing width of 3.2 m for indoor and outdoor applications. The high-speed, hybrid Anapurna H3200i runs GREENGUARD Gold certified Anapurna 1501 UV LED inkjet inks and offers printing on both rigid and flexible media.
Sustainable GREENGUARD Gold certified inks
"Our commercial interior design and architectural customers require a sustainable solution that meets one or several green building standards," states Ostermann. "The Anapurna H3200i LED with GREENGUARD Gold certified inks offer lower total VOC emission levels and take us to a new level of print resolution. We can work with a commercial design team early in the process to customize sustainable designs vs. off the shelf products. The Anapurna H3200i LED's six-color-plus-white capability creates vibrant window graphics viewable from either side of the glass that stays true under embedded LED lighting conditions."
SpeedPro Irving works collaboratively with architectural and design firms in a co-creative approach delivering environmental graphics that communicate their client's interior design objectives sustainably. Ostermann notes the ability to implement design strategies that embrace lower total VOC emission levels, separates his studio from the competition.
The GREENGUARD Gold standard includes health-based criteria for more than 360 VOCs. It also requires lower total VOC emission levels to ensure that the products are acceptable for use in sensitive indoor environments like schools and healthcare facilities. GREENGUARD Gold certified Anapurna high-performance UV LED inks function well for graphics on interior walls and media applied to glass partitions.
The Anapurna H3200i LED easily outputs two layers of color ink with a white layer in the middle — in one run, in one click — with the Asanti workflow. This color-white-color "sandwich" produces rich, brilliant graphics on translucent media.
Dazzling prints with low ink consumption
Anapurna, and all Agfa's UV inkjet inks, offer 'thin ink layer' technology, thereby consuming less ink per square foot, thus saving on consumable expenses while resulting in dazzling prints. With a wide color gamut, Agfa UV LED inks dry fast and perform well on a variety of roll and rigid media.
Ostermann notes that in addition to outstanding ink performance, the Anapurna prints twice as fast as his prior printer, reaching speeds up to 1,388 ft²/h (129 m²/h). The UV LED lamps save energy, are ideal for heat-sensitive materials, and can be switched on and off for added up-time efficiency.
SpeedPro Irving has hit additional milestones since installing the Anapurna H3200i, notes Ostermann. "The 20,000 ft² (1858 m²) wall mural project at Liberty Mutual was a text-book application that grabs the public's attention. We produced this job in half the time, which pleased our client and hit a new production record for our studio."
SpeedPro Irving is setting new records with the Anapurna H3200i LED as they head into a milestone 15th anniversary. Exceeding customer demands while offering creative, sustainable solutions is proving that this team can handle any job, timely and professionally.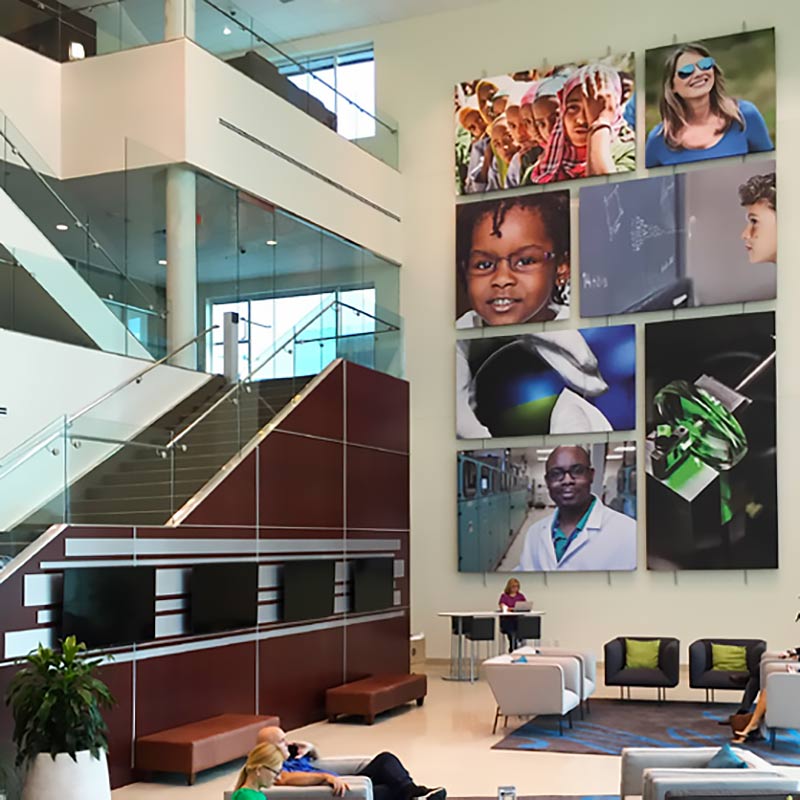 SpeedPro Irving worked with DIRTT to customize their modular building systems on the Anapurna to create attractive environments for their Fortune 500 clients.