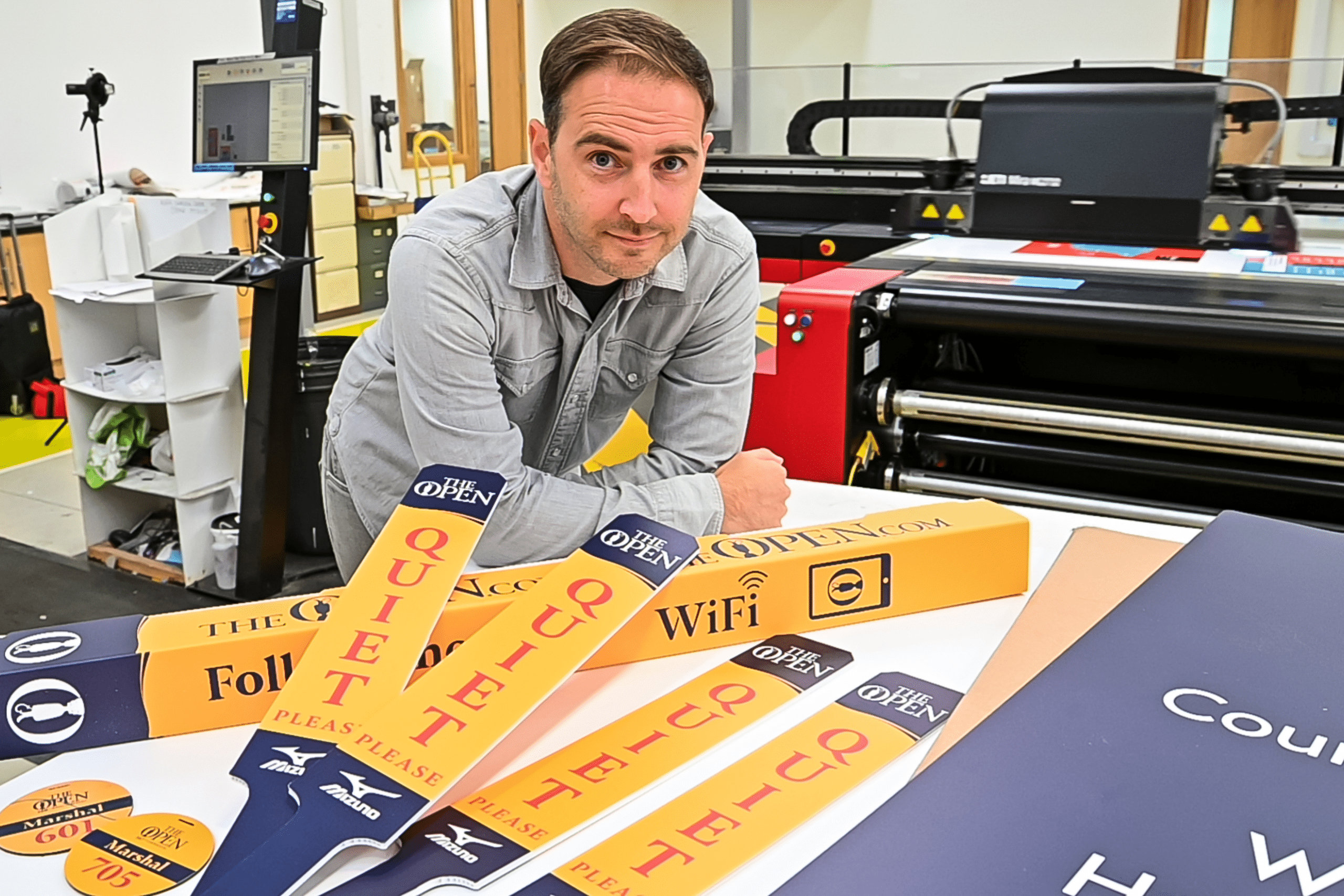 L-R: Nick Holloway – Production Manager at PPL, Liverpool
Second Agfa printer gives PPL increased printing capacity
Liverpool based PPL has invested in its second Agfa Jeti Mira 2.7×3.2m flatbed printer, doubling its capacity for wide format work.  The company, which has grown as a multi-channel service provider offering both above and below the line support, caters largely for commercial and international sporting events. They purchased the new printer to increase capacity during busy summer periods and to grow the commercial print side of the business.
PPL is an amalgamation in 1998 of Liverpool-based 'Creative Services', formed in 1975 and PPL 'Programme Publications Ltd', established in 1946 in Epsom. Both companies began and flourished supporting local sports
events and today cater for some of the largest international sporting tournaments, offering these brands a complete one-stop-shop for their event management. PPL has held the R&A Golf account for The Open Championship for over 40 years and publishes for the Rugby Football Union and the England and Wales Cricket Boards too.  They not only design and print the prestigious programmes and daily score inserts for these events, but they manage on site programme sales and event publication. Agfa's wide format printers enable PPL to print all display POS for the events in-house. On top of that PPL have a fleet of portable Mimaki printers that provide an onsite printing service, enabling them to be very reactive at an event too.
Lots of new channels have developed for the business over the years, grown largely through its event work.  PPL now have a flourishing LED/LCD screens department and are renting and selling products to their clients, from small to large outdoor LED units.  They manage the data and digital score boards at the tournaments, all POS including the design, print and installation of dibond panels surrounding a course, the programme production and selling; even managing the social media feeds for the brands and professional drone footage of the events. To handle the work they employ 30 full time staff that rises three-fold over the summer with location staff.
Today 60% of PPL's work comes from sporting clients and 40% is commercial work for local agencies and retailers, and it's the latter that they are wanting to grow to fill capacity.
New customers to PPL would benefit from a dedicated team of professionals who are used to flexing and diverting into new areas to help grow their clients' businesses. They have a team of printers, pre-press experts, photographers, events managers, videographers, designers, account handlers, installers and many are multi-skilled, running very different projects at various times of the year. Their 'can do' attitude comes from years of flexing to suit their clients' needs and that appears to be the very fabric of the business and an obvious attraction to new clients.
When speaking to Nick Holloway, Production Manager at PPL, he explains that whilst a lot of what PPL offer is not unique in itself. What is different to others is the breadth of services they offer under one roof, and their knowledge of their brands and events built over many years of support.
The relationship with Agfa started 13 years ago, when PPL invested in an Anapurna hybrid UV printer. This was ultimately replaced with a flatbed Agfa Titan and in 2015 with their first Agfa Jeti Mira MG2732 HS flat bed with roll to roll option.  The latter was installed when the business moved from its more central Liverpool location to one double the size close to the airport and with better transport networks.  PPL now sits in a 20,000 sq ft facility allowing plenty of space for building displays and housing the two Agfa machines. The latest machine being installed in May this year.
The powerful Jeti Mira is a moving-gantry flatbed printer designed for optimum flexibility. With a bedsize of up to 2.7×3.2m , a roll to roll option, LED curing and advanced 3D lens technology the Jeti Mira series has recently won SGIA Product of the Year 2019 in the category Best UV/Latex Flatbed ($200,000–$500,000). PPL opted for two six colours plus white with primer models. Both printers are managed via the intuitive Agfa Asanti workflow software.
"The support we have been given from Agfa over the years has been superb," said Nick. "The machines have been flat out producing materials for our summer events. We'd now like to keep that going with an increased level of commercial print or perhaps a new winter sporting client."
If you'd like to know more about how your business can benefit from the skillset and services offered by PPL visit https://www.thepplgroup.com they have offices in both Liverpool and Epsom for national support.