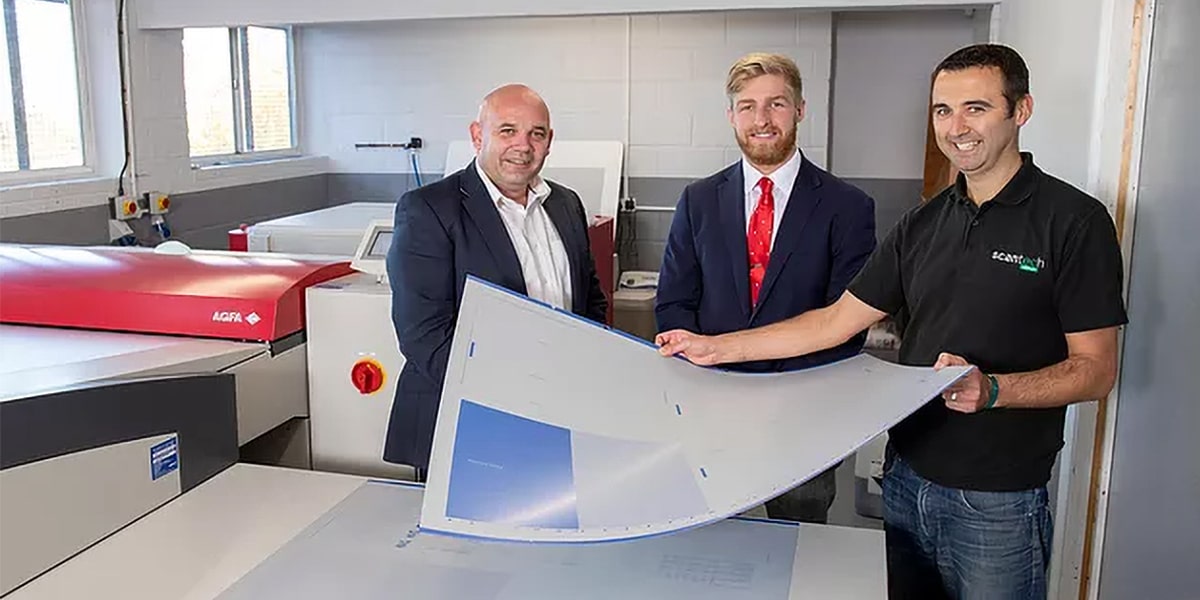 Agfa retains Scantech business 27 years on
As customers demand increasing quality on shorter lead times a reliable CTP system was an imperative for Scantech and having reviewed the market, the business was awarded to its long term supplier Agfa Graphics with support from Litho Supplies.
Agfa completed the installation of a new Arkana plate processor, an Avalon N8 platesetter with auto loader and an Apogee workflow solution at Scantech in Hastings. The deal included the supply of Energy Elite Eco plates too resulting in a perfect ECO³ case for Agfa, where it has demonstrated ecological and economic improvements for the customer.
Established in 1991, Scantech started as a regional repro house but following careful and consistent investment has become a large scale printer with 44 staff, that is able to offer a full service to its expanding client base. Now working predominantly from its new facility in Hastings, the business has litho, digital and wide format kit that allows it to offer a broad collection of print based materials.
'Our customers want a true one stop shop,' said director Craig Stephens, whose father started the business 27 years ago. 'We have carefully considered each niche market we have grown into over the years and we are now reaping the rewards from our investments. We have a growing number of clients that started buying secure print from us but may also require business cards and display panels for an adhoc exhibition and, with a selection of printing presses, we are able to satisfy all of their printing needs.'
Scantech has survived the massive industry changes over the past 20 years by adhering to a strategy of continual investment and selling on service, not price and it has paid off. The strategy has also helped them to grow the highly demanding 'Secure Print' part of their business to around 25% of turnover, which has attracted more blue chip clients.
The latest investment with Agfa was to replace ageing CTP equipment and provide them with efficiency improvements in the prepress process. Whilst they obtained competitive quotes they decided to go ahead with the Agfa solution.
The pre-press department is a busy area at Scantech with periods when the machine is running continuously and it felt confident that the Agfa Avalon N8 platesetter and Agfa Arkana processor would provide not only quality plates but offer them the environmental benefits that some of its larger clients are demanding. The Agfa automatic plate loader feed on the processor also means that it can be left alone to handle their growing workload.
We have been a customer of Agfa Graphics for 27 years. It has never let us down and it continues to remain at the forefront of innovation within the industry, something that it should be very proud of.
The Agfa Avalon 8-up external drum thermal platesetter provides imaging resolutions up to 340 lpi Sublima and throughput speeds of up to 70 plates per hour. The Agfa Arkana smart plate processor offers consistent, high quality plate processing with minimal chemistry use and maintenance, so allowing printers to further reduce their CO2 footprint.  Maximum throughput on all 8-up and very large format CTP lines makes it the perfect match for high performance environments. The Arkana features a small developer tank, drastically lowering replenishment rates and reducing chemical consumption. The patented gum cascade system, in which the gum both cleans the plate and protects it with a finished layer, means that it no longer requires water for plate rinsing.  All in all, it produces up to 50% less collectable waste compared to other systems on the market. Both the platesetter and processor is controlled by the Agfa Apogee pre-press workflow which increases throughput by combining different Apogee modules, such as Apogee Preflight, Impose and Inktune and optimises press sheets via True Shape Nesting.
'Critically, we haven't rejected one Agfa plate so far and we have processed hundreds,' said Craig. 'The reliability is great even when the machine is being hammered and we are delighted with the quality it is delivering.
'An area of increasing importance to Scantech is our environmental improvement drive and it's something that our customer audit annually. Our new Agfa products deliver this and they seem to be mindful of the ecological impact in all of their product developments. They even considered this with minimal packaging on the products they delivered for installation. Here all the packaging was taken away for recycling, making the whole installation process seamless.'
In conclusion Craig commented, 'We have been a customer of Agfa Graphics for 27 years. It has never let us down and it continues to remain at the forefront of innovation within the industry, something that it should be very proud of.'