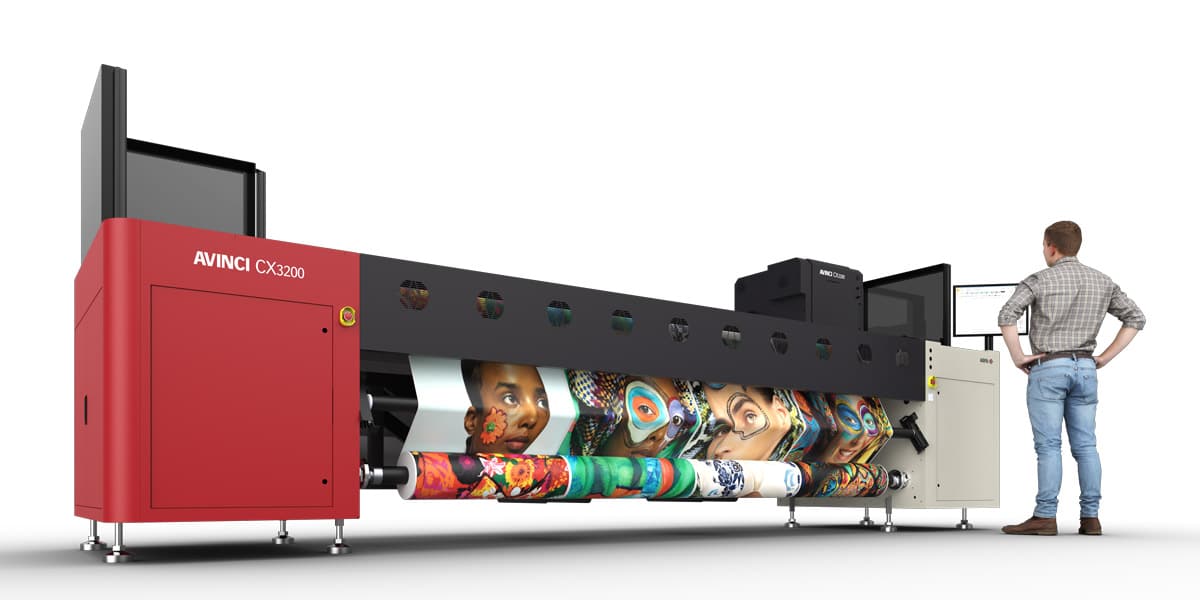 First Avinci CX3200 dye-sublimation printer from Agfa at Publi-FDM
With the installation of an Avinci CX3200 sublimation printer, Publi-FDM, located in Sint-Lievens-Houtem (Belgium), is getting a global first. The newest sprout in the Agfa line-up has a print width of 3.2 m and a maximum print speed of 270 m²/h. Printing can be done directly on fabric as well as transfer paper. The machine uses Kyocera print heads in combination with odorless and environmentally friendly water-based sublimation inks.
Publi-FDM specializes in the most diverse forms of visual communication such as banners, billboards, real estate signs, site banners, site signs, advertising columns, illuminated advertising and much more. The company has about thirty permanent employees and a few freelancers for specific assignments. The sale of the more than 11,000 different articles takes place through various channels. For example, there is ReclameOnline, a webshop specifically for Belgian and Dutch customers, and PrintingStore, a similar web shop that offers products in more than 20 European countries. Last but not least, there is also FDM web design, a full-service internet agency for the design of websites and webshops.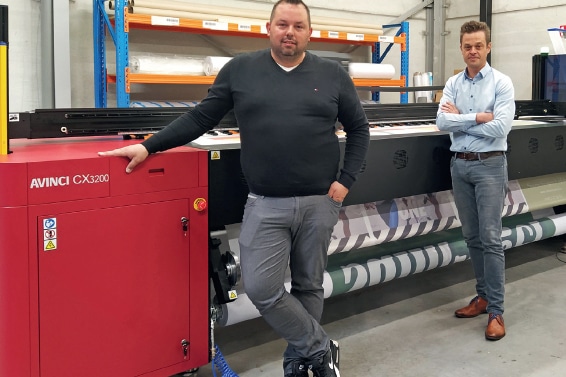 FDM Print Group manager Franky De Meyer with Agfa Inkjet Sales Manager Niko Dheedene at the new Avinci CX3200 sublimation printer
From making websites to large-format printing
Whereas most large-format printers once started as lettering companies, the story behind Publi-FDM is somewhat different. Manager Franky De Meyer explains: "After my marketing education, I started developing websites. But companies also asked me if I could supply a banner, for example. I saw the business opportunity, and in 2013 I took the leap with the purchase of my first large-format flatbed printer. By the way, we continued to do web design, because with this unique combination of services we really make the difference compared to other providers."
Why partner with Agfa?
Franky: "That's always the key question, isn't it? Initially I was not such an Agfa fan, and it only has the opposite effect on me when sales reps come knocking at my door. I rather listen to the experience of other users and if that feedback is positive, I immediately take the bull by the horns. That's how the ball started rolling here. A few years ago, I sat down at the table with Agfa. At the end of 2018 we installed a Jeti Tauro H2500 LED and an Anapurna 3200i LED."
Agfa's printers are solid and reliable machines.
Their print quality is top-notch and consistent.
How have the experiences been so far?
"Almost three years have passed and I have become a real fan. Agfa's printers are without doubt solid and reliable machines and with our short delivery times, that is really a must. I will be brief about the print quality: It is simply top-notch and consistent, even at higher speeds. The proximity to Agfa and the smooth availability of parts and inks have also proved to be a real added value and not just part of a sales pitch. And if something does go wrong, our experience is that Agfa reacts very quickly. The fact that we have purchased another Agfa printer is the best proof that we are satisfied with both the cooperation and the equipment."
We spoke to Franky De Meyer at FESPA 2021 in Amsterdam
about his new Avinci CX3200 dye-sub printer.
Sublime quality
A constant at Publi-FDM is the search for new opportunities. From this vision, the idea arose to invest in a sublimation textile printer. Franky: "Printed textiles are an important growth market for us and by investing now, we are also completely ready and well prepared for the post-corona boom that will certainly come. Sublimation technology for superb print quality. We want to print specifically on environmentally friendly polyester and PVC-free canvas, without compromising on quality. This investment fits perfectly within our sustainable business policy and we notice that more and more customers are attaching importance to eco-friendliness."
More information about FDM Print Group and Agfa's large-format printing solutions can be found here: www.fdmprintgroup.com en www.agfa.com