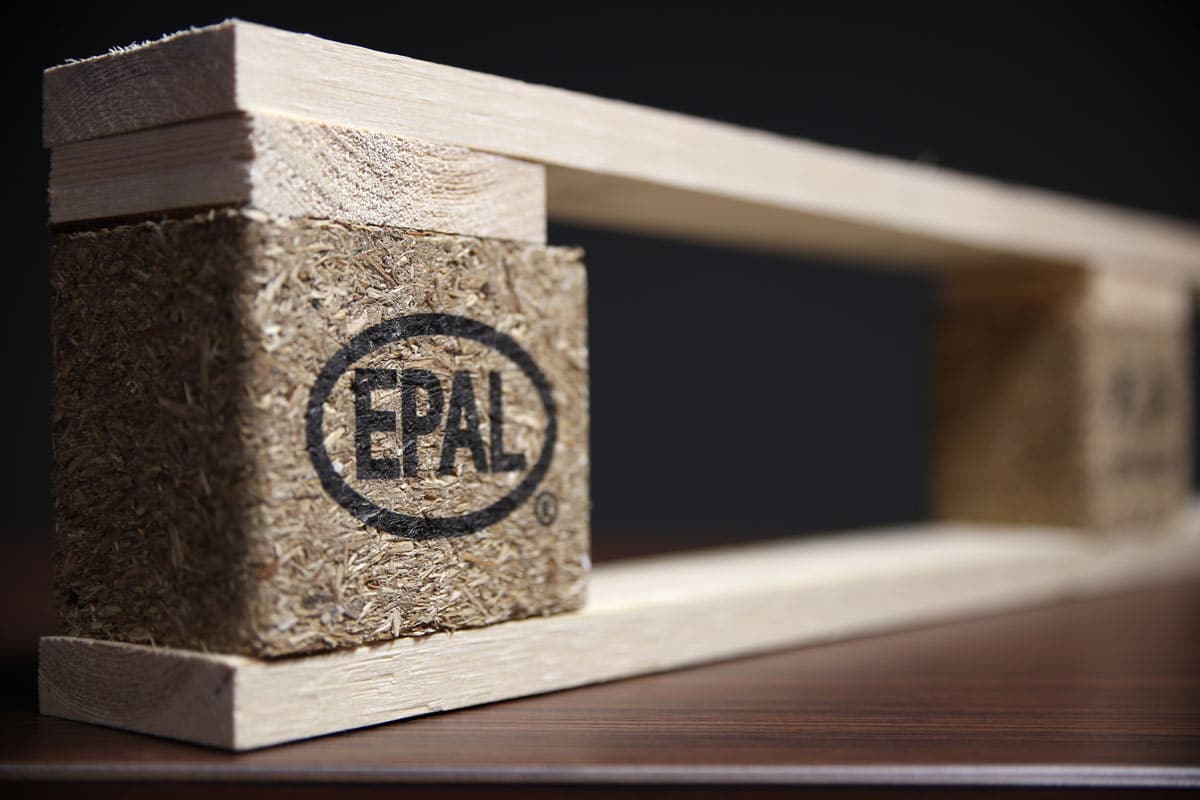 Printing on wood
Inkjet printing is making inroads in many industrial environments. One of these is the wood industry. Go4Inkjet develops inkjet printing solutions for the wooden pallet and crate manufacturing industry that replace conventional printing or marking methods in a cost-efficient way.
Ernest Langbroek, founder of Go4Inkjet, has over thirty years of experience in the industrial printing industry. In the mid-eighties, he started out as a Product Manager for a manufacturing company of continuous inkjet (CIJ) print systems. "Compared to the current inkjet technology, that was more like cuneiform script", he says. From there, he moved to working with Marking & Coding solutions based on drop-on-demand (DOD) piezo printheads. His focus has always been on finding print solutions for industrial applications.
Five years ago, he met with worldwide leading wooden pallet manufacturing and or repairing companies. These companies wanted to change their existing production methods and had already been considering the implementation of inkjet printing for many years. On a rainy Sunday afternoon, Langbroek decided to do a number of tests with Agfa's Altamira industrial inkjet inks… and succeeded. That is when Go4Inkjet was born.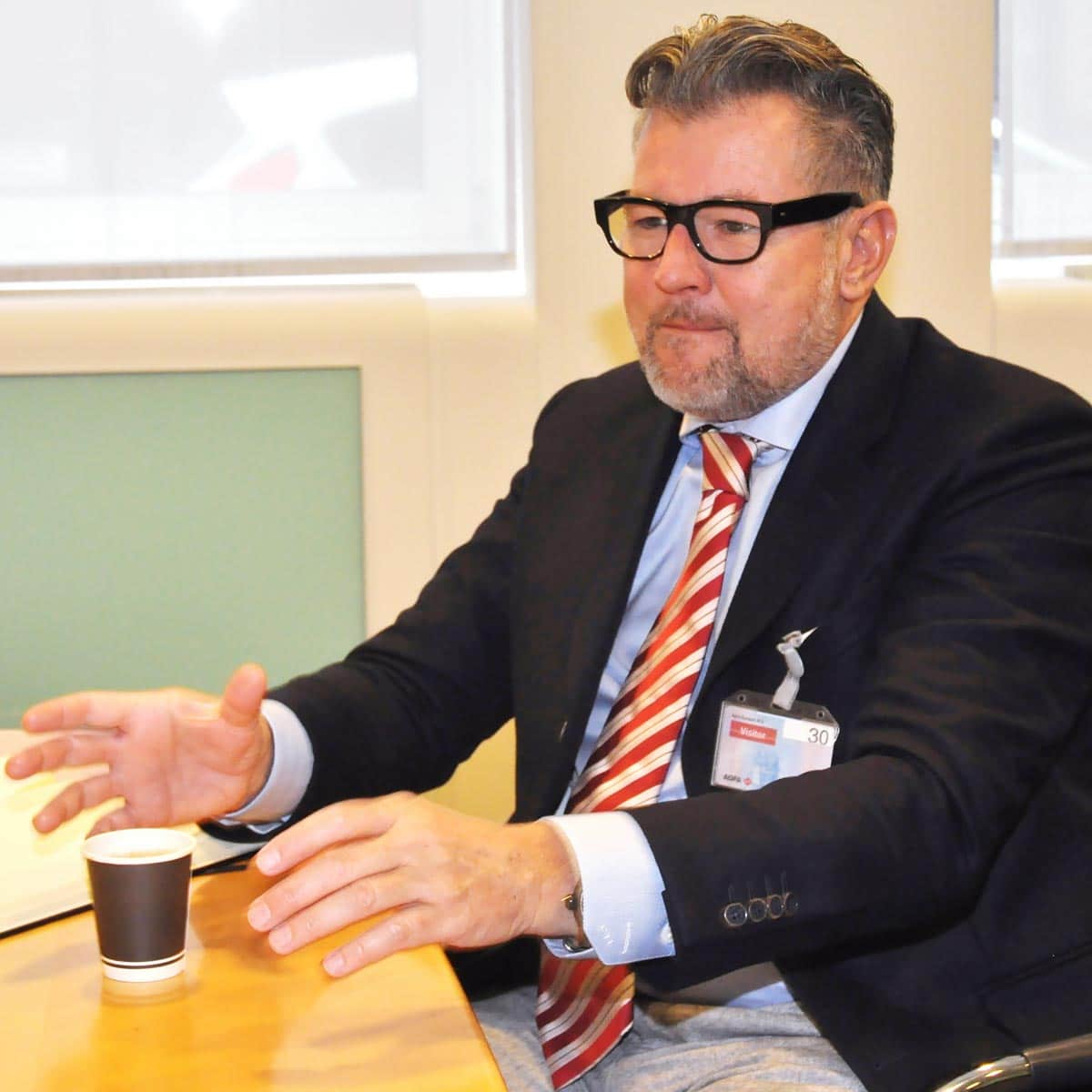 After a bit of to and fro, a specialized inkjet printing line was developed, built and purchased in a first location in The Netherlands. This first installation was soon followed by several more, and the wood industry immediately showed a keen interest in this disruptive print solution.
Cost-efficient replacement of conventional systems
For decades, the logos and other marks on wooden pallets were made either by means of brand marking, or by means of stencil marking – both techniques that are labor-intensive and prone to quality issues.
The dedicated inkjet printing system developed by go4inkjet prints directly on the wooden blocks (either already mounted in the pallet or not), and is integrated into the actual wooden pallet production lines. "Our inkjet printing systems are integrated in the actual pallet manufacturing or repairing process, and they jet from a safe distance to avoid collisions with the pallets," says Langbroek. "This way of working with inkjet printing solutions has proven itself as an effective and cost-saving replacement of conventional marking systems in the wood industry. The benefits are numerous. First of all, there is no more need to stop production, as there was with stenciling or branding. Then there are the labor savings. Branding is not always as clear as inkjet printing. If a wooden block is just slightly skewed, only half of the mark may appear. To avoid this, branding is sometimes done manually, which is time- and labor-intensive. This issue is non-existent with inkjet printing. In addition, branding comes with real fire hazards. This safety risk is completely eliminated with inkjet printing. There are energy savings too. One branding installation with four branders easily consumes about 60,000 kWh a year; our inkjet printing system uses only a fraction of that. Also, the CO2emissions are reduced from very high levels to zero."
This way of working with inkjet printing solutions has proven itself as an effective and cost-saving replacement of conventional marking systems in the wood industry. The benefits are numerous. Not only in terms of labour saving, but also in terms of improved readability of the marks, as well as the elimination of many safety risks on the work floor. The quality of the prints is very high and perfectly consistent, even on rough surfaces, and logos and text can be changed on the fly without any additional cost.
Ernest Langbroek
Go4Inkjet
And there is more. "The contrast and legibility of inkjet inks is much better than with any other technology. Inkjet inks from Agfa are truly black, and the quality of the prints is high and perfectly consistent, even on rough surfaces. This is important: certain certificates on pallets need to be perfectly legible to be allowed into China or the USA. Durability is great too. You can easily leave an inkjet-printed pallet outdoor for many years. This is important for pallets that travel the globe. Last but not least: with inkjet, there are no more production stops needed to changes logos or texts. A manufacturer can change designs on the fly without additional cost."
It's all in the inks
Printing on wooden pallets is certainly challenging for inkjet inks, because high opacity or density are a must, as well as durability in severe outside conditions, certainly in wintertime. Nevertheless, Agfa inks manage to meet all requirements. "Agfa's Altamira UV inks have been developed for challenging industrial applications with the focus on delivering consistent print results day-by-day and ink batch after ink batch", says Marc Graindourze, Business Development Manager Industrial Inks Agfa Graphics. "Agfa's UV ink technology allows for high black print density as well as high white ink opacity, which is key for these kinds of applications."
Langbroek says that he recommends all its partners to use Agfa inks. According to him, focus is key. "In my experience, it is best to stick to one type of ink. It might not be possible to print some types of applications then, but hey, that's life! If you want to do every kind of applications, you will always need to start back at square one, and you will never got to know all characteristics as well," he says. "You will always end up disappointed. There can be no concession in terms of quality. The batch-to-batch consistency is of the utmost importance."
Langbroek not only praises Agfa's black ink for its contrast and opacity, but also the white ink, of which he was the first field tester. "It enables us to use printing heads in all directions, without idle time. Also, it never clogs. Some of my customers leave their system idle for a couple of weeks after installation. When they then start it up, it works perfectly from the very first second. One customer even prints successfully on wet wood. It saves them a lot of labor time!"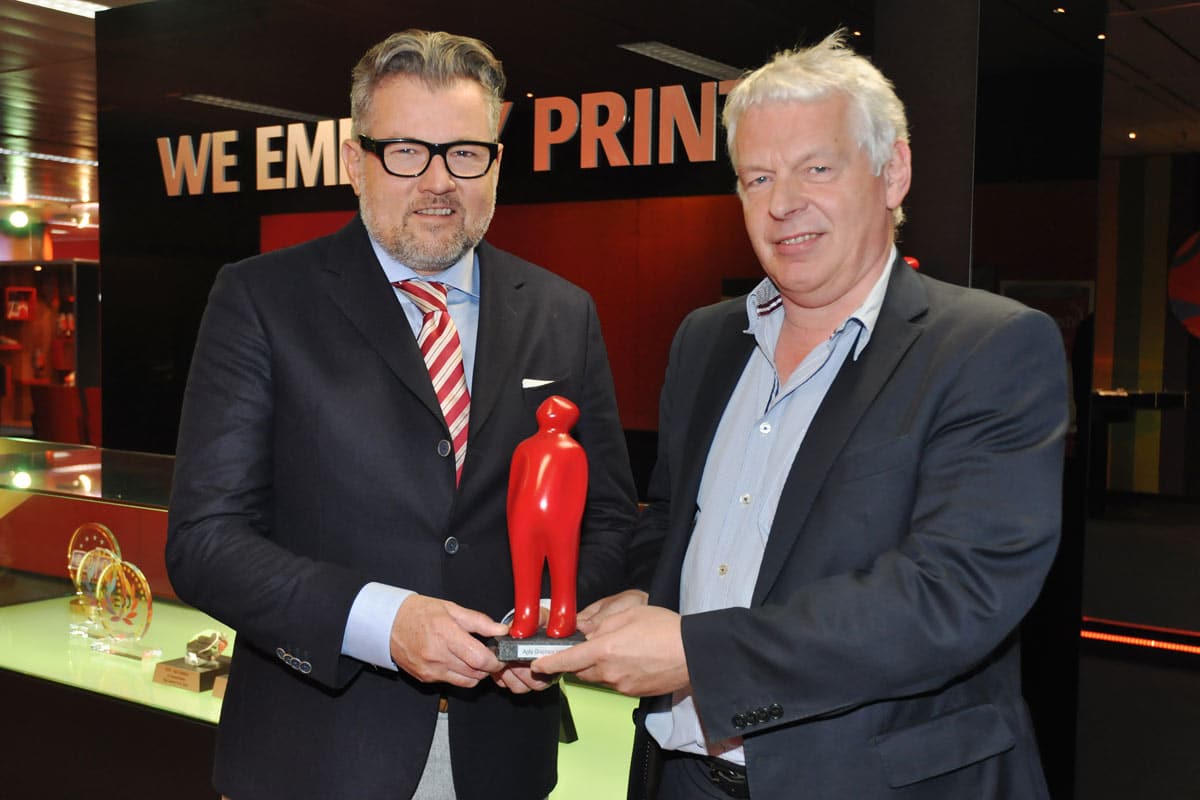 Marc Graindourze, Business Development Manager Industrial Inks Agfa Graphics, hands over Agfa's partner award to Ernest Langbroek, founder of go4inkjet.
Networking & vision
Through word-of-mouth, Go4Inkjet got the largest pallet producers in the Benelux on board. Their dedicated inkjet printing system is awaiting accreditation from EPAL, the European Pallet Association that defines the standards for European pallets.
"The higher the quality of the system you develop, the less competition you will have," says Langbroek. "Noone else does what I am doing. Many have tried to do it using solvent inks, but none have managed it." Langbroek has developed the printing system, he knows the application and the market through and through, and on top of that, he has built a vast network of contacts in the industry. He not only talks to pallet manufacturers and to their wooden block suppliers, but also to organizations that define industry standards, and to governmental organizations in charge of subsidization. That makes him the perfect partner for pallet manufacturers who want to integrate inkjet printing in their manufacturing process.
The scalability is maybe the most difficult element. At the moment, Langbroek can hardly keep up with the demand. "Actually, I just want to contribute to making the world a better place. All solvents should be banned. If I can further this just a bit, I will be satisfied."