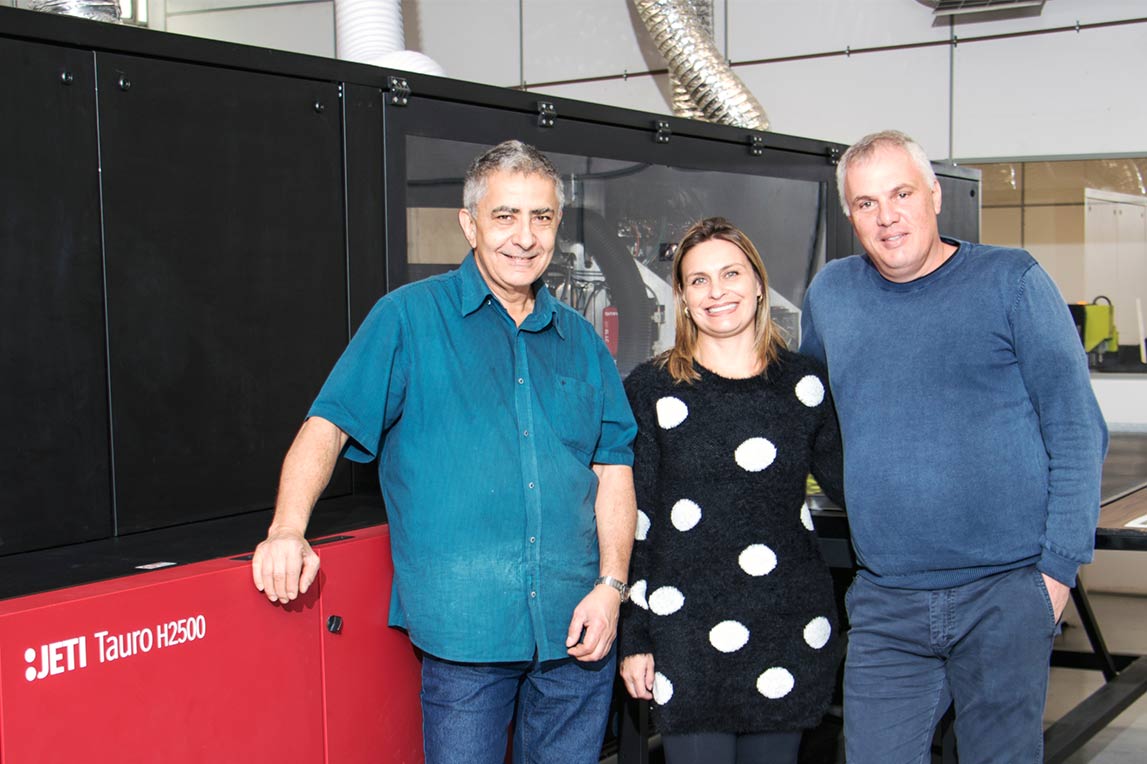 Agfa's Jeti Tauro H2500 wide-format printer helped P+E Digital steer clear of economic crisis
After acquiring a Jeti Tauro H2500 from Agfa, Brazilian sign & display printing company P+E Digital managed to steer clear from the crisis and to expand its business by delivering high-end solutions to its client base.
In the visual communication business, sometimes a single piece of equipment is all it takes to completely turn around the future of a company. There are several cases of companies that bought the right high-tech printer at the right time, and immediately expanded their product offering in end-to-end solutions, luring in an entirely new range of clients. Just like that, these companies managed to take a sudden leap in status. All because of a single investment that hit the bullseye.
That's exactly what happened to P+E Digital, a company located in the Limão district, in São Paulo, whose path changed completely after acquiring a 2.5-meter wide hybrid LED UV printer: the Agfa Jeti Tauro H2500.
P+E had already been around for eight years before everything changed last year. The company is now run by three partners and went from an 800-square-meter facility in São Paulo's Brooklin district to a 5,000-square-meter operation with around 70 employees.
To understand how Agfa equipment has helped expand P+E's business – even helping the company get through the economic crisis that has gripped Brazil for the past few years –, Brazilian trade magazine Empresário Digital talked to two of the company's directors: Paulo S. Gonçalves, production director, and Ane Ferraz, business director.
EMPRESÁRIO DIGITAL – What was it like when you started using the Jeti Tauro?
PAULO GONÇALVES – I traveled to Belgium looking for a machine to use in our street furniture projects. That was the idea, but it never really got anywhere because things didn't work out back here with the person in charge of this process. So, the machine was practically abandoned for the first three months. Then I started to learn more about what the printer could do, and I discovered its huge potential for special projects, which is a specialty of P+E – in fact, it's a segment in which we've won several awards around the world.
ED – How did you start using this printer for special projects?
PAULO – Normally, anyone who buys this Agfa machine is usually looking to print a lot of square-footage, because it can definitely do that. People usually like to play it safe and stick to the beaten path. I always wanted to do the exact opposite: to discover new possibilities. I wanted to use it for different applications, like this book cover, which we printed on banana leaves [Paulo shows a luxury L'Occitane book with a special texturized cover]. While most people were using this printer for banners, street furniture, etc., I started using it for these fine art special projects. Nobody likes special projects because they are complex; companies always go for the simpler solution. That's where we come in. Nowadays we hold the record for most PINI (Fernando Pini Graphic Excellence) awards in Brazil. I'm signing up 30 different projects this year alone.
ED – What were the main features that caught your attention?
PAULO – The first thing that caught my eye was the print quality. When I'm able to reproduce a book cover with extraordinary sophistication, this means that the printer can handle projects of outstanding quality. And when I can make smaller pieces with very good readability, which other machines are not able to do, it's another evidence of the high quality. I have an HP here, which is also excellent, but this Agfa printer is my favorite.
ED – How did it change your business prospects?
ANE FERRAZ – Back in 2015, Paulo learned about a company in the U.S. that offered complete solutions for its clients, and he decided that was exactly what P+E was going to be: a business where clients find solutions for all of their needs – from calling cards to billboards, store fronts, special projects, etc. Before the Jeti Tauro, our HP handled digital, paper and card prints, but not these types of special materials. Nowadays our clients have a huge range of possibilities to choose from.
PAULO – This machine saved us from the Brazilian economic crisis. I bought this Agfa printer when the crisis started to take a toll on our business, and the extra work that it allowed us to take on ultimately stabilized our situation. Now it gives me a margin of 25% to 30%. In other words, if I hadn't purchased this machine, we'd be 30% below now. The Jeti Tauro printer helped us steer clear from the crisis. While many others closed their doors or are still struggling, it's all smooth sailing over here. And I'm looking to buy another Agfa very soon. I'm going to a fair in the United States soon, to check out the brand's other machines.
We also use the Jeti Tauro for fine art projects, such as printing book covers on banana leaves. Nothing in the market managed to meet our expectations regarding quality like Agfa did.
Ane Ferraz, business director
ED – Where do you see your company a few years from now with this Agfa and the second one you want to buy?
PAULO – Obviously, I'm not going to make a living from fine art; we can't pay the bills if we're only printing book covers or photos. Unlike others, however, I still insist on superior quality. Although it can print 250 square meters per hour, I set our printer to 100 per hour, because I want the best quality possible. While others are looking for quantity, I know that just showing a special project to a client is enough to win them over.
ANE – Our goal is to deliver an end-to-end solution. When you print a PS and a catalog in two different companies, you might get different color curves; and that doesn't happen here. Today I can handle a lot of our demand with the Jeti Tauro alone. And it's not just POS material… it's art! Nothing in the market managed to meet our expectations regarding quality like Agfa did.
ED – Do you have more or less work from agencies nowadays?
PAULO – In the past, ad agencies were responsible for 90% of our business. But that number dropped to 50%, with direct clients taking up the other half. The market has changed, and direct clients are buying more. They don't rely as much on agencies anymore. Clients don't want agencies handling this process due to financial issues. Some of my direct clients include Itaú, Danone, Nextel, Bradesco… Most of my agency projects nowadays are for street furniture, which are also done with the Agfa printer.
ED – What are the main challenges of dealing with agencies?
PAULO – I don't have many challenges because I've been dealing with agencies for 30 years. It's very easy. The hard part nowadays is material costs. A box I used to sell for BRL 1,000 now goes for BRL 300. Prices dropped and agencies can no longer buy for the same cost.
ED – You have an impressive award-winning track record. What has that been like?
PAULO – I was never very good at marketing, but I focused on the quality of the business. I didn't know how to measure exactly how big P+E was, until we were considered the best printing company in the world at an award ceremony in Israel. And quality is what got us this far. Our first award with Jeti Tauro also came last year, when we won a PINI award with a PS. But we had been winning awards before that. We have received an average of nine awards per year in recent years. This Israeli award really increased our visibility.  We didn't need this kind of marketing before, because agencies would help us promote our business among them. Now that we're working with more direct clients, marketing is very important. We have Facebook, Instagram, websites… and every week I write posts talking about a couple of pieces we're working on.